Landscape Ontario hosts successful 2011 Congress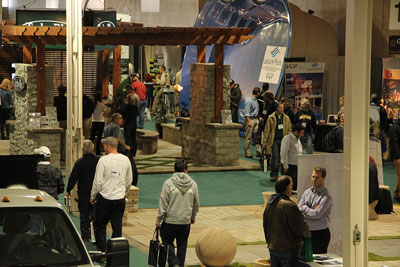 Photos courtesy Landscape Ontario
Landscape Ontario's Congress 2011, one of Canada's largest international horticultural, lawn and garden trade shows, was once again a success, as more than 11,000 green industry professionals attended the annual event.
This year's show featured the Green Forum, Ontario Park Association's (OPA's) Explorations and the Canadian Fence Industry Association's (CFIA's) Fencecraft trade shows. More than 600 exhibitors from Canada, the U.S. and Europe showed off their latest product offerings for the landscaping industry, including large and small equipment, pools, fencing, plant products, irrigation and paving products.
"There was a nice positive tone to this year's Congress," said Landscape Ontario's executive director, Tony DiGiovanni. "Despite a little apprehensiveness from some of our members about next year's business environment, the general feeling is that we are in the right business for the current economic situation. Thousands of homes and buildings have been erected in the last 10 years, combined with additional infrastructure spending during the last two. This business activity represents a huge untapped market for our sector."
Emerging talent and growing interest in horticultural programs were also evident at the show. Three schools built student gardens under the direction of volunteer member Brian Cocks, CHT. The participating schools were Fanshawe College, Humber College and Bendale Business and Technical Institute.
Landscape Ontario's 2012 Congress will take place January 10-12 at the Toronto Congress Centre.