Calgary to host Canada's largest aquatics competition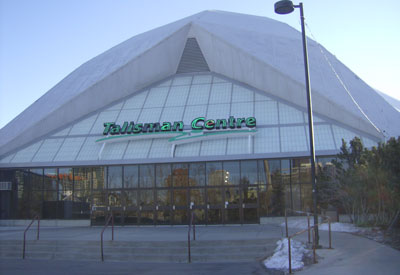 Photo by Thivierr, licensed under Creative Commons
The Talisman Centre, one of the biggest aquatic sporting facilities in Calgary, Alta., will host next year's 2012 and 2016 age group nationals, says Swimming Canada.
"This event will provide a great opportunity to the community to witness some of Canada's best young swimmers develop into future Olympians," Pierre Lafontaine, Swimming Canada's CEO and national coach told the Calgary Herald.
The age group national swim meet is the largest competitive aquatic event in North America (attracting nearly 2,000 competitors) and one of the most important in terms of development for the country's top young swimmers, University of Calgary coach, Mike Blondal told the newspaper. This marks the first time Swimming Canada accepted bids from potential host cities to hold the age group nationals aquatic competition.
"Attracting this event to Calgary is a testament to our city's growing diversity of world-class sport facilities and our ability to attract large-scale events. We're very pleased that Swimming Canada has selected Calgary," said Calgary Sport Tourism Authority chairman, Doug Mitchell.