Sani Marc, ProSlide launch new websites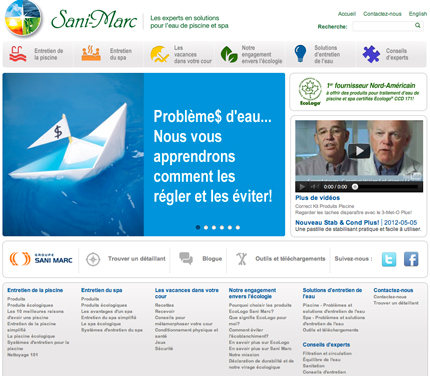 Photo courtesy Sani Marc Inc.
Sani Marc's pool and spa division recently launched their new consumer website (solutions.sanimarc.com), which looks to increase the company's brand awareness by focusing on the needs of end users.
The site offers pool/spa owners information and expert advice on general care and maintenance, tips for backyard vacationing ideas, and how to make their pool/spa more environmentally friendly. The site also provides pool game ideas, as well as recipes for backyard barbecues.
According to the Victoriaville, Que.-based company, links to the new website via its social media feeds (e.g. Twitter and Facebook) have proven to be successful in attracting mass interest, with three quarters of the visitors being Canadian.
ProSlide Technology Inc., a designer and manufacturer of commercial waterpark slides in Ottawa, Ont., has also launched a new website (www.proslide.com) to better serve its customers.
Designed with ease of use in mind, the site features a ride selection matrix to help customers choose water slides based on the most popular ride groups and categories. This selection process also allows visitors to submit their favourite rides to receive additional information on their specific ride mix.
The company has also added sample footprints and dimensions to each ride's profile page to aid designers and architects in planning a waterpark project.

Photo courtesy ProSlide Technology Inc.