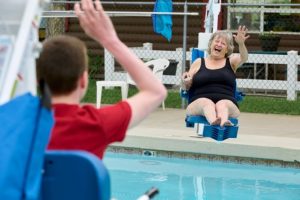 Access to aquatic recreation and therapy has long been difficult for those with disabilities or for those of a certain age. In many cases, prior to the new millennia, access to pools and spas was difficult if not impossible. It was not until the mid-2010s when equal access was required by many governments accessing pools and spas became much easier for the aging population and those with disabilities.
At the same time, the requirement and prevalence of specialized equipment for accessing pools and spas generated interest within the residential communities. Previously, many did not know this type of equipment existed or was so expensive it was out of reach of the typical homeowner. With the required addition of this equipment on commercial pools, more competition and a greater online presence has successfully lowered prices; many people suddenly realized there were options out there for their own personal situations. Additionally, with the pandemic, there has been renewed interest in the use of backyard recreation areas and personal aquatic environments which, in turn, has driven more personal demand for this equipment.
This has also created opportunities for manufacturers to develop new and unique options to appeal to homeowners and blend this specialized equipment to personal backyard spaces. Aqua Creek has led the market by developing colour options and a variety of other accessories to improve the lifts functionality as well as esthetics.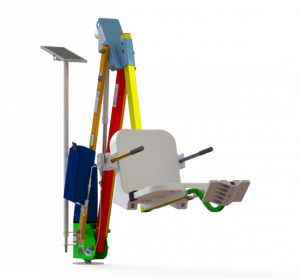 Over the years, Aqua Creek has brought many of its manufacturing processes in-house including powder-coating capabilities. By having many of the processes done in-house in Montana, they can control lead times and quality better than before, opening opportunities to customize products to fit customers' specific needs and tastes. While Aqua Creek advertises a few basic powder coat colours, there is almost an unlimited colour palette to choose from. This creates the ability to provide special colours for not only residential customers, but also commercial facilities like schools or fitness centres.
While the options of powder coat colours are almost unlimited, Aqua Creek offers four basic and somewhat neutral seat and footrest colours; blue, tan, grey, and white. Covers are also available to protect lifts from exposure to the elements in blue, tan, and grey. No other manufacturer offers so many options to customize or blend a lift into one's décor.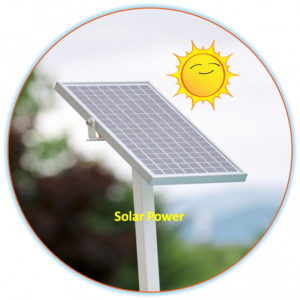 While colours are a great way to customize a lift with one's surroundings, development of unique accessories such as solar charging systems can also provide energy conservation options for those who are concerned about their carbon footprint. Currently, Aqua Creek is the only pool and spa access lift manufacturer to offer a solar charging option for its battery-operated lifts.
Among other unique accessories, Aqua Creek also offers an attachment that can turn the pool lift into a personal aquatic exercise bicycle.
Recently, Aqua Creek has also expanded its product line to include other in-pool exercise equipment like aquatic walkers, pool bikes, and treadmills. These accessories provide access for many to a weightless exercise environment that is less stressful on joints and beneficial for improvement of cardiovascular health. Aqua Creek offers two aquatic bicycle designs; one for general fitness and one for rehabilitation purposes. The Aqua Creek pool bikes are also available in a variety of powder coat colours (neon green, neon yellow, and pink) to fit one's personality.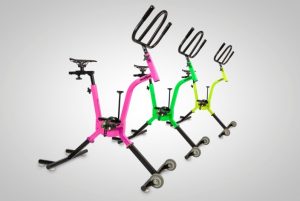 While customization through colours and accessories is a great way to personalize a product, there is no substitute for durability and safety. As a manufacturer, another benefit of bringing processes in-house is the ability to control product quality and safety. Aqua Creek is proud to be the first to have its lifts independently verified to meet the Americans with Disabilities Act (ADA) regulations, be the only pool lift manufacturer registered as a class-one medical device manufacturer with the US Food and Drug Administration (FDA), and have the most pool lift models certified by Underwriters Laboratories (UL) to meet its new safety standards for electrically operated pool lifts.
In under two decades, Aqua Creek has worked hard to become a unique, affordable supplier of effective access and exercise equipment for aquatic environments. The manufacturer is one of the industry's leaders in product development, customer service, product quality, support, and overall value. The proof is evident when not only are customers requesting the Aqua Creek brand by name, but also large wholesale aquatics suppliers are stocking product. Further, numerous local and online dealers promote the products, and large commercial aquatic designers specify the Aqua Creek brand on many high-profile projects.
If customers are in search of the best value in commercial or residential pool access and fitness equipment available on the market today, search no more. Call today and experience the Aqua Creek difference.
"Sponsored" material is supplied by the sponsor. The publisher cannot assume responsibility for any errors of relevance, fact or omission. Hosting sponsored material does constitute endorsement of the sponsor.