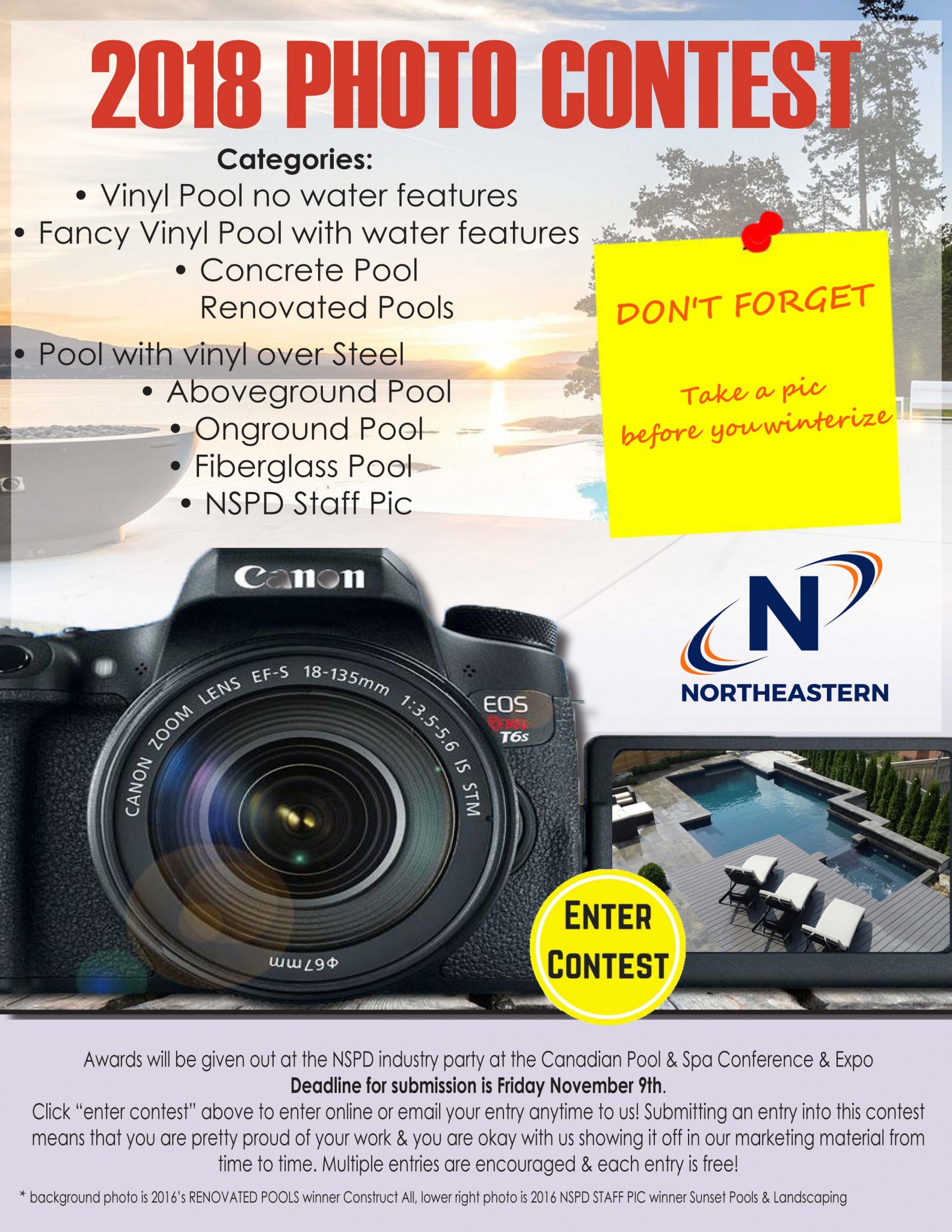 Contests build community and customers. According to Joanna Lord, a marketing specialist and contributing writer for Entrepreneur.com, 'reciprocal loyalty' benefits both the brand (the seller) and the consumer. It creates a relationship where consumers support brands through advocacy, purchase behaviour, and community. As a result, brands appreciate consumers through investing in their experiences, providing valuable content, and thanking them with rewards and benefits.
Northeastern Swimming Pool Distributors embraces this concept with two annual contests, both of which are currently underway. They reward the company's loyal customers with a chance to win money and bragging rights.
Its annual photo contest recognizes builders for the best pool installation in several categories, including:
vinyl pool (no water features);
fancy vinyl pool (with water features);
concrete pool;
renovated pool;
pool with vinyl over steel;
above-ground pool;
onground pool;
fibreglass pool; and
NSPD staff pic.
Northeastern will announce this year's winners at the annual pool and spa expo. With nearly 50 entries each year, this contest provides bragging rights that go a long way in strengthening reciprocal loyalty relationships.
Additionally, Northeastern will team up with HPI for an annual safety cover contest. Every dealer who purchases more than three safety covers each season can enter to win up to $5000. This award will also be handed out at the expo.
"Reciprocal loyalty goes beyond contests; it's woven into the fibre of a company's soul," says Northeastern president Tom Dovgala. "This is just one way we show our thanks and appreciate the hard work and loyalty of this crazy industry."
The deadline for entries is Nov. 9, 2018. Entries are free and participants are encouraged to submit multiple projects.
Contest details and last year's entries can be found online at nspd.net.
All information listed in this section was submitted by Northeastern Swimming Pool Distributors.
Kenilworth Media Inc. cannot assume responsibility for errors of relevance,
fact or omission. The publisher does not endorse any products featured in this article.