Accessibility aids
January 1, 2010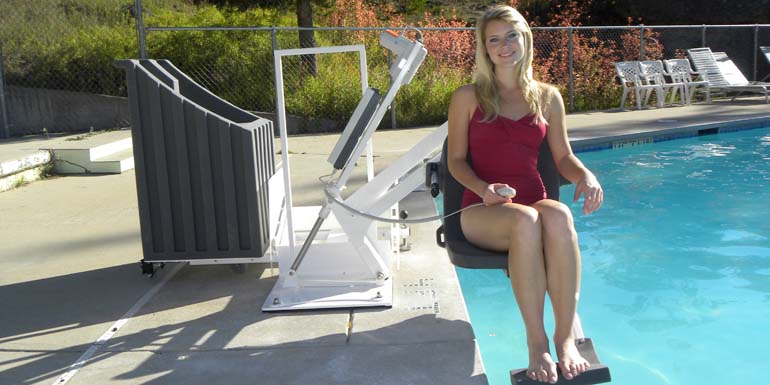 By Kristine Archer
Swimming and other water aerobic activities have long been acknowledged as excellent ways to stay fit and healthy, no matter the swimmer's age, fitness level or physical limitations. However, gaining access to pools can create a barrier to the benefits of water activities for the elderly or physically challenged.
Thankfully, today's pool accessory manufacturers are providing several lift options that can help any person, no matter his or her physical condition, to gain access to the benefits of water-based fitness programs.
Lending a helping hand
Aqua Creek Products of Missoula, Mon., has been specializing in the manufacture and distribution of assisted access equipment for aquatic environments, specifically aquatic lifts, for more than eight years.
"Our lifts are designed to provide those who have mobility challenges access to pools and spas in order to appreciate the benefits of aquatic therapy," says Bruce Giffin, Aqua Creek's national sales manager. "Our lifts are constructed of all stainless steel, provide lifting capacities up to 227 kg (500 lbs) and incorporate a rechargeable battery-operated system to reduce the cost and time of installation. We also offer two completely portable lifts that require no anchoring and can be retrofit to existing 'Pro Pool Lifts' already in the field."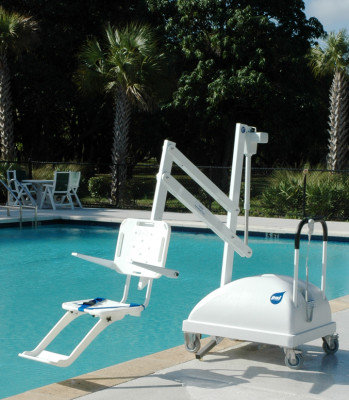 S.R. Smith manufactures and distributes a complete line of swimming pool lifts, all designed to facilitate access to swimming and boating facilities. John Caden, the company's director of pool lifts, says S.R. Smith's PAL and Splash series are the company's best sellers. Both use a linear actuator powered by a rechargeable battery to ensure reliable operation. The 'PAL' series of portable lifts require no attachment to the pool deck, and are available in three different versions to accommodate inground and above-ground pools. The company's 'Splash' series lifts are similar, but are mounted into a deck anchor and available in an 'Extended Reach' model.
The company also offers the 'aXs' lift, which is specifically designed for residential and small commercial facilities, and the 'Handy' lift, which also works in residential applications.
Eco-friendly assistance
Aquatic Access designs, manufactures and sells a variety of eco-friendly lifts for inground and above-ground pools, therapy tubs, hot tubs and swim spas.
"Each lift is adapted to meet a customer's specified needs," says marketing manager, Liz Waters.
The eco-friendly aspects of the designs include the lifts' reliance on the power of flowing water, a clean and renewable source. The company's 'Pool Lift IGAT-180' and 'IGAT-180/135' lifts can accommodate up to 181 kg (400 lbs) using normal household water pressure. Both are portable, mounted in a deck socket for stability and available in an above-deck style for pools with covers. Both models can also be modified into a heavy-duty unit, lifting far greater weights. The IGAT-180/135 is specifically designed for pools and spas with built-in benches.
Aquatic Access also offers the 'Pool Lift IGRC,' a manual lift designed for low profiles. The company's water-powered AG (above-ground) lifts fit a variety of above-ground pools and spas, including free standing above-ground pools and swim spas.
"In recent years, we have noticed more people than ever are more inclined to take charge of their health and well-being," Waters says. "More evidence is emerging showing the numerous benefits of aquatic therapy and exercise in achieving and maintaining good health. Lifts allow disabled individuals to enjoy these benefits."
A growing market
Giffin, Caden and Waters all agree that demand for accessibility equipment, specifically pool and spa lifts, has grown significantly over the past several years, with no end in sight. The most basic explanation for this increase comes down to simple demographics.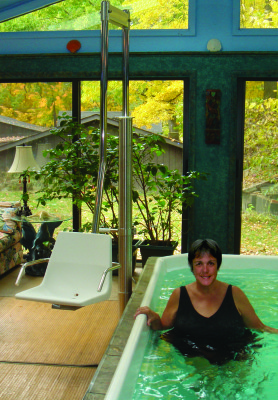 "The number of individuals requiring this type of equipment has increased substantially over the last few years and is expected to continue growing," Giffin says. "This growth can be attributed, in part, to the large number of baby boomers now reaching their 60s and advances in medicine that increase life expectancy."
Caden adds that the characteristics of this aging population also play a role in market growth.
"Baby boomers are not only becoming senior citizens, but are the first generation of active senior citizens. Today's seniors demand access to any type of recreational facility, regardless of their physical capability."
On the flipside, Giffin and Waters both say the population in general is encountering more health problems than ever before. Those providing access to aquatic facilities and residential pools can benefit from this unfortunate state of affairs.
"Lifestyles are becoming more and more sedentary, creating an older, heavier, less healthy population," Giffin says.
Waters agrees, adding, "It is no surprise obesity is a major health problem in both Canada and the U.S. For this reason we have added heavy-duty units to our product line. For extremely overweight and obese individuals, aquatic exercise is the best beginning for a weight-loss exercise program. However, these same individuals have difficulty with pool ladders and stairs. Our line of heavy-duty lift products make it possible for these people to get into and out of the pool safely in order to begin an exercise program."
Letter of the law
The accessibility aid boom has also been helped in part by U.S. legislative initiatives undertaken in recent years.
"The U.S. Americans with Disabilities Act (ADA) has required this type of equipment to be installed on all commercial pools," Giffin explains. "Many states have now adopted some or all of the federal ADA guidelines and are inspecting for ADA-compliant access to commercial pools and spas."
While the Canadian government has yet to officially follow suit, Caden says U.S. guidelines often have an impact on international standards, and the country's northern neighbours.
"This event was the first governmental recognition of the need for guaranteeing civil rights for people with disabilities," Caden says of the ADA. "Since the signing of the ADA in the U.S., many countries around the world are following this example and mandating equal access for people with disabilities. Speaking strictly for pool lifts, in the U.S., the Access Board has defined guidelines for the design and use of these products. Many of the points presented in these ADA Accessibility Guidelines are derived from ISO 10535, an international standard for designing and manufacturing patient lifts."
Waters agrees that the signing of the ADA has had a huge impact on the lift business, one that many companies have capitalized on.
"Our lifts are often specified for new projects that need to adhere to the ADA guidelines for inclusive design," Waters says. "They are widely used to bring older pools up to ADA standards."
Giffin adds that Aqua Creek has its lifts tested at a nationally recognized independent test laboratory, to ensure they are safe for commercial use and ADA-compliant.
"We have done extensive research and modified designs of our lifts to not only make them more aesthetically pleasing but also safer to use. With the ADA requiring the use of an aquatic lift on commercial pools and spas, designers and contractors are specifying this type of equipment on commercial projects more and more.
"Because of this exposure on many large commercial projects, awareness of this type of equipment is also becoming greater," Giffin continues. "People are starting to realize this type of equipment can be purchased and installed on their residential pools and spas, as well."
Caden agrees, noting there are sales opportunities for both new and existing aquatic facilities and residential pools.
"Many pool and spa designers are incorporating accessibility needs into their designs for new construction," he says. "The development of accessibility products that are both portable and user friendly has made the designer's job easier in that respect. Having said that, there are hundreds of thousands of existing pool operators working to make their facilities accessible. These existing pools provide the greatest sales opportunity for such devices."
Endnotes:
[Image]: http://poolspamarketing.com/wp-content/uploads/2010/01/F-12PPL-HD_Patriot-Lift-Pic-8.jpg
[Image]: http://www.poolspas.ca/wp-content/uploads/2015/08/pal-hi-res.jpg
[Image]: http://www.poolspas.ca/wp-content/uploads/2015/08/ag60.jpg
Source URL: https://www.poolspamarketing.com/trade/accessibility-aids/
---