Automatic covers for swim spas
October 20, 2016
By Sean Miner
Over the past decade, the popularity of swim spas has increased immensely. Once seen as a novelty item reserved for the wealthy, this product has become a legitimate option for homeowners who are contemplating a pool and/or hot tub for their home. For those who desire a pool for exercise, but also covet a hot tub for its relaxation and hydrotherapy benefits, a swim spa is the perfect compromise. And with multiple manufacturers and options available, homeowners can select from many types and designs to fit their budget and needs.
One item that must be considered when choosing a swim spa is the cover. Just like a regular pool or hot tub, a proper cover is essential for providing safety, savings, and convenience.
Keeping children and pets out of harm's way is critical for every pool type and no product provides better security than an automatic or manual roll-up safety cover. These covers prevent accidental entry into the water and should be at the top of every homeowner's accessory list.
The next most important aspect of a swim spa cover is its ability to control evaporation. This is especially important for heated swim spas as evaporation pulls heat from the water, which requires additional energy to replace. According to the U.S. Department of Energy (DOE), 70 per cent of heat loss (indoor and outdoor units) is from evaporation. Therefore, a properly designed automatic or manual cover will reduce evaporation by 90 per cent and total heat-energy loss by 50 to 70 per cent. For an indoor swim spa, controlling humidity is also important. A covered swim spa will cost a fraction of the amount it would take to heat if it was uncovered. As a result, the cover will pay for itself in a few years.
Lastly, one cannot ignore the convenience offered by covering a swim spa, especially outdoors. A cover eliminates the time it would take to clean debris out of the water. Further, chemical usage is also decreased. For homeowners, less time cleaning and adding chemicals equals more time swimming or relaxing in their swim spa.
Now that the homeowner is sold on a cover, what are their options? What cover works best for swim spas and how are they installed? To answer these questions, it is important to know exactly what type of swim spa is being covered.
Options for custom inground swim spas
One installation method that is gaining steam in the market is the custom inground swim spa. These are built like a pool, but are smaller in size and have a swim current machine installed on one end. That said, existing pools can also be renovated and transformed into a swim spa. For homeowners who choose to have a custom inground swim spa installed, a traditional automatic safety cover can be used. These systems use tracks that are installed beneath the coping or on top of the deck. The motor mechanism and cover can be installed under or on top of the deck depending on the application.
Some manufacturers also offer cover systems that are specially designed for smaller applications, which take up less space on the motor side of the swim spa. A standard automatic safety cover requires up to 0.91 m (3 ft) of space on the motor side of a custom swim spa design, which is not always available—especially with indoor models. A specially designed cover requires only 355.6 mm (14 in.) of space on the motor side of the unit, which allows the cover to be installed in tighter spaces and/or small deck applications.
These covers offer the same features full-size systems provide, including touch-pad operation and American Society for Testing and Materials (ASTM) safety ratings—just in a much smaller package. These automatic cover systems, both traditional and swim spa-sized, are the most durable and convenient to use, but come with a higher price tag than those operated manually.
Options for moulded acrylic or fibreglass composite units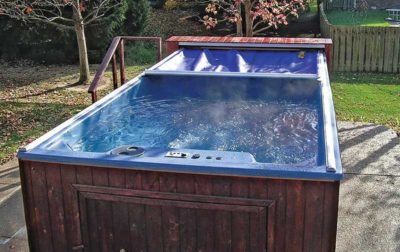 Moulded acrylic or fibreglass swim spas comprise a one-piece shell that must be installed into the ground or a deck. These models can be equipped with a traditional automatic safety cover or a custom-designed automatic swim spa cover. Usually, if these units are installed with a finished deck that is level with, or slightly below, the swim spa edge, a traditional automatic safety cover will work. The cover track can be placed between the deck and the swim spa shell to provide a hidden look, on the deck if it is flush with the shell, or directly on the shell if it is raised. The motor mechanism and cover can be placed under or on top of the deck depending on the specific design.
Options for self-contained or portable units
Self-contained or portable swim spas—perhaps the most common type—are pre-built at the factory and can be installed on a concrete pad with minimal plumbing and electrical work needed.
Cover options for these types of swim spas range from traditional automatic cover systems (as described earlier) to less expensive manual cover systems that are designed specifically for installation on these units. It all depends on the homeowner's budget and the creativity of the installer.
The first consideration when installing any type of cover on these units is to look for things that might interfere with the track, e.g. controls or pop-up TVs. It is important the track can be placed on each side of the swim spa without covering any of these items. Most portable units have just enough room on their lip to accommodate the track. Cover tracks can be installed to gel-coat finishes using a special adhesive tape as an alternative to using screws. The cover tracks can also be installed on a deck if the homeowner chooses to build one around the unit.
To use an automatic safety cover on a portable unit, a cabinet or other type of housing will need to be built on one end of the swim spa to hold the motor mechanism and cover (when retracted). These housings can be constructed of wood, concrete, or other structural materials. Framework can also be built to hold the mechanism and then finished with a decorative material. If completed in this fashion, a portable swim spa can include a cover with the same benefits of an inground system without the costly installation fees.
Manual cover systems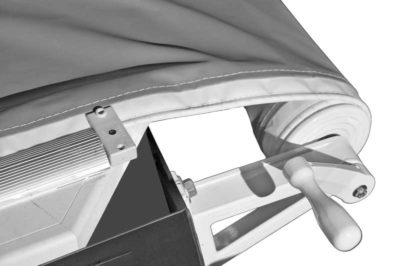 What are the options if an automatic cover is too costly or difficult to install? For homeowners who want to cover their swim spa, especially the portable units mentioned above, but do not want to build housings and pay for an automatic system, a manual cover is an alternative.
Some manufacturers offer manual roll-up covers specifically designed for rectangular portable swim spas that are available as a one-size-fits-all, and are easy to install off the shelf. These covers use a universal mounting system to accommodate tight- and wide-radius corners and have a low-profile wheel system to protect the swim spa's acrylic top. They use a track and vinyl fabric similar to an automatic safety cover, but are operated manually. To open the cover, the user simply cranks a handle to roll it up. To close, the user pulls the cover to the opposite end of the swim spa using a rope. They are available for units measuring 2.3 to 2.6 m (7.5 to 8.5 ft) wide and 2.4 to 5.2 m (8 to 17 ft) long.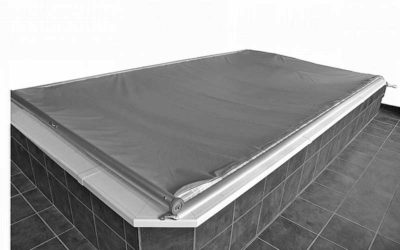 [4]For models that require a custom fit, or those homeowners who would like to select different colours, custom-designed manual systems are also available. These are operated the same way as described above, but are custom made for the homeowner's specific application.
Choosing the right cover
Choosing the right cover can enhance the experience of owning a swim spa and help protect the homeowner's investment. Some may be tempted to skimp on this type of purchase and instead get a tie-down or ridged model, but these do not offer the same convenience as an automatic or manually operated safety cover. Tie-down covers take extra time to remove and replace, while some heavy ridged models, in some cases, may require two people to remove to avoid damaging it. By installing an automatic or manual roll-up safety cover, homeowners can spend more
time enjoying their new swim spa and less time maintaining it.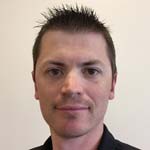 [5]Sean Miner, MBA, is the product director of automatic safety covers for Latham Pool Products. He is responsible for ensuring Latham produces the strongest and most innovative safety covers possible. Miner has experience in developing and marketing industry leading products in multiple industries. He can be reached via e-mail at seanminer@lathampool.com[6].
Endnotes:
[Image]: http://poolspamarketing.com/wp-content/uploads/2016/10/Swim-Spa-AutoCover-cropped.jpg
[Image]: http://www.poolspas.ca/wp-content/uploads/2016/11/DENNIS-TAUCHEN-HOT-TUB-COVER-HR.jpg
[Image]: http://www.poolspas.ca/wp-content/uploads/2016/11/turn-handle-swim-spa-photo04-HR.jpg
[Image]: http://www.poolspas.ca/wp-content/uploads/2016/11/Top-view-cover-on-Swim-Spa-photo01-HR.jpg
[Image]: http://poolspamarketing.com/wp-content/uploads/2016/10/Miner_Headshot.jpg
seanminer@lathampool.com: mailto:seanminer@lathampool.com
Source URL: https://www.poolspamarketing.com/trade/automatic-covers-for-swim-spas/
---