Balancing between esthetics and efficiency
December 1, 2012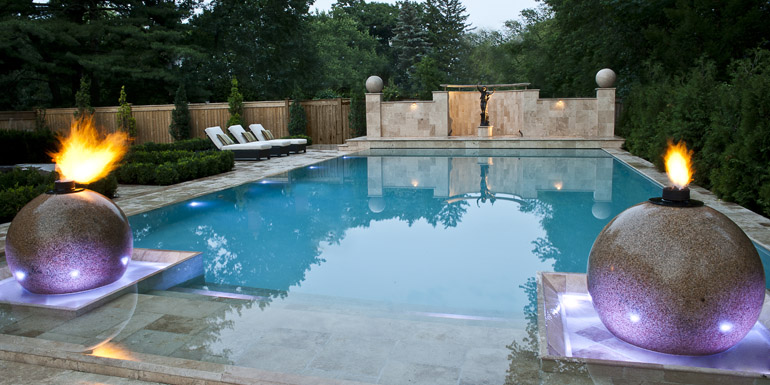 By Barry Justus
A project's design is influenced by a number of factors. Designers and builders are constantly performing a balancing act with respect to budget, client interests, site conditions, and building codes. The addition of energy efficiency and esthetics only serves to complicate the project. Typically, the client's budget and expectations dictate to a large degree the final outcome of a design.
For this particular project, the client was well-travelled and had also lived in various parts of the world. The initial meetings involved the use of an interpreter to ensure the client's desires, ideas, and project parameters were fully understood. After being introduced to the client via their custom homebuilder, the home's architectural details and interior finishes became apparent. The client's love for art was also made clear during the initial meetings as their home was filled with paintings and statues, which were a reflection of the client's refined tastes.
With this knowledge, the concept of energy efficiency was introduced to the client who embraced the idea wholeheartedly. With these goals in mind, the plan to design a project that would be both esthetically pleasing and energy efficient proceeded.
Compromising design factors
As with most energy-efficient projects, the goal was to design a swimming pool and water feature that was a compromise between budget, esthetics, and real-world living. The most energy-efficient design involves replicating a thermos. For instance, a fully insulated covered pool that is removed from all outside environmental influences will approach an energy-efficient nirvana. However, in the real world, clients use their pools, water features, fire features, and living environments. By nature, these simple activities increase energy costs and lower the efficiency levels of any project. Therefore, the project's actual design and construction was a compromise between energy and user efficiency.
For this project, the initial design took the following into account:
Budget;
Esthetics;
Site conditions;
Conceptual goals;
Green ideals;
Architecture; and
Compromise
A fair amount of compromise is required to complete a project of this scale. For example, fire features and perimeter overflow components are not typically incorporated into an energy-efficient design. Nor would anyone deem a large-scale water feature to be an efficient way to conserve energy; therefore, a company with experience in combining all of the above parameters into a project will be more likely to achieve the overall efficiency goals.
Designed for esthetics, built for efficiency
The trick with this type of project is to make the esthetics conform as closely as possible to the overall efficiency goals. In other words, design the esthetics and then build the project as energy efficient as possible. The efficiency aspect should not take away from the project's creativity.
The following energy inefficient components are part of this project's conceptual design; the challenge was not so much building it, but making it efficient:
Deep pool: The pool comprises mostly deep end with an average depth or more than 2 m (6.5 ft);
Large body of water: The pool is big for swimming lengths and for scale;
Fire features: These fossil-fuel elements are one of the design's main architectural components;
Perimeter overflow; and
A purely esthetic large-scale water feature.
An even greater example of how important esthetics were was the simple fact a solar heating system was not considered due to the compromise it would place on the home's architecture. Lack of space in the yard also precluded the ground location of solar panels that could be hidden from view.
And, in an area where natural gas is both readily available, abundant, and relatively inexpensive—for now and the foreseeable future—using a geothermal heating system also was not a viable option. There is a fine line between energy efficiency and the payback period associated with adding these components to a project.
Project approach was no different
With the above in mind, the project was tackled with a set of detailed plans. The plans included the engineering specifications of all structural components.
Every aspect of the job, including the hydraulics, pool fittings, gas lines, electrical components, heating system, drains, and material selection, was decided before breaking ground. The project's key components included:
Raised-perimeter overflow swimming pool;
Cast-in-place concrete construction;
Five underground bunkers;
Fully insulated pool shell, plumbing and equipment bunkers;
Automated floating cover;
Surge tank/bunker/cover tank;
Large custom granite fire-and-water ball features in a reverse-vanishing edge;
Energy-efficient plumbing and equipment;
Classic water feature;
Bronze statues; and
Extensive landscaping and deck treatments.
As the client visited the site infrequently, these agreed upon plans were relied on to guide the project's progress.
FIRE AND WATER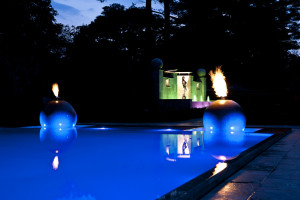 One of the project's most unique features is the custom fire-and-water features. This deceptively simple feature required a significant amount of detail and thought. It comprises two custom-made 0.9-m (3-ft) diameter granite balls (along with four, 0.6-m [2-ft] diameter granite balls for the travertine walls), each core drilled to provide access for plumbing, gas, and electrical lines to create the automated fire-and-water effects.
These features are fully automated to allow a thin veneer of water to cover the granite, keeping the rock looking pristine, while at the same time keeping the fire effects cool in the 101.6-mm (4-in.) confined space of the granite interior.
All of the automation equipment was located in two small underground bunkers constructed beneath the pool deck. A series of drains, vents, gas lines, electrical connections, and controllers link these bunkers back to the main pool bunker.
Each granite ball was also illuminated using four strategically placed light-emitting diode (LED) lights located inside the reverse vanishing edge swimming pool to further draw attention to these features at night.
Construction begins
Both the pool and water feature were constructed using cast-in-place concrete. Although this method is labour intensive, it allowed for the precision required when building a perimeter-overflow swimming pool and all-tiled water feature.
Perimeter-overflow pools require strict adherence to engineered design protocols. Solid footings and soil reviews are an absolute must for this type of project. Any settlement or compaction will cause the project to fail and result in poor performance of the edge. Tolerances are essentially zero; level water has no way of disguising imperfections along the edge.
As mentioned earlier, these pools would not normally be considered for an energy-efficient project; however, it is possible to build a very efficient perimeter-overflow pool. First and foremost, the edge has to be extremely level and secondly, the hydraulic design and performance has to be well-planned and executed.
Engineered hydraulics takes the guesswork out of pool design and performance. In general, large-diameter plumbing, short pipe runs and well-placed inlets in the body of water, combined with an energy-efficient pumping system, will result in immense long-term energy savings. Unless the architect has specified a project to imitate Niagara Falls, the edge effect should be subtle. A dead-level edge takes very little water to create a perimeter overflow.
Screaming pump(s) also indicate poor design, performance, and installation, or in a worst-case scenario, settlement of the entire shell. If the shell settles, the edge will be out of level and will require a massive amount of water to spill over the 360-degree edge. It takes a well-thought-out design, precision performance, attention to detail, a substantial budget, and time for construction to make a perimeter-overflow pool look effortless. The magical, yet, subtle effect of still water spilling over an edge is often taken for granted by consumers as it is not easy or inexpensive to construct.
This particular pool also had some unusual features. The raised perimeter overflow was chosen for both esthetics and practical reasons. Although strict-edge tolerance and engineered plumbing allowed the pool's edge to operate using a variable-drive pump set at 1,200 revolutions per minute (rpm), a second pump was included to increase the edge flow at certain times of the year. Also, due to the amount of foliage hanging directly over the pool, which contributes to massive leaf loads in the fall and blossoms in the spring, when the secondary pump is engaged, leaves migrate to the pool's edge for easy removal. This also prevents very little debris from settling on the pool floor. Again, strictly for esthetic reasons, the client opted not to install an in-floor cleaning system, but rather have the pool and water feature serviced on a weekly basis.
Finally, one side of the pool was left as a standard coping profile due to the close proximity of the lot line and softscape barrier. This prevented the pool's saltwater surge from affecting the nearby plantings.
Bunkers
Cast-in-place concrete bunkers were also installed for both esthetic purposes and energy-saving abilities. Individual bunkers were installed for the pool, water feature, and fire effects. They were constructed using standard waterproofing techniques and house a substantial amount of equipment (e.g. plumbing, electrical, gas, automation and mechanical systems), which were all located below grade and required to run and maintain the project. Locating the bunker underground provided the following benefits:
Shorter plumbing runs (increased hydraulic performance);
Sound isolation for the equipment (quiet performance for the client);
Isolates plumbing and equipment from weather (does not freeze in the winter);
Prolongs equipment life by eliminating its exposure to the elements;
Safety and security for mechanical equipment;
Efficient use of space (a cabana is not required to house the equipment);
Flooded suctions for all pumps (These pumps are located below grade, and therefore prime instantly as water is not being drawn uphill to flood the pumps. Pumps located on a typical equipment pad in a shed, for example, do not have flooded suctions as water drains out when they are opened for maintenance.); and
Efficient plumbing and mechanical rooms show the builder's skill and makes maintenance easier for service crews.
Insulation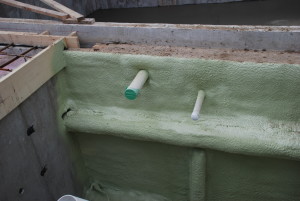 The entire pool shell and all plumbing runs were fully insulated. This not only conserves energy by retaining heat (especially when combined with an automated pool cover), but also serves a secondary purpose by protecting these components in the long-term.
The water feature was not insulated as this feature is not heated; therefore, heat conservation was not required.
EXPECT THE UNEXPECTED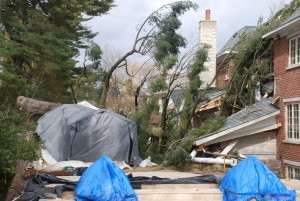 Never doubt the compressive strength of concrete. During a severe windstorm, a massive tree from the neighbour's property blew over and landed with incredible force directly on top of the client's water feature.
The structural integrity of the water feature survived without a scratch (or crack); however, the same could not be said for the client's custom home, which was under construction. The entire back deck was destroyed, part of the roof and portions of the home's interior were damaged to the tune of $100,000. At this point, a team was quickly assembled to shore up the home and cut up the fallen tree before realizing the porch—where coffee breaks and lunches were had—was completely destroyed.
Automated pool cover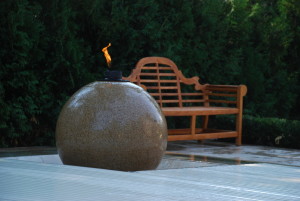 Since the vast majority of energy consumed by an outdoor pool is for heating, an automated slatted cover was installed both for its esthetics and energy-saving potential. It is housed in its own bunker and coils out over the length of the pool via the touch of a button. These covers can also be combined with solar power for heat generation or filled with insulation for increased heat retention. The cover reduces evaporated heat loss drastically by acting as a thermos cover when the pool is not in use.
Surge tank A surge tank was also included in the design. It has sufficient capacity to capture rainwater and act as a reservoir when the pool needs make up water. Generally, this type of surge tank capacity would easily meet the water needs of a pool in a northern climate. It also helps reduce the amount of water added to the municipality's sewer system during a storm by acting as a water reserve buffer.
Automation
An automation system controls all pool and water feature functions. Variable-drive pumps are programmed to meet the minimum run and capacity times to keep all of the amenities clean, safe, and esthetically pleasing.
Automated controls and timers also operate the 32 light-emitting diode (LED) lights between the two bodies of water (pool and water feature) as well as all exterior landscaping lights.
Auto-fill and overflow drains are also connected to both bodies of water, while cartridge filters, salt chlorinator (sanitation), and mineral systems combine to keep the water clean, clear, and safe for bathers.
The water feature
Water features are not 'green' by nature, but this one was designed to minimize its long-term energy consumption.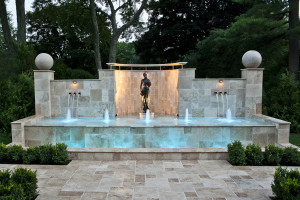 Constructed using cast-in-place concrete, this classic water feature is built above a fully waterproofed underground bunker, allowing the client to view and enjoy its various features from their kitchen. The water feature's focal point is a bronze statue (a similar statue is included in the pool area), which is bathed in light in the evening. The water feature itself has a 6.1 m (20 ft) reverse vanishing edge that takes on a shimmering glow at night, while foam jets (which operate on an independent variable-drive pump) are further accented with LED lights. The entire water feature is illuminated by 15 lights in three zones. Mini sheers also cascade from the wall on an automated valve. Automation features were linked back to the main pool panels and ultimately controlled via a touch pad inside the home.
In terms of energy efficiency, the water is not heated; therefore, the water feature was not insulated and is shutdown during the winter months. Variable-drive pumps, combined with hydraulic engineering, allow the water feature to operate with very little energy consumption. Precise tolerance on the reverse vanishing edge, short plumbing runs, and large-diameter plumbing, combined with cartridge filters, and LED lights, further reduce energy consumption.
All tile work, including deck areas, walls, coping, and pool interior are constructed using travertine imported from Turkey. The landscaping and softscape were also designed for efficiency by minimizing runoff from the site, while also lessening the overall 'concrete footprint' of the project.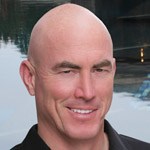 Barry Justus is the founder and president of Poolscape Inc. He designs and lectures internationally, is a member of the Society of Watershape Designers and is a faculty instructor with Genesis 3 Design Group. Justus can be reached via e-mail at barry@poolscape.com[7] or by visiting www.poolscape.com[8].
Endnotes:
[Image]: http://poolspamarketing.com/wp-content/uploads/2012/12/Poolscape-tag-Alla-final-7.jpg
[Image]: http://www.poolspas.ca/wp-content/uploads/2015/05/Poolscape-Alla-night-1.jpg
[Image]: http://www.poolspas.ca/wp-content/uploads/2015/05/Poolscape-construction-1.jpg
[Image]: http://www.poolspas.ca/wp-content/uploads/2015/05/Poolscape-tree-2.jpg
[Image]: http://www.poolspas.ca/wp-content/uploads/2015/05/Poolscape-cover.jpg
[Image]: http://www.poolspas.ca/wp-content/uploads/2015/05/Poolscape-tag-Alla-final-5.jpg
barry@poolscape.com: mailto:barry@poolscape.com
www.poolscape.com: http://www.poolscape.com
Source URL: https://www.poolspamarketing.com/trade/balancing-between-esthetics-and-efficiency/
---