Commercial versus residential spas
June 1, 2013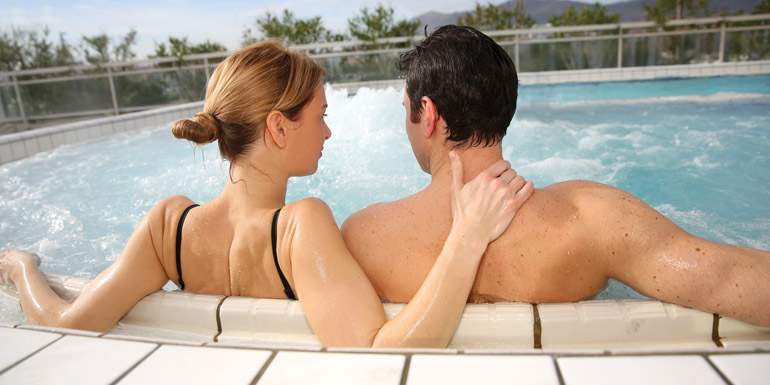 By Richard Hall
Commercial spas have increased in popularity over the years, primarily due to three significant changes. First, because they fit into certain applications where concrete or tiled spas do not meet the customer's criteria or location requirements; second, residential spas are not deemed acceptable, primarily due to the different design properties of the various engineering firms responsible for specifying spas; and third, updated municipal, provincial, and federal health and building codes—along with new industry standards—have contributed to the shift toward specially designed, constructed, and engineered units.
New markets for commercial spas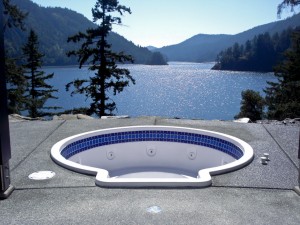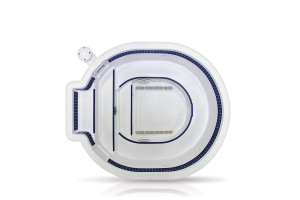 Traditionally, commercial spas were installed in hotels, recreational facilities, and fitness centres; however, over the past several years, the industry has seen condominium developments flourish, and along with this, so too has the demand for commercial spas. One reason for this is developers see the value-added approach of installing a commercial spa as a benefit to their customers and to their bottom line.
Recently, an increasing number of non-traditional commercial spa customers have sprung up in the way of smaller resorts and 'Bed & Breakfast' accommodations, of which many are required to be installed and operated on a commercial basis. These facilities see the commercial spa as a less expensive, attractive, and versatile alternative to the installation of a swimming pool or concrete spa as an added draw for their businesses. In the past, some semi-commercial customers opted to install residential spas in their facilities; however, stricter regulations and inspections have made this an unwise choice.
COMMERCIAL SPA STANDARDS
The following are some examples of regulations specific to commercial spas:British Columbia's Guidelines for Swimming Pool Design V1.0[4], Steps and Stairs
Steps or stairs leading into a pool should:
a) be of slip-resistant design;
b) have a minimum tread depth of 305 mm (12 in.) and a maximum rise (height) of 254 mm (10 in.). Hot tubs of surface area less than 10 m2 (107 sf), whether prefabricated and cast in place, may have a maximum rise of 317.5 mm (12.5 in.) and minimum tread of 228 mm (9 in.);
c) have the nose marked in a contrasting colour; and
d) be provided with suitable handrails on both sides to allow safe use of the steps or stairs. Handrails should not be more than 762 mm (30 in.) apart.International Swimming Pool and Spa Code (ISPSC), Public Version 1.0, Structure and Design[5]
– 503.1, Water depth. The maximum water depth for spas shall be 1.2 m (4 ft) measured from the design waterline except for spas that are designed for special purposes and approved by the authority having jurisdiction. The water depth for exercise spas shall not exceed 1.9 m (6.5 ft) measured from the design waterline.
– 503.2, Multi-level seating. Where multi-level seating is provided, the maximum water depth of any seat or sitting bench shall be 711 mm (28 in.) measured from the design waterline to the lowest measurable point.
– 503.3, Floor slope. The slope of the floor shall not exceed one unit vertical in 12 units horizontal (8.3 per cent slope). Where multi-level floors are provided, the change in depth shall be indicated.
– 610.7.5, Colour marking. The leading edge of seats and benches shall be visually set apart by a stripe having a width not less than 19 mm (0.75 in.) and not greater than 51 mm (2 in.). The stripe shall be of a contrasting colour to the adjacent surfaces.
Technically different
When looking at a commercial spa, most will notice they have not undergone any radical changes over the years. Generally, a more simple shell design is preferred with the emphasis on safety in a public, high-traffic facility. Ultimately driven by standards and health regulations, engineers are sure to specify and pay close attention to the following aspects of the spa:
Shell colour
Engineers specify light-coloured spas so bathers can see the depth changes and step edges. Although not technically mandated by code, in most cases, and not in of itself a contrast to the residential spa, it is an important feature to keep in mind when selecting a commercial spa.
Shell material
Engineers also look for the spa shell to have high-impact and non-skid properties. Some commercial spa manufacturers use a high-impact acrylonitrile butadiene styrene (ABS) sheet, which is up to 85 times thicker than standard acrylic sheet used for residential spas. High-impact sheet is capable of withstanding the wear and tear of high-traffic commercial use, while its hair-cell finish features non-skid properties. These spa shell features are preferable to have both underwater and on exposed spa surface areas for emphasis of safety.
Step design
Commercial spa steps, as opposed to residential spa steps, must adhere to building codes. This involves achieving a minimum rise and run dimension to make it safe for consumer use.
Contrasting lines for depth changes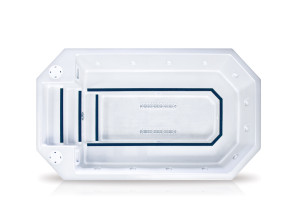 The edge of each spa seat and step is required to have contrasting lines applied. These lines assist bathers in observing edges and depth changes as well as moving in and around the spa in a safe manner.
Plumbing design
Each commercial spa must be plumbed in accordance with the engineer's specifications. This entails calculating flow rates and line sizes to accommodate unique site and equipment specific requirements. For instance, as per the Virginia Graeme Baker Pool & Spa Safety Act (P&SS Act)[7]-approved suction or main drain outlet flow rates should not exceed 0.45 metres per second (mps) (1.5 feet per second [fps]) based on the P&SS Act and regional health board regulations.
Further, skimmer flow rates should not to exceed NSF International ratings, and pipe fittings should not exceed 1.5 mps (5 fps) suction velocity and 3 mps (10 fps) for return fitting velocity.
Skimmer equalization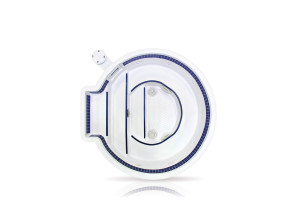 For added safety, reliability, and functionality, each skimmer must be equalized to the spa's floor circulation main drains. Equalization involves using a multiple outlet skimmer, whereby one port is connected to the main drain assembly in the spa floor. This allows for two suction points and prevents any danger of suction entrapment should a bather 'seal' against the skimmer face.
Site specific installation
Typically, commercial spa shells are either made from vacuum-formed thermoplastic or concrete. Shapes and sizes are unlimited as long as the design meets the code requirements as discussed previously. Large spas (longer than 4.5 m [15 ft]) generally require concrete construction.
Each commercial spa installation is unique, and therefore requires engineering involvement. Again, in the commercial spa sector, there are many factors to consider that a residential spa dealer would not normally have to face. For instance, commercial spa installations generally also require:
Vacuum breakers
Vacuum breakers are used as a redundant safety feature to prevent the possibility of suction vacuum entrapment.
Emergency shut-off
As mandated by the International Code Council's (ICC's) International Swimming Pool and Spa Code[9], an emergency shut-off switch is required to disconnect all power to circulation and jet system pumps and air blowers. These switches should be accessible and located within sight of the spa—no less than 1.5 m (5 ft) and not greater than 3 m (10 ft) horizontally from the inside walls of the spa.
Flow meters
Flow meters allow commercial spa operators to quickly check that the design flow rate is maintained. Maintaining an optimum flow rate is crucial to water maintenance and achieving the required turnover rates.
Water purification systems
Water treatment systems vary according to each application. Some examples of what are being used today include: chlorine tablet feeders, saltwater chlorine generators, ozonators, and ultraviolet (UV) sterilizers.
Water maintenance protocol
Commercial spa water should be tested (e.g. chemical parameters and water balance) at regular intervals as deemed by local and regional health codes.
Special timers
Timers are used to limit jet pump activation to 15-30 minutes. These are necessary to ensure the large jet pump is not left to run constantly as this can lead to kinetic heating of the water and potentially unsafe temperatures in addition to damaged equipment and components.
Lighting
Commercial spa illumination is optional; however, certain lighting standards around the spa area are necessary for safety.
Grab rails
Grab rails are installed in the deck around a spa's entry point to assist bathers when entering/exiting the water.
Signage and clock
Safety signs indicating the spa facility's rules of use and other bather warnings should be posted in the immediate area. Clocks should also be visible as to allow bathers to determine how long they have been in the water and when the appropriate time is to get out.
Other
There are also minimum foundation, deck space, and access requirements for commercial spas, all of which follow local and regional building codes.
Further, specialized equipment must conform to electrical requirements and design flow/turnover rates dependant on the commercial spa size and as specified by the engineers involved on the project. The flow rates are specifically tailored to ensure a proper turnover rate, generally between 15 to 30 times per day for efficient filtration. Heaters vary from commercial grade electric, gas, or heat exchangers.
Regulatory concerns
Residential spas offer consumers some amazing and luxurious features, such as complex shell designs, waterfalls, special lighting, and varied arrays of different sized jets. In North America, residential spas are governed by Underwriters Laboratories (UL) 1563, Electric Spas, Equipment Assemblies, and Associated Equipment[10], and Canadian Safety Association (CSA) CAN/CSA-C22.2 No.218.1-M89 (R2011), Spas, Hot Tubs, and Associated Equipment[11], however, they do not meet the requirements set out by the health department for public safety for use in a commercial application. Should a residential spa be installed at a condominium complex or fishing lodge, for example, it is quite possible for the facility's insurance company to void its coverage. Therefore, it is certainly not advisable for contractors, or their clients, to consider the installation of a residential spa in a commercial environment as it could lead to financial penalties and liability issues.
Many cases have and continue to occur where building inspectors fail to approve, and/or demand a facility to remove a non-commercial spa from new or existing projects. Removal can be extremely costly, especially if the spa is installed inground or indoors.
All in all, commercial spas are continuing to be an attractive choice for new commercial projects. Emerging markets, significant design differences, and a more rigid regulatory system gives dealers and contractors reasons to choose a commercially acceptable spa over a residential unit.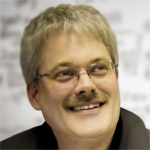 Richard Hall is the product development manager for Coast Spas Inc., a manufacturer of residential and commercial spas in Langley, B.C. He is an industry veteran of almost 30 years, having designed, produced, and distributed commercial spas since 1986. Hall can be reached via e-mail at rhall@coastspas.com[12].
Endnotes:
[Image]: http://poolspamarketing.com/wp-content/uploads/2013/06/dreamstime_l_29162293_edited-1.jpg
[Image]: http://www.poolspas.ca/wp-content/uploads/2015/05/Coast-Spas-Commercial-Model-C875.jpg
[Image]: http://www.poolspas.ca/wp-content/uploads/2015/05/Coast-Spas-Commercial-Model-895-Top-View.jpg
British Columbia's Guidelines for Swimming Pool Design V1.0: http://www.health.gov.bc.ca/protect/pdf/bc-pool-design-guidelines.pdf
International Swimming Pool and Spa Code (ISPSC), Public Version 1.0, Structure and Design: http://www.iccsafe.org
[Image]: http://www.poolspas.ca/wp-content/uploads/2015/05/Coast-Spas-Commercial-Model-814-Top-View.jpg
Virginia Graeme Baker Pool & Spa Safety Act (P&SS Act): http://www.poolsafely.gov/pool-spa-safety-act/
[Image]: http://www.poolspas.ca/wp-content/uploads/2015/05/Coast-Spas-Commercial-Model-875-Top-View.jpg
International Swimming Pool and Spa Code: http://www.iccsafe.org
Underwriters Laboratories (UL) 1563, Electric Spas, Equipment Assemblies, and Associated Equipment: http://www.scc.ca/en/standardsdb/standards/4425
Canadian Safety Association (CSA) CAN/CSA-C22.2 No.218.1-M89 (R2011), Spas, Hot Tubs, and Associated Equipment: http://www.ul.com/global/eng/pages/solutions/standards/accessstandards/catalogofstandards/standard/?id=1563_6
rhall@coastspas.com: mailto:rhall@coastspas.com
Source URL: https://www.poolspamarketing.com/trade/commercial-versus-residential-spas/
---