Constructing safe water play parks that offer universal accessibility
by jason_cramp | November 22, 2015 9:30 am
By Francine Gall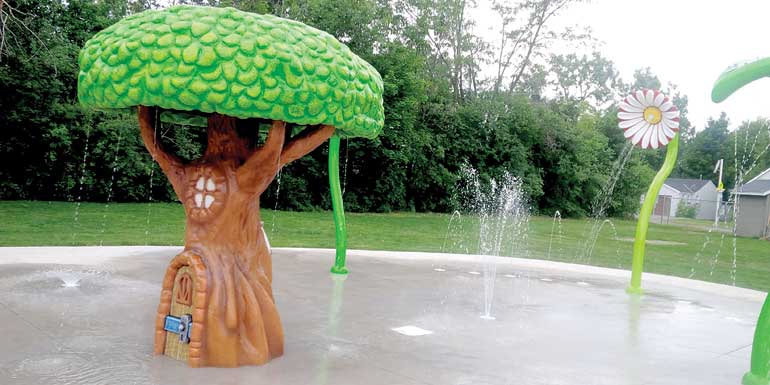 Splash pads transform imagination into new dimensions by delivering adventure, visual excitement, and creative fun for children of all ages. In fact, these features are becoming one of the most popular ways to cool off on a hot summer day. They can be found at local neighbourhood parks, community centres, and family campgrounds. Splash pads are everywhere and their popularity can be attributed to the fact they are the safest water play option, which also offer universal accessibility. Children of all ages can get hours of enjoyment out of spray grounds. Therefore, the goal of any builder is to ensure each splash pad is designed and built to the highest standards of safety and longevity.
Construction considerations
There are several construction considerations that need to be made when installing a splash pad. The most important is ensuring all the water drains appropriately. If it does not, it can become a safety concern.
Therefore, the concrete pad should slope so it drains properly without leaving any standing water—even 25.4 mm (1 in.) of water is considered a drowning hazard. Further, the concrete finish has to be just right, as children of all ages will be running barefoot on the pad. There is a fine line between the finish being non-slip, but also not too abrasive on the feet of bathers.
The underground plumbing used for splash pad construction is typically schedule 40 or 80 polyvinyl chloride (PVC), or high density polyethylene (HPDE). All underground plumbing should drain via gravity to a pit. Operators appreciate a splash pad that is easy to drain when it comes to routine maintenance and/or winterization.
It is also important for the splash pad to be designed with an appropriate overspray zone so the surrounding landscape is not impacted. This should take into account wind patterns in the area for the installation and orientation of water toys.
All splash pads also require electrical grounding. The rebar, water features, and any other metal components must be grounded for the safety of patrons. The local electrical authority will review the entire electrical installation—from grounding to the control system.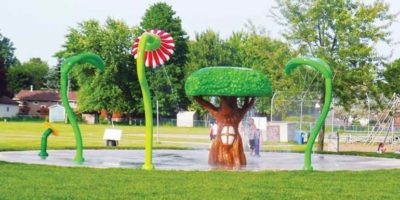 Some wonder how splash pads work, while others wonder what the differences are between the many water play parks installed in various neighbourhoods and/or local community centres. There are various types of splash pad systems and toys available in the marketplace; therefore, it is important to carefully assess what will work for the particular project at hand.
Starting with the basics
Where does the water come from? There are two different types of splash pad systems which are often referred to as 'drain to waste' or 'recirculating' systems. A drain-to-waste splash pad does exactly that; water is turned on and sprays out of the water toys in a sequence, and drains away to the sewer system—similar to turning a tap on in a home. These systems are common in Canada where water is a surplus.
Recirculating splash pads, considered more environment friendly, are more common in areas where water supply is at a premium (e.g. southern and western regions of the U.S.).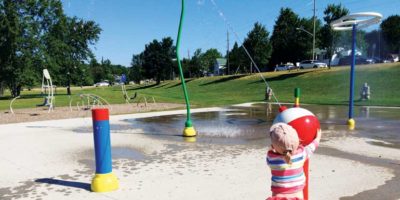 All there is to know about recirculating systems
A skid-mounted recirculation system is manufactured off-site and each system has the same design specifications. These units are often referred to as off the shelf equipment. One drawback with this equipment is many skid-mounted recirculating systems are undersized.
Therefore, the installation of custom filtration systems that are designed to meet the needs and demands (e.g. high bather loads) of the specific splash pad project are recommended.
The recirculation system should be designed to handle heavier bather use during peak periods. Similar to a heavily used pool, which would require a four-hour turnover, a splash pad should have no less than a 20-minute turnover rate. This means the water goes through the filter and ultraviolet (UV) system three times per hour, 72 times per day. It is critical the water is bacteria-free and safe for bathers, as anything less could potentially compromise patrons' health.
Custom recirculation systems require a UV sanitizer (as mentioned earlier) in addition to a chemical controller to ensure proper water chemistry and pH levels.
Handling rain water
One important consideration for splash pads using a recirculating filtration system is what to do with rain water that accumulates on the concrete deck and flows into the splash pad's balance tank. To keep water in the balance tank at the prescribed level, an electric valve connected to the drain line will open and divert water to the sewer (waste) when the splash pad is not being operated.
When this occurs, the filtration and sanitizer system will still operate to treat the water in the surge tank. When the splash pad is operating, the electric valve diverts the water on the splash pad to the balance tank.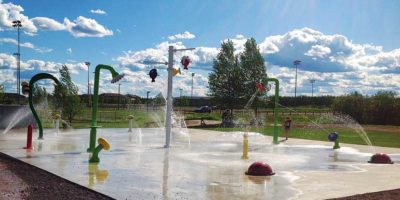 A range of water toys
Most suppliers manufacture water toys using stainless steel, reinforced fibreglass, or a combination of the two materials. Both are marketed as being highly durable. The biggest difference, however, is the versatility each material has with respect to creating various designs and shapes.
For instance, fibreglass can be moulded into any shape or form (e.g. creative creatures or animals, depending on the theme of the splash pad). In this author's experience, the longevity of splash pad equipment manufactured using fibreglass far surpasses stainless steel, as over time the latter will rust and corrode.
There are also many different types of water toys, ranging from surface spray to multi-level structures. Some splash pads are designed using only surface sprays, while others use a combination of surface sprays and above-ground features. The latter might be interactive or have dumping buckets and other elements of surprise. Multi-level structures are designed with a lot of interactive elements and sometimes incorporate slides.
Splash pads have evolved over the years. The first designs were very simple, comprising a concrete pad with a simple stainless steel pole with water gushing out of the top. Today, however, these water play features have progressed into concrete pads with resilient surfaces and a multitude of spray features and toys, often interactive and themed.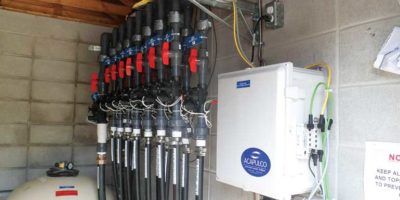 The brains behind the operation
Finally, today's splash pads are built with an operating system that has the feature sequence built in to make sure certain features operate at specific times. For example, when a child activates the bollard, the water will dance in a pre-set sequence and certain toys will turn on at different times.
Depending on the splash pad designer/builder, the operating system can vary greatly—from simple on/off functionality to remote accessibility with the ability to shut the entire system down from a smartphone.
The available products on the market are endless; therefore, it is important for each community to assess their needs to ensure they are getting the water play system that meets their requirements. Splash pads provide fun for children of all ages and abilities, which is why they are so unique and remain popular amongst many communities.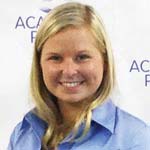 [6]Francine Gall is the chief operating officer at Acapulco Pools Ltd., in Kitchener, Ont. She is responsible for overseeing all of the day-to-day operations within the organization. Gall is also Acapulco's expert on the subject matter of splash pads and movable floors. She can be reached via e-mail at francine@acapulcopools.com[7].
Endnotes:
[Image]: http://poolspamarketing.com/wp-content/uploads/2015/11/splash_Parkdale-2.jpg
[Image]: http://www.poolspas.ca/wp-content/uploads/2016/04/splash_Parkdale.jpg
[Image]: http://www.poolspas.ca/wp-content/uploads/2016/04/splash_IMG_1870.jpg
[Image]: http://www.poolspas.ca/wp-content/uploads/2016/04/splash_Dr-KP-Wong-Splash-Pad-4.jpg
[Image]: http://www.poolspas.ca/wp-content/uploads/2016/04/splash_SAM_0794.jpg
[Image]: http://poolspamarketing.com/wp-content/uploads/2015/11/Gall_Headshot.jpg
francine@acapulcopools.com: mailto:francine@acapulcopools.com
Source URL: https://www.poolspamarketing.com/trade/constructing-safe-water-play-parks-that-offer-universal-accessibility/
---