Discovering the latest hot tub design trends
by Sally Bouorm | April 1, 2013 12:07 pm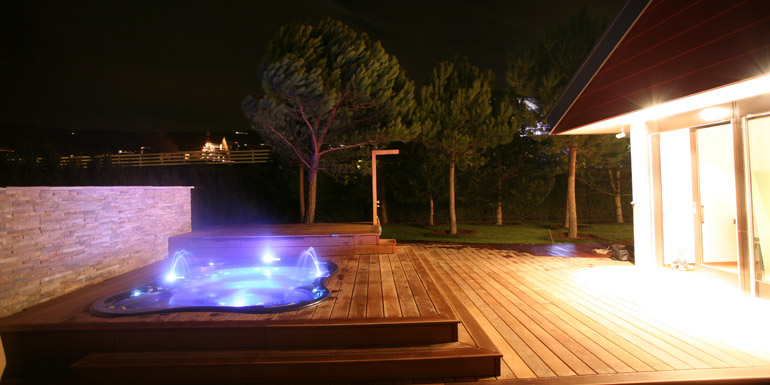 By Vic Walker
As the attraction with outdoor living continues to evolve, one design element that has seen increased popularity is the backyard water feature. Not only do water features add a natural ambiance to any backyard setting, they can be easily added to most landscape designs. Many water features are part of a pool or hot tub installation. Modern swimming pool and hot tub designs can incorporate a variety of water features that give the backyard character and allow homeowners to develop an emotional bond with their outdoor escape. For instance, some water features are often integrated into the design of major pool components such as raised spas, which spill over into the pool. This creates a nice transition between two functional zones and adds a tremendous amount of character to a design.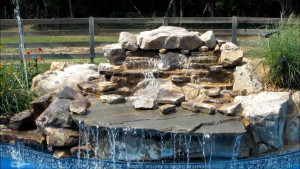 When used as a separate design component, water features can provide a stunning visual and audio element to any backyard landscape. From sheer descents and natural babbling brooks to contemporary laminar streams, there is a large variety of visual and audio options the consumer can select from. As of late, swimming pool water features have also become more sophisticated. For example, many of the water features used today can be controlled remotely via smartphone, using an app, or by a separate dedicated remote. Further, many swimming pool water feature designs also typically include multi-colour light-emitting diode (LED) lighting that can really make them 'pop' at night. LED lighting systems can also be linked together to provide colour co-ordinated light shows to further enhance the backyard. All of the above has helped water features become a growing part of any outdoor design, and not just when a consumer is putting in a pool.
As water features continue to grow in popularity, many companies are also creating standalone designs that are easily added to new or existing landscapes. These self-contained water features or fountains can be easily installed in flower beds or on decks and patios to add the natural sound and ambiance only a water feature can provide. As new designs emerge and consumer demand grows, water features will continue to have a large role in outdoor living designs.
Hot tubs get in on the trend
In recent years, portable hot tubs have also joined the water feature design trend. While they have been an integral part of landscaping and pool designs for many years, the growth of the portable hot tub industry, along with the growing popularity of water features, has resulted in the increased use of fountains (as they are sometimes called) in hot tub design.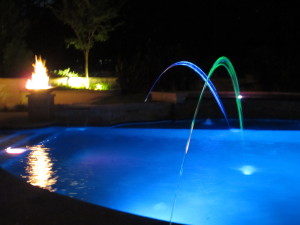 Taking a cue from many pool designs, hot tub manufacturers are now offering a variety of water feature options for consumers to choose from. These new features are aimed at adding a visual and audio component to the hot tub to enhance the overall hot water bathing experience. Many of these water features can be used (with the cover off) when the hot tub is not in use to provide an outdoor space with both visual and audio ambiance. Some hot tub manufacturers offer dramatic fountain designs that easily double as an outdoor water feature and, when accompanied by multi-colour LED lights, their appearance at night can be further enhanced with soothing colours and dynamic light shows that can spice up an evening gathering.
As there are a wide variety of styles and designs on the market today, this article will explore some of the various types of water features or fountains found in portable hot tubs.
THE BALANCE OF FIRE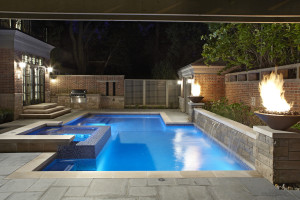 Just as water features are a key element in creating a natural tie between the backyard and nature, the use of fire can also add an alluring touch. When used in outdoor design, fire tends to provide a more exotic feel to the backyard.
Fire elements are increasing in popularity and are available in many forms to fit any outdoor design. Fire pits are one of the most popular and are a common design element in most outdoor compositions as they create a great social place for family and friends to gather. Outdoor fireplaces are also becoming a focal point in many outdoor landscapes.
The use of fire elements in pool design have also increased as many of today's projects combine water and fire features to create stunning backyard retreats. Many unique options are available to match any outdoor design and/or décor. For instance, the element of fire can be integrated into a table or even used as a standalone feature.
Most of these features are fuelled using the same type of propane tank found on the family barbecue, while one of the latest trends has seen the growth of biofuel outdoor fire features.
Hot tub water features
Even though hot tubs have been around for many years, water features for hot tubs are in some ways a relatively new option.
It has only been in the last decade or so when water features were first installed on hot tubs. In fact, early water feature designs were typically modelled after their larger counterparts found in the pool industry. They were obviously scaled down in size, and the overall design was adjusted to accommodate the hot tub manufacturing process; however, early flume designs were not that sophisticated and were often full of turbulence as they used valves to divert hydraulic energy from the hot tub's jet pump system. These valves also served as a flow control for the water feature. As these designs were successful in providing the visual and audio appeal consumers sought after, the water feature trend was off and running.
Since original hot tub fountain designs were influenced by what was used in pools, it was only natural that they looked and sounded similar. Most early designs had flumes (e.g. a blade of water) similar to what pool designers call a sheer descent. However, as mentioned earlier, due to the high water flow associated with hot tubs, these flumes were full of turbulence and not as elegant in nature. The acoustics were not great either as the sound from the hot tub's pump was often louder than the water feature itself. Further, the very nature of hot tub design did not allow the water feature to be placed high enough to create the proper effect. Instead, they are angled upwards to allow more area for the water flume to flow or form.
Pumps and design
In an effort to improve the designs—both visually and aurally—hot tub water feature components and systems are becoming more sophisticated. For instance, some higher-end manufacturers are using small magnetic-drive pumps to power the water features. These pumps can be found in many water management systems and are sometimes referred to as circulation pumps. Although this is an added cost, magnetic-drive pumps create less turbulence, thus help to create stunning water features with better audio characteristics.
They are also more energy efficient and allow the homeowner to run the water feature more often without the need to operate the hot tub's larger jet pumps. This configuration allows homeowners to use their hot tub as an outdoor water feature and helps integrate it into the landscaping more effectively—similar to fountains and water features in pool design.
As water features became more popular, many hot tub manufacturers created unique designs specific to the hot tub environment. These took into account the hot tub manufacturing process, the limited space available, and even special body designs to help remove unwanted turbulence. Further, some hot tub component manufacturers created entire water feature product lines specially designed for the marketplace, including some of the standard shapes and forms mentioned above, as well as unique designs with additional functionality (e.g. interchangeable flumes, architectural sconce forms, and water features built into grab handles).
Installation
Water features are typically mounted as high as possible on the inside wall to allow the flume to 'develop' or form. Most hot tub manufacturers will create special angled landings to help with the water feature's functionality. Sometimes the goal is not only to create a relaxing ambiance, but to also allow some tactile interaction with the water feature. For example, some blade-style fountains can be installed so bathers can sit below the flume as it pours a soothing, gentle sheet of water over them.
In contrast, some manufacturers have fountains that work vertically and create a dramatic display that can be seen from far away. These fountains can project water 1 to 1.2 m (3 to 4 ft) in the air to provide an impressive audio/visual feature that can be enjoyed even when the hot tub is not in use. When enhanced with LED lights, these vertical moving water features are equally as impressive at night.
Water feature flumes and component designs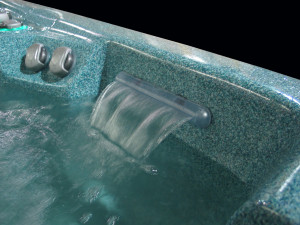 When considering water feature design, the 'flume' or the shape of the water is an important aspect. In addition to the water feature's visual esthetics, the flume also influences or creates the audio characteristics of the design. One might say the flume is the most important part of the water feature as it is the component that bathers 'experience' with their eyes and ears.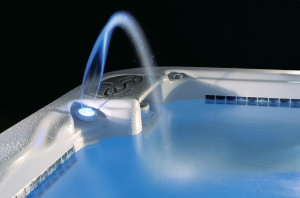 In hot tubs, the flume is created by passing water through various shapes called orifices. From narrow slits to different sized round holes, various geometric shapes are used to create a large variety of water feature designs. Flume designs for hot tubs include sheer descent, rods, fans, sprinkles, and even babbling brooks, which are all scaled down to fit the overall size of the hot tub.
The hot tub industry has been quite innovative in adding water features to new designs and there is a wide variety of options for consumers to choose from. In most cases, they are typically multi-part designs that are integrated into the plumbing. Since most hot tubs are made from a formed polymer material (acrylic, high-density polyethylene [HDPE] or polyethylene [PE]), most water features comprise multiple components. One-piece water features, however, still require a gasket, nut, and additional plumbing for installation. These typically have the orifice and decorative parts contained in one piece that sits on the front of the hot tub shell, while the nuts and plumbing are installed from the rear or backside through holes drilled in the shell.
For multi-part designs, the body of the water feature sits behind the hot tub wall (on the backside), and the front of the water feature, which contains the orifice and decorative trim, is installed on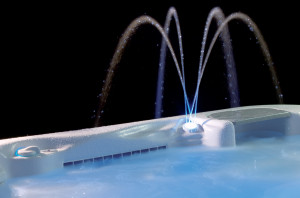 [7] the hot tub's front wall. A simple hole or slot is drilled into the hot tub shell, and similar to one-piece designs, the water feature is mounted using a gasket, nuts, and silicone. The face is then screwed or glued into place, forming the front of the water feature. This is typically where the orifice is located. The plumbing is then connected to the pump and flow control valve. Some water features have flow control valves built into the body, but for most designs, a separate control is used.
To help understand the various styles or forms of fountains found in the hot tub industry, the following is a look at some of the most popular.
Sheer descent or blade-style waterfalls
This style of waterfall is the most popular and most common in both pool and hot tub designs. It can be created very easily in a pool design by having a formed ledge projected above a larger body of water. Running water over this ledge creates a water feature that looks and sounds natural. Additionally, there are plastic component designs that can be mounted in walls or other elements to create laminar flumes.
In hot tub design, this style of flume is sometimes called a 'blade' waterfall. They can vary in length and typically comprise a thin sheet of water that is projected from a slit-style orifice. The orifice or body of the fountain is raised above the main body of water to create a dramatic sheet of falling water. This style of water feature creates interesting audio that will vary depending on its size and the amount of water coming out of the orifice.
These water features typically do not have the same laminar qualities as those found on large swimming pool designs due to the nature of the plumbing schematics. However, new designs currently on the market have made great improvements in this area.
Laminar streams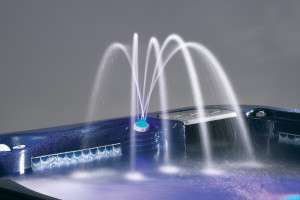 Laminar streams are another popular flume design. These water features are more challenging to execute correctly in the hot tub environment due to the turbulence present in many hydraulic systems. Therefore, suppliers and original equipment manufacturers (OEMs) have developed custom designs to help remove any turbulence whereby creating a smooth, solid rod or stream of water. Removing turbulence also allows light to travel more effectively inside the stream.
To help reduce turbulence, some hot tub manufacturers will use smaller magnetic-drive pumps, rather than jet pumps, to power the water feature. When configured in this manner, the flume has less entrained air and is more laminar in nature. These designs look more appealing and work better with LED lighting.
Laminar stream water features can be created using a fixed design or a 'pop-up' configuration. They are often used in groups to create a balanced look as well as to add more audio effects to the hot tub.
Babbling brook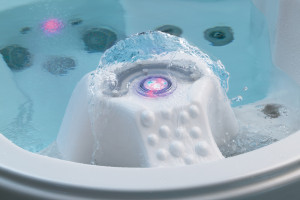 This flume style is also sometimes difficult to execute in a typical hot tub design. One reason for this is because hot tubs usually do not provide enough run length to create this type of water feature.
As the name would suggest, the goal is to create a water feature that is slow moving, but with enough water volume to produce a natural, relaxing sound—similar to a natural brook or creek. Many manufacturers use small spill-overs to create rivers of water that run down the hot tub walls. Although many of these designs are esthetically pleasing to the eye, in most cases, the audio cannot be heard above the noise created by the pump.
One design on the market uses a long, curved runway for the water that can also be filled with natural stone. This water feature is fed using a silent, magnetic-drive circulation pump, which allows the natural sound of the water to prevail. Another design uses a 'pop-up' feature that produces an umbrella of water that creates a natural aquatic sound as the water descends into the hot tub.
Pop-up water features
'Pop-ups' are the newest and most popular hot tub water feature. These designs use the energy from the hydraulic pump to raise and lower a centre component, which comprises a flume in the shape of a rod or small stream. Some manufacturers mount more than one in their hot tub design to create a balanced symmetrical look.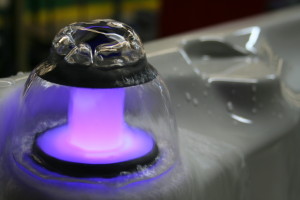 Recently, newer 'pop-up' designs have emerged with variations in flume designs aimed at mimicking the look and sound of natural water features. For example, new bubbler and fan-shaped flume designs offer a fresh, exciting variation to the standard laminar stream. These water features also create pleasant audio and add to the relaxing ambiance of the hot tub experience.
This flume style is manufacturing friendly for hot tub OEMs as they typically have a small footprint, elevate during use to enhance design and presence, and are capable of being illuminated with LED lighting. Further, they can be used in pairs or standalone to create an exciting balanced design.
Specialized water features
The hot tub industry has driven or created several innovative water feature designs specifically suited for hot tubs. Many of these water features (e.g. waterfalls built into handles or shaped like small sconces) are easy to install and are designed to be compatible with the manufacturing process.

Recently, large overflow waterfalls have also been developed to allow a greater volume of water to spill over an edge. These waterfalls will pool water in a recessed area that is built into the hot tub shell that follows the contours of the water feature body design. This larger volume of water creates an impressive sheer descent and more natural sounds than earlier, smaller designs.
Another interesting variation is interchangeable flume nozzles or developers. These designs allow consumers to change the look, feel, and sound of the water feature. Consumers can have rain-like streams, blade-like flumes, or even recreate the sounds of a babbling brook. These designs are integrated into the configuration of the hot tub shell with some water features (e.g. babbling brook) requiring special formed geometry to function properly.
Another new hot tub water feature that takes its cue from larger architectural designs is the rotating sphere in water. One manufacturer in particular is working on a smaller design that is specifically configured for hot tubs. It comprises a small glass globe with a cracked-ice finish. The sphere spins on a bed of water while multi-colour LED lights illuminate the feature from below. The sphere's rotational speed is controlled via water flow, using the same style on/off valve that is used to control the flow on other designs.
The future of water features
As hot tubs continue to evolve, water features will always be an integral part of their design. The relaxing sound of water, accompanied by mood lighting and music, make for the perfect backyard getaway. Further, new designs and improvements in pumps and control systems, along with more sophisticated LED lighting options, will likely lead to animated water features that allow pool/hot tub owners to have their own version of the famous 'Bellagio' fountains in their own backyard.
Today, lighting and water features from multiple backyard elements can be joined together into one cohesive design. Whether the homeowner likes to hear the soft patter of a natural creek or the strong sounds of a sheer descent, there are many options available for creating the perfect backyard water feature.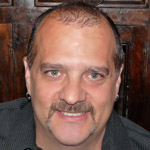 Vic Walker is the product design and marketing manager for Custom Molded Products Inc., a manufacturer of plastic components for the swimming pool, hot tub, and bath industries in Newnan, Ga. He has almost 20 years' experience as an industrial designer and more than 16 years' experience in the pool and hot tub industry where he has been awarded more than 15 patents for his contributions. He can be reached via e-mail at vwalker@c-m-p.com[12].
Endnotes:
[Image]: http://poolspamarketing.com/wp-content/uploads/2013/04/19-12-08-141.jpg
[Image]: http://www.poolspas.ca/wp-content/uploads/2015/05/natural-waterfall-copy.jpg
[Image]: http://www.poolspas.ca/wp-content/uploads/2015/05/IMG_0832.jpg
[Image]: http://www.poolspas.ca/wp-content/uploads/2015/05/12-06-03_Solda_Pools.jpg
[Image]: http://www.poolspas.ca/wp-content/uploads/2015/05/25259-009-000.jpg
[Image]: http://www.poolspas.ca/wp-content/uploads/2015/05/LFX_Flame_Side_Wht.jpg
[Image]: http://www.poolspas.ca/wp-content/uploads/2015/05/LFX_Rain_Wht.jpg
[Image]: http://www.poolspas.ca/wp-content/uploads/2015/05/5-Stream.jpg
[Image]: http://www.poolspas.ca/wp-content/uploads/2015/05/DupreeBabblingBrk2.jpg
[Image]: http://www.poolspas.ca/wp-content/uploads/2015/05/IMG_1099.jpg
[Image]: http://www.poolspas.ca/wp-content/uploads/2015/05/Waterball-installed-icy-blue-copy.jpg
vwalker@c-m-p.com: mailto:vwalker@c-m-p.com
Source URL: https://www.poolspamarketing.com/trade/discovering-the-latest-hot-tub-design-trends/
---