Discovering the many options for lighting an outdoor space
June 23, 2015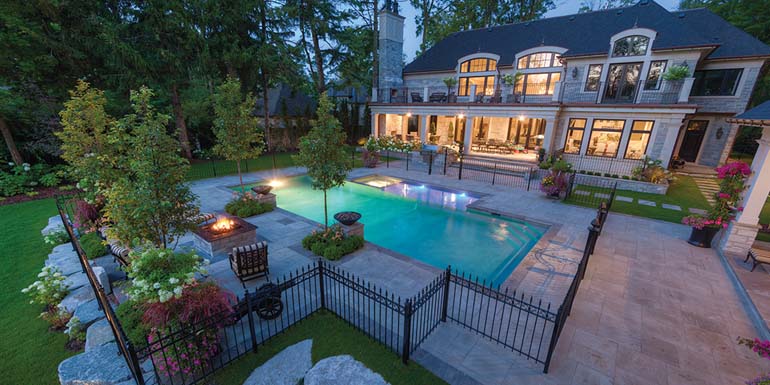 By Jennifer Gannon
Providing homeowners with a beautiful outdoor space is the ultimate goal of pool and spa professionals. Many design elements come together to create a backyard utopia and one often overlooked component is lighting. Without a doubt, when it comes to backyard entertaining, outdoor lighting is no less important than lighting an interior space.
The magic of light
The breadth of outdoor lighting products means there is no shortage of ideas and ways to bring a backyard to life in the evening hours. Four of the common types of outdoor lighting products and usage include:
Underwater lights for swimming pools, hot tubs, and water features;
Light-emitting diode (LED) low-voltage garden fixtures for accent lighting;
Spotlights and floodlights to highlight certain areas or landscape features and motion lights for security; and
Fire features to create warmth and dramatic impact.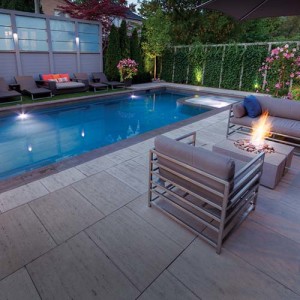 Underwater lights
Swimming pool lights have been a popular upgrade for decades, allowing for a safe evening swim while creating a beautiful reflecting effect. Underwater light options have expanded recently with the popularity of energy-efficient LED fixtures. Previously, only halogen or incandescent fixtures in 100- 300- or 500-watt sizes were available. They were typically placed in a wall niche and connected to a junction box on the pool deck. Many major suppliers offer a variety of these standard fixtures, which range in diameter from 152 to 254 mm (6 to 10 in.). One light installed in the deep end of a pool can illuminate a standard 4.8- x 9.7-m (16- x 32-ft) pool. If a client has a larger 6- x 12-m (20- x 40-ft) pool, it is best that two lights be used, evenly spaced on the long run of the pool wall.
LED lights are typically smaller fixtures, however, they offer colourful options as they can cycle through six vibrant colours: white, blue, green, red, amber, and purple, or can be set to a fixed colour. They are usually 38 to 101 mm (1.5 to 4 in.) in diameter and can be placed within the pool steps, on a wall, or in a hot tub. Powering the lights is a generator box which is connected by a wire and stored in the mechanical area. These fixtures use up to 89 per cent less electricity than standard halogen fixtures and are very economical to operate. Some brands even come with a remote control or can be connected to an automated system. Several manufacturers offer a broad variety of LED choices with a brightness that rivals that of halogen or incandescent bulbs.
LED lights can also be used for sheer water descents, creating a dazzling focal point.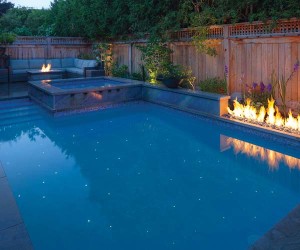 Fibre optic lights
Fibre optic lights are comprised of ribbons of flexible tubing that can be placed under the coping around the perimeter of the pool. They are connected to a control centre or generator that is wired to a remote location or the mechanical area. It is important to note that the light source box needs to be installed as close to the pool as possible to ensure adequate luminosity as distance will diminish the light's brightness.
Floor lights
Floor lights are small bundles of fibre optic lights installed in the floor of a gunite pool, creating the appearance of a constellation. They are, however, labour intensive to install, and can take two people three days just to run the conduits and install the fixtures for 100 lights. Floor lights are available in kits and typically come with 25 fixtures. Multiple kits can be ordered for larger surface areas.
LEDs for accent lighting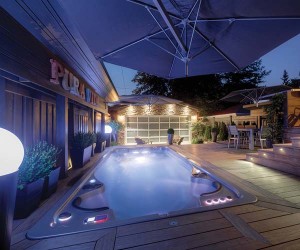 For clients to get the most use out of their backyard, pool professionals should recommend low-voltage LED lighting. It is a great way to profile fine carpentry, stairs, garden features, and walking paths. There are a variety of LED lighting options available to enhance the outdoor space. LEDs boast warm and cool light colours, a long bulb life—typically 10,000 hours—and use little wattage, which makes them not only energy efficient but also low maintenance.
Small circular LED lights can be recessed in stone, pavers, and/or wood decks, while wall- or post-mount fixtures feature a cap to direct light up or down.
One of the best parts about low-voltage systems is how simple they are to install. A basic system with one or more fixtures only takes on average 20 minutes to hook up using a low-voltage cable. As the transformer and cable are all that is required for power, no electrician is required.
Spotlights
LED fixtures have improved in lumen strength and now include high-intensity lights for illuminating a large tree, shrub, garden statue, or exterior wall. The light can now reach more than 76 mm (3 m). Most fixtures come with garden stakes to secure them in the ground and direct the light.
Also, transformers allow the lighting to be controlled by a sensor, timer, or motion detector. The plug for the transformer can be connected to a standard outlet.
Spotlights are often used at the bottom of a water feature to up-light the water or create a reflecting pond effect. These fixtures are sized based on the surface area of the water feature.
Motion sensors are an inexpensive security system allowing illumination in the exterior space when unexpected or unwelcome activity occurs outdoors.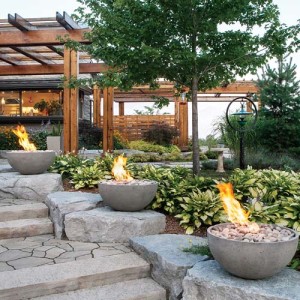 Fire features
Fire is a perfect complement to water features and many pool and hot tub owners want it as part of their backyard design. The popularity of fire has resulted in a full range of gas features, from simple log sets to fire bowls or long linear shapes that comply with most city bylaws and building codes. The light from a gas feature can illuminate a large area of up to 1 m2 (10 sf) or more with heat output ranging from 40,000 to 60,000 BTUs. The effect is stunning and clients often say it brings back memories of sitting around a campfire only with the convenience of lighting the feature in the same way as a barbecue. No wood chopping required!
There is a lighting product available—whether on land or in water—to create an outdoor space to meet clients' needs and esthetic preferences. Outdoor lighting adds an extra element of décor, illuminating architecture, garden, and water features while creating a cozy ambiance. Bring on the night!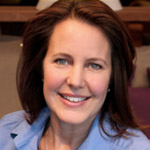 [6]Jennifer Gannon is a second generation business owner who operates BonaVista LeisureScapes, an outdoor living store in Toronto. She studied English at the University of Western Ontario and has been with BonaVista for more than 15 years before and after a career as an account director at two Canadian advertising agencies. The company is a family-owned and operated business with more than 40 years of experience in custom concrete water projects, backyard spas, and water features. She can be reached via e-mail at jennifer@bonavistapools.com[7].
Endnotes:
[Image]: http://poolspamarketing.com/wp-content/uploads/2015/06/MNP-BV-RAPANOS-01.jpg
[Image]: http://www.poolspas.ca/wp-content/uploads/2015/06/MNP-BV-SILVER-56.jpg
[Image]: http://www.poolspas.ca/wp-content/uploads/2015/06/MNP-BV-BROWN-47-1.jpg
[Image]: http://www.poolspas.ca/wp-content/uploads/2015/06/MNP-BV-CRICHTON-009.jpg
[Image]: http://www.poolspas.ca/wp-content/uploads/2015/06/C2D3868_master.jpg
[Image]: http://poolspamarketing.com/wp-content/uploads/2015/06/Gannon_Headshot1.jpg
jennifer@bonavistapools.com: mailto:jennifer@bonavistapools.com
Source URL: https://www.poolspamarketing.com/trade/discovering-the-many-options-for-lighting-an-outdoor-space/
---