Expert tips for installing removable pool fence systems
March 1, 2015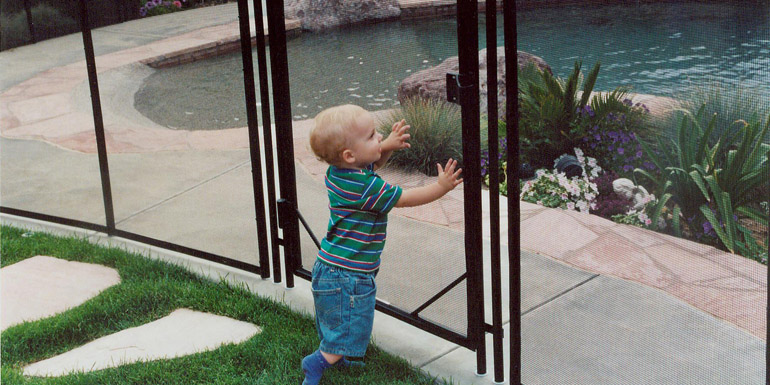 By Robert Bortoluzzi
Removable mesh pool fencing (RPF) has been used in residential backyards since the mid '60s and was designed for the purpose of preventing swimming pool accidents (drowning)—primarily for children under the age of five, who, historically, are the most at risk. According to the Lifesaving Society Canada, backyard pools continue to be the number one setting where children under five years of age most often drown. For half of private pool fatalities for which information was available, there was either no gate (29 per cent[2]) or the gate was neither self-closing nor self-latching (22 per cent[3]).
What factors influence drowning risk?
Some of the main factors that affect drowning risk are: the lack of swimming ability, the lack of barriers to prevent unsupervised water access, and the absence of close supervision while swimming. The major risk factors contributing to 'why' victims drowned remain consistent with those the Lifesaving Society has identified in the past. They include:
Victim unable to swim (34 per cent [4]of all victims for whom swimming ability information was available);
Children under five years of age alone near water (61 per cent[5]) often during a momentary absence/lapse of caregiver attention (53 per cent[6]); and
Lack of barriers such as pool fencing[7], which prevent young children from gaining access to the pool area without caregivers' awareness.  A four-sided isolation fence (separating the pool area from the house and yard) reduces a child's risk of drowning by 83 per cent compared to three-sided property-line fencing.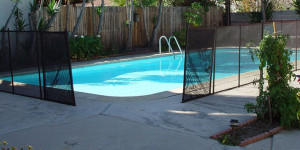 Removable fencing gaining wider acceptance
Today, many products are available that are effective in the prevention of pool drowning. For many years, removable pool fencing, which comprises a series of polyvinyl chloride (PVC) vinyl mesh sections attached to vertical poles that are connected to one another to form a barrier around the pool. The sections are customizable, removable, and see-through and have a proven, safe track record throughout North America and abroad.
In fact, removable pool fencing has been a popular choice for homeowners in states such as Florida, Arizona, and California, while in Canada, four-sided pool fencing is not only gaining wider acceptance, but is also law in Quebec[9] and the city of Toronto[10]. (See Figure 1)
Safer Pool Fencing Legislation Chart

Municipality
Four-sided fencing
City of Toronto, ON Bylaw #447-1
Required
City of Windsor, ON Bylaw #266-2004
*
City of Woodstock, ON Bylaw #722
*
City of Clarence-Rockland, ON Bylaw #2002-47
*
Municipality of Port Hope, ON Bylaw #31/2006
—
City of Peterborough, ON Bylaw #591-1991
—
City of Ottawa, ON Bylaw #2001-259
—
Town of Hawkesbury, ON Bylaw #33-95
—
Town of Dryden, ON Bylaw #1388-78, Chapter 234
—
City of Cornwall, ON Bylaw #061-1992
*
Township of Woolwich, ON Bylaw #52-2007
*
City of Burnaby, BC Pool Enclosure Bylaw
—
City of Nanaimo, BC Bylaw #5693
—
City of Vancouver, BC Vancouver Building Bylaw
*
City of Prince George, BC Bylaw #5912
—
City of Victoria, BC Bylaw #93-112
*
Halifax Regional Municipality, NS Bylaw #S-700
—
Cape Breton Regional Municipality, NS Bylaw #S-2
—
Town of Bridgewater, NS Swimming Pool Bylaw Chapter 168
—
City of Corner Brook, NL Bylaw #Swimming Pool Regulations
—
City of St. John's, NL Bylaw #1464
—
City of Charlottetown, PE Zoning and Development Bylaw
—
Town of Sussex, NB Bylaw #1350-04
*
* These bylaws do not specifically require four-sided pool fencing; however, depending on how bylaw enforcement officers interpret the bylaw, they may in application require four-sided fencing around private residential swimming pools. © Parachute—a national, charitable organization dedicated to preventing injuries and saving lives. (Updated June 2011)
Although many other jurisdictions have yet to pass four-sided pool fencing bylaws, the laws currently in place in every region shown in Figure 1 do specify the need for self-closing and self-latching gates. This leads to the discussion about installing 'layback' holes as part of a removable pool fence installation.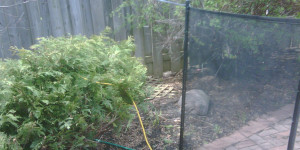 Layback holes
In the early stages of removable pool fence installations—more than 40 years ago—dealers, pool contractors/installers, and maintenance companies integrated 'layback' holes into the pool deck as a way to create an opening or entry point by way of undoing the safety catch at the top of the fencing section, lifting one pole out of the swimming pool deck, moving it aside, and parking it into a 'layback' hole. This was done so the fence was not left dangling.
Essentially, 'layback' holes are extra holes in the pool deck on the inside or outside of the pool fence system that are provided as a means for the pool owner to open the fence to gain access or entry to the pool area.
This installation method, however, creates a weak link and an unsafe pool environment as the homeowner can forget they left an opening in the fence should they become distracted with other activities. Further, extreme tension is exerted on the safety catches at the top of each section, where they connect to one another, and a pool owner may not be strong enough to apply the required force to squeeze the poles back together to replace the safety catch. In this case, more often than not, the fence is left ajar and unsecure, and the pool is left exposed. These are just two reasons why the use of 'layback' holes is not advocated.
Installation procedures should evolve
As with many industries and product offerings on the market today, a lack of standards exist with respect to following guidelines and proper implementation of safe ethical work practices, whether it is from the manufacturer, supplier, distributor, etc. Often, it is left up to the contractor or installer to decide, adapt, or even modify their work as they go along. In this case, one must ask themselves the following: "If a method or procedure in the workplace was used years ago, does it mean it should still be followed today? Can they be improved upon?"
The use of 'layback' holes is a perfect example where a procedure or method of installation has been used for years with relatively no thought as to whether it is correct or applies to today's standards.
Ironically, this installation method is still widely used today, despite the availability of self-latching, self-closing gates. These gates, which can be locked by key, are the most important part of a removable pool fence system. And, they are the only way to ensure proper safety as it eliminates the worry of whether or not the fencing was left open.
Reasons for non-compliance
Unfortunately, there are still some removable pool fence suppliers/installers that do not offer self-latching, self-closing gates to their clients and continue to use the 'layback' hole installation method. Some reasons for this include:
Gate installation is difficult to perform;
Gates are poorly designed and do not operate as they are intended;
Gates are downplayed due to their cost;
Lack of proper training and experience; and
They are not available in the product line.

Proper/improper fence installation
There are three main factors to take into consideration when installing a removable pool fence system: safety, method, and esthetics.
Safety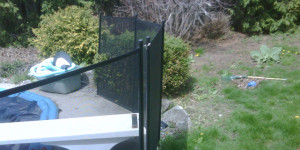 When considering the layout of a removable pool fence system, child safety is the top priority. Where possible, secure (i.e. separate the pool from the rest of the yard and patio area); the homeowner should not need to enter through the fence for anything other than pool activity.
Installers should consider how a child may think and/or react. Never underestimate what a child can do; therefore, every precaution must be taken to ensure the fencing system is safe and cannot be penetrated. As part of this process, take a look at the entire backyard, in addition to the pool area, and identify potential obstacles that may impede safety. For example, if a retaining wall, waterfall, decorative boulders, or elevated deck is present, consider the fact that a child can gain a height advantage when standing on these structures and, therefore, the fencing needs to be installed in a manner that prevents them from climbing or jumping over it. If there is lack of space, then the fencing system needs to be taller.
Also inspect the path the fence needs to follow to enclose the pool properly. A removable pool fence system needs to be secured to itself in the form of a total circumference installation around the whole pool or to an anchor point on each end, e.g. the house, lot line fence, etc. No spaces should be left where a child could potentially breach the fence. If there are shrubs, hedges, trees, etc., in the way then an alternate route for the fence needs to be considered. If this is not possible, the fencing has to go through these obstacles to the anchor point. Do not assume the presence of a cedar hedge or rose bush will act as a deterrent for pool entry.
Method of installation
Typically, a removable pool fence system is installed a minimum of 0.6 to 1.22 m (2 to 4 ft) away from the pool water. The reasons for this are:
If a child were to climb the fence and get over it, they would fall on the pool deck and not into the pool.
Space is required to walk around the pool on the inside of the fencing.
Should bathers need to get out of the pool while swimming, the fencing cannot be too close to the edge.
The fence should not prevent the homeowner from sitting poolside, should they want to relax on the pool deck and dangle their feet in the water.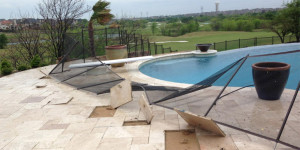 It should also be noted, all lounge chairs, tables, and other accessories should be positioned on the outside of the fencing system. Installers must consider 'non-pool' time and how easily a child can leave the table or lounger and slip into the pool unnoticed.
Another factor to consider is the pool deck construction, e.g. concrete, flagstone, pavers, dirt, grass, etc., as proper installation methods need to be considered for each of these materials. Given the extreme tension of the fencing, where possible, concrete or a similar solid surface is recommended. When installing in pavers, long-pipe inserts must be used as the pavers will not withstand the tension of the fence. Long pipes should also be used when installing the fencing system into grass or dirt.
Esthetics
In some cases, esthetics and safety do not mix together well. Where possible, the layout of the fencing needs to flow with the contour of the pool to provide a professional appearance. When offering advice, talk to the client and find out how they use their backyard, and then consider all of the aspects mentioned herein for a proper fence installation.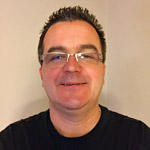 Robert Bortoluzzi is the owner and exclusive authorized dealer in Ontario for Guardian Pool Fence Systems Inc. He has 20 years' experience installing removable pool fence systems and is a successful entrepreneur. Bortoluzzi has completed more than 1000 installations and installs fencing for many local pool contractors. He can be reached via e-mail at robert@safetypoolfence.ca[13].
Endnotes:
[Image]: http://poolspamarketing.com/wp-content/uploads/2015/03/GuardianBaby.jpg
29 per cent: http://www.lifesavingsociety.com/media/157475/2013-cdndrowningreport.pdf
22 per cent: http://www.lifesavingsociety.com/media/157475/2013-cdndrowningreport.pdf
34 per cent : http://www.lifesavingsociety.com/media/157475/2013-cdndrowningreport.pdf
61 per cent: http://www.lifesavingsociety.com/media/157475/2013-cdndrowningreport.pdf
53 per cent: http://www.lifesavingsociety.com/media/157475/2013-cdndrowningreport.pdf
pool fencing: http://www.cpsc.gov/cpscpub/pubs/pool.pdf.
[Image]: http://www.poolspas.ca/wp-content/uploads/2015/03/Layback-Hole.jpg
Quebec: http://www2.publicationsduquebec.gouv.qc.ca/dynamicSearch/telecharge.php?type=2&file=//S_3_1_02/S3_1_02R1.htm
Toronto: http://www.toronto.ca/legdocs/municode/1184_447.pdf
[Image]: http://www.poolspas.ca/wp-content/uploads/2015/03/IMG00008-20090507-1342.jpg
[Image]: http://www.poolspas.ca/wp-content/uploads/2015/03/Do-it-Yourself-using-incorrect-sleeve-installation.jpg
robert@safetypoolfence.ca: mailto:robert@safetypoolfence.ca
Source URL: https://www.poolspamarketing.com/trade/expert-tips-for-installing-removable-pool-fence-systems/
---