Building backyards that appeal to multiple generations
April 11, 2018
By Kathryn Varden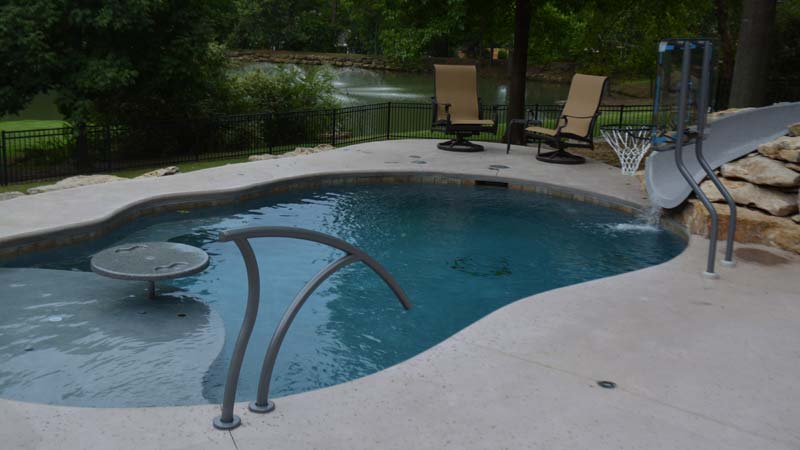 Author's note: This couple built their dream home on a beautiful lot, strategically designing and installing the backyard patio and sunken hot tub in a manner that would allow them to take in the view of the neighbourhood pond. After many years of enjoying the backyard, it fell into disrepair after the husband took ill and later passed away. Rather than move, the wife decided to rejuvenate the backyard, giving it an extensive makeover to create a space for adults and grandchildren alike.
A complete transformation was required to revitalize this backyard. This included the installation of a pool that provided an area for adults to entertain and socialize, but also a place for children to play and have fun. To retain some of the backyard's existing esthetics, boulders and rocks from the late husband's garden were incorporated into the new design as a way to preserve his memory. The pool builder, John Pitezel of JP Construction, and his project manager Danny Whiteman, took their client's desires and colour co-ordinated the entire pool and its new amenities around the repurposed rocks to make the client's dream a reality.
Getting started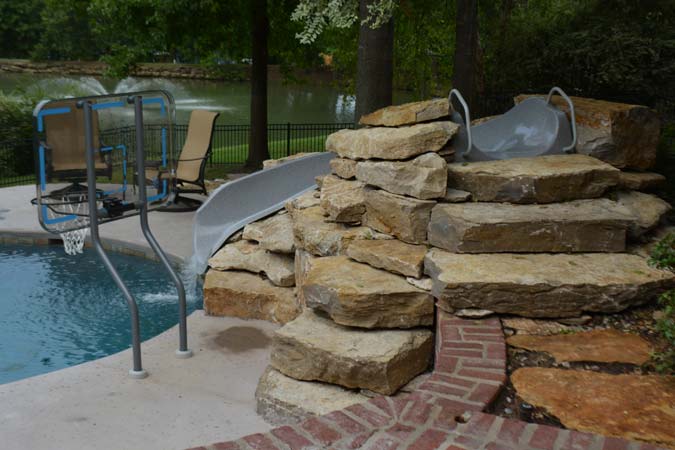 The inspiration for the new pool's design came from a lower brick patio in the backyard, which was kidney shaped. Although most pools built today are more geometric in shape, the homeowner loved the tribute to the old brick patio by putting the pool in that footprint, as it was a natural fit. In addition, Pitezel was able to take the natural grey and brown boulders from the now vacant garden to shore up the pool level, blending the shade of the rocks with the colour of the house and pool.
Once the pool shape, location, and colour scheme were selected, the next step was to determine how to make the pool an entertaining space for the family, while preserving a colour co-ordinated esthetic appeal.
With the many product options presently available, which help make pools more entertaining, builders are now looking at these projects similar to how a landscaper approaches the design of an open space. A builder starts this process by dividing the pool into sections where various products can be used. For instance, Pitezel used this technique and divided the homeowner's pool into multiple entertainment centres—in the shallow-end, deep-end, and middle-shallow areas—where fun could be had by all. He looked for colour co-ordinated products that were attractive and offered various levels of amusement, while considering the homeowner's view from the home, large, water-loving dogs, grown children, and four grandchildren (all under the age of six).
The shallow end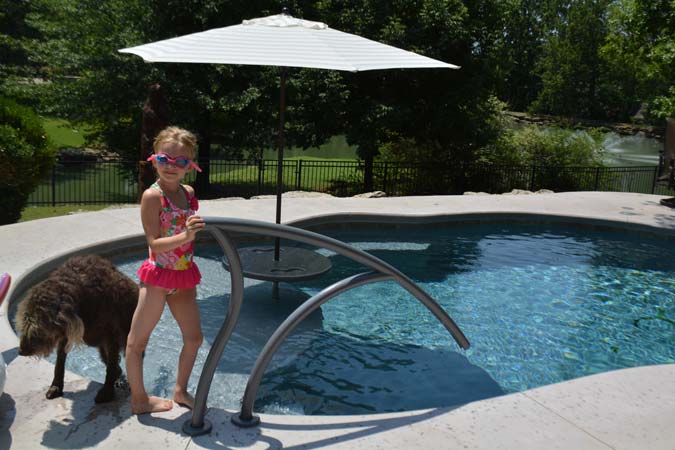 Today's shallow-end entertainment centres are often designed around a sun-shelf, bench, or swim-up bar area. The pool's middle or middle-shallow section lends itself to a sports centre, while the deep end typically includes amenities such as slides, diving boards, grottos, or another type of water feature.
The focus for this homeowner's pool was a sun shelf, which would serve as the main 'entertainment' area in the shallow end. To ensure easy access to the pool, steps were installed along with a colour co-ordinated grey designer rail. Today, rails are available in colours using powder-coating or thermo-plastic coating techniques. In this case, the grey rail matched the pool plaster colour, as well as the home's grey rock veneer. The size of the sun shelf was simply based on the ability to place two in-pool loungers next to a plastic umbrella sleeve in the centre of the shallow end. The sleeve enables the homeowner to insert an umbrella or a removable table. This created the perfect place for two adults to enjoy the pool while watching the kids play.
The swim-up bar phenomenon
Swim-up bar seats are another popular addition for the middle or middle-shallow section of a pool, depending on its size and configuration. Generally positioned in the shallow end in 1 to 1.2 m (3.5 to 4 ft) of water, swim-up bar seats are economical add-ons that can be easily incorporated into a gunite and/or vinyl-liner pool design. This area can comprise a couple of seats next to the pool edge for lounging or several seats adjacent to a sunken kitchen, which can give a pool the feel of an upscale resort.

Bar seats offer a place for people to talk with friends, play cards, have a drink, or sit while watching the kids. These seating options are also available in a variety of colours to ensure the pool retains its esthetic appeal.

Permanent bar seats can be costly to build and, in some cases, pool cleaners become tangled up between them. Therefore, removable bar seats are a much more affordable alternative because it is more economical to install anchors, while the pool will not need to be upgraded to an in-floor cleaning system. Anchors are usually placed between 457 and 559 mm (18 and 22 in.) from the pool wall depending on the slope. Since they are removable, the homeowner simply takes them out when the festivities are over to clean the pool. It also makes the pool easier to winterize.

An increasing number of vinyl pool designs are embracing the swim-up bar phenomenon. Thanks to a new vinyl anchor option, builders can now create these swim-up seating spaces next to sunken areas or pool edges during new construction. The specialty vinyl anchor needs a concrete pour that is approximately 610 x 610 x 305 mm (24 x 24 x 12 in.) with a minimum thickness under the anchor of 102 mm (4 in.) to ensure a solid hold.

Swim-up bar seats are another profit centre for vinyl-liner replacement sales. It is a quick and easy upsell by reminding the pool owner that this is his/her chance to upgrade the pool by adding some anchors to accommodate these features. If the homeowner elects not to have any add-ons installed, they will have to wait until the next replacement liner.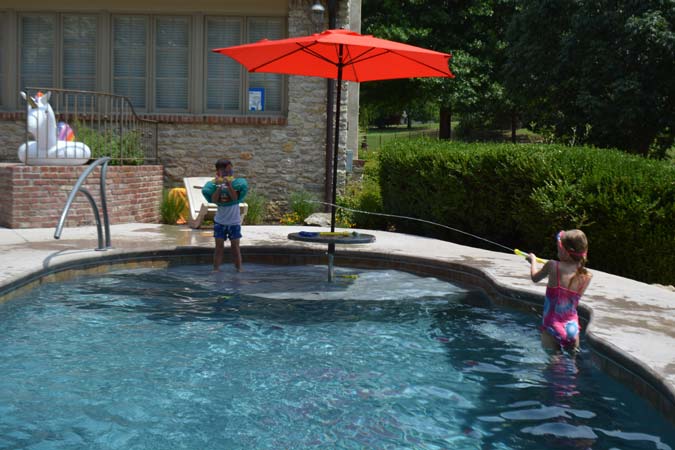 A basketball jig was also installed at the front of the sun shelf. This allows the kids to shoot hoops more easily than in the deeper middle section of the pool. When the basketball net is removed, the anchor can also hold a removable table. The co-ordinating grey table provides a great spot to place drinks, books, sunglasses, and toys. It can also accommodate a shade umbrella.
The sun shelf is a popular design element for gunite and vinyl-liner pool construction. Many pool owners love them because it provides an area for small children to play, as well as a place for adults to socialize or sunbathe. The water depth on sun shelves is typically 152 to 457 mm (6 to 18 in.) with the average being 254- to 305-mm (10- to 12-in.) deep. Until recently, there have been very few items in the industry for builders to up-sell with respect to this popular feature, other than a plastic umbrella anchor or a lounge chair. However, an increasing number of builders are discovering that anchors installed into the sun shelf allow for the sale of additional products, such as tables and sports games.
The shallow middle
The middle or middle-shallow section of the pool is often the perfect place to install a 'bench' to create a conversation station. For this project, the homeowner elected to have a simple, singular bench for sitting in slightly deeper water. Today, however, some builders are getting into the upgrade game by adding three anchors next to these bench areas inside vinyl and gunite pools. Setting the table anchor approximately 457 to 559 mm (18 to 22 in.) from the bench with two swim-up bar seats on the other side of the table (in a triangle formation) will create another entertainment area. The table and seat combination is capable of holding an umbrella, while also providing a place to set drinks, allowing more friends and family to join the conversation. These table and seat accessories are available in a variety of colours to harmonize with almost any environment.
This homeowner's pool is only 4 x 7.6 m (13 x 25 ft) which, unfortunately, did not provide enough space to create the additional entertainment hubs the same way a 6- x 12-m (20- x 40-ft) or larger pool would.
The middle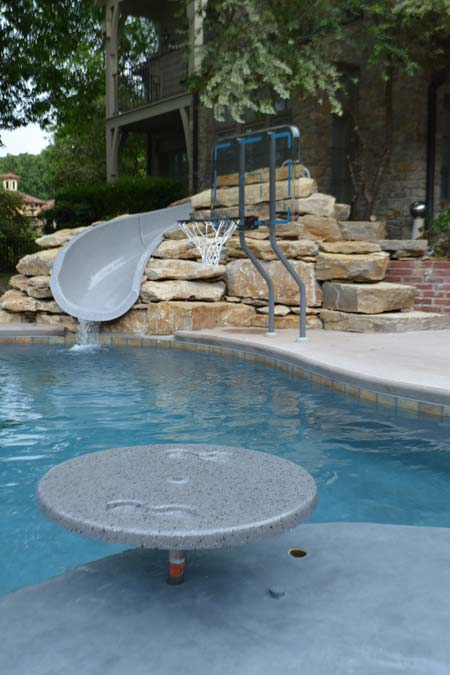 A basketball and volleyball set can be an action packed addition to any pool. Sporting accessories are typically installed in the middle section of the pool, in about 1.2 to 1.5 m (4 to 5 ft) of water, allowing teens and adults to play easily. Sports pools are also an excellent upgrade opportunity for builders performing a new install or renovation project.
For this homeowner's pool, Pitezel colour co-ordinated the legs of the basketball and volleyball set to match the designer handrail, which correlates with the pool's tile border.
A builder can design or renovate almost any pool to include sporting accessories by simply adding two anchors: one for the basketball net, and another (on the other side of the pool) to receive the second anchor for the volleyball net. The nice thing about sports anchors is when the family is finished playing in the pool, the basketball/volleyball equipment can be removed and stored, and anchor caps can be put in place to give the pool a clean look.
The deep end
The pool's deep end is obviously the best 'zone' for slides, diving boards, or perhaps a grotto and water feature. Pool slides built into the landscape best mimic those found at a waterpark, while water feature grottos are also ideal when creating an entertainment centre in the deep end. These types of features help give a pool visual balance.
Super waterfall features
Grottos and caves can be considered one of the most fun entertainment centres for a pool. These products provide all of the benefits of a waterfall (visual beauty and the calming sound of cascading water), but also add fun and excitement to the pool—especially for children. Sitting within the grotto as water pours over swimmers into the pool can provide endless hours of entertainment. Water misters can also be added to heighten the mystery of the cave, while at the same time making them even more exciting for children.

These products are available in component kits that can be customized to suit a wide range of customers and budget constraints. They also come in a wide-range of colours so these features can co-ordinate with the backyard esthetic.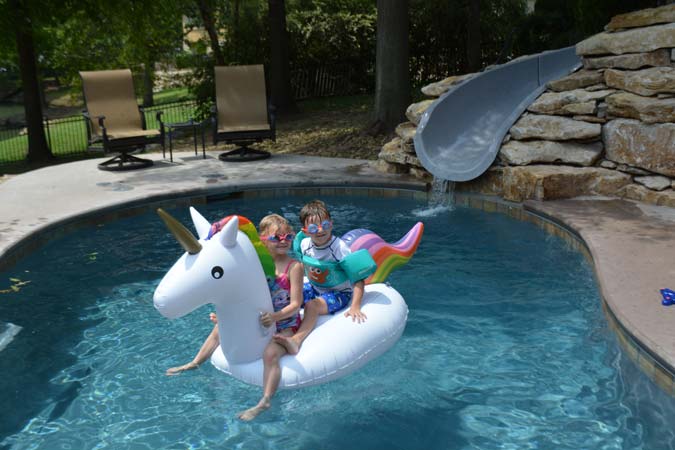 This homeowner specifically wanted a slide for the grandchildren, but did not want a traditional on-deck slide, as it was important this feature not only integrated into the landscape, but also blended with the house.
To do this, Pitezel installed a 3-m (10-ft) slide in an upper patio planter bed that gently meanders into the pool below. The slide is cradled in a mass of colour co-ordinated landscape boulders, which not only complement the house, but also the slide. Rather than adding a waterfall feature down the boulders, the slide provides a relaxing sound of trickling water throughout the day and night.
Designing pool projects with entertainment centres
Much like this homeowner's project, most clients are looking for an esthetically pleasing backyard pool. That said, it is also important to take the time to design a project with entertainment centres that can be added during the initial installation or gradually over time.
Homeowners want to get the most use out of their pool as possible while still having a beautiful backyard. By divvying up the pool into sections, each with a different entertainment function, it helps create a cohesive, colour co-ordinated waterpark-like resort based on the homeowner's needs and budget.
Finally, builders should always explore the many accessories available that can be offered to their clients and never forget to select products for both utility and beauty. Whether adding one, two, three, or four entertainment centres to a pool, builders can earn additional profits on every project by creating their client a co-ordinated backyard resort.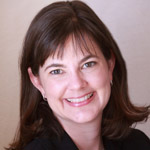 [7]Kathryn Varden is the western regional sales manager for Inter-Fab Inc., in Tucson, Ariz. She has worked with pool builders for 18 years providing them with tips on selling and installing rock water features, landscape slides, rails and diving boards for new construction and renovation projects. Varden has a master's in landscape architecture and bachelors of science in regional development from the University of Arizona. She can be contacted via e-mail at kathryn@inter-fab.com[8].
Endnotes:
[Image]: https://www.poolspamarketing.com/wp-content/uploads/2018/04/table-in-bball-ledge-with-b.jpg
[Image]: https://www.poolspamarketing.com/wp-content/uploads/2018/04/GRS-10-steps-with-bball.jpg
[Image]: https://www.poolspamarketing.com/wp-content/uploads/2018/04/table-in-bball-ledge-with-u.jpg
[Image]: https://www.poolspamarketing.com/wp-content/uploads/2018/04/table-in-umbrella-sleeve-le.jpg
[Image]: https://www.poolspamarketing.com/wp-content/uploads/2018/04/table-in-bball-ledge-with-g.jpg
[Image]: https://www.poolspamarketing.com/wp-content/uploads/2018/04/grandkid-fun.jpg
[Image]: https://www.poolspamarketing.com/wp-content/uploads/2017/03/Varden_Headshot.jpg
kathryn@inter-fab.com: mailto:kathryn@inter-fab.com
Source URL: https://www.poolspamarketing.com/trade/features/case-studies/backyards-appeal-multiple-generations/
---