Curating and maintaining an online brand image
by arslan_ahmed | January 13, 2023 4:52 pm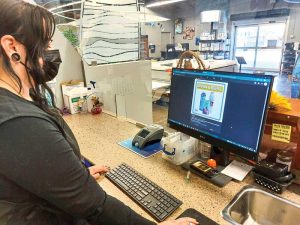 [1]By Jamie Novak
Whether people recognize it or not, everyone has their own personal brand, and it is important to maintain it in today's noisy, digital world, where information spreads quickly and often without a thought about the consequences. This article will discuss tips for success when it comes to both personal and business branding, and how businesses can navigate difficult customer interactions.
According to a 2020 survey from the Harris Polls commissioned by Express Employment Professionals, nearly seven in 10 Canadian hiring decision-makers agree that looking at a candidate's social media profiles is an effective way to screen applicants. Further, 68 per cent of employers believe checking social media accounts is an effective way of screening potential employees.1 Kathi Belcourt, manager of Aqua-Tech Pools in Winnipeg and Manitoba, says her team regularly checks the social media accounts of potential team members to gain insight into their areas of interest.
"For example, this summer there were three candidates for a position and one of them was an avid hiker. We have two existing team members who also share this passion, and this mutual interest allowed the team to become closer, faster. When our divisions create a sense of camaraderie within them, the teams are much happier and, in turn, provide a better customer service," says Belcourt.
Another survey by Career Builder found 54 per cent of employers ruled out a candidate due to something they saw on their social media.2 Even with private accounts and restrictions, no account is actually "locked down" fully, and there is more information available about a person online than they expect. These days, everyone has a digital footprint which can be traced, and it is critical the image people portray online matches their desired personal brand. The same applies to businesses and their reputation, and managing the two.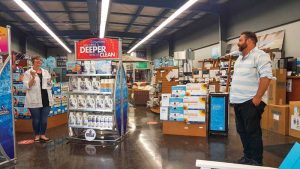 Being authentic online and offline
The biggest tip for success is being authentic; avoid creating a persona or a brand image online which does not align with how a person is in real life, or for a business, avoid an image which does not represent the mission of the company. Everything posted online could have a reaction, whether positive or negative, and for this reason one should always think ahead, and ponder, "if we post this, it could spark this type of reaction." This advice should be followed for both personal pages and on forums, but it is just as important for business accounts to consider. Maintain a consistent image across the platforms and send out a consistent message as well, especially from a business standpoint.
Making emotional connections
Think of some brands which people are the most loyal to and think about why that might be. Something has led to consumers using a brand or business's products or services repeatedly. For example, with certain products, it could be consistently great performance which makes a task easier (e.g. a household favourite cleaning product which gets the job done without
a lot of extra elbow grease). In the instance of a service or a general company, it could be consistently good experiences with the organization itself.
Sharing her personal experience, this author considers a couple of brands she is a "superfan" of, with the biggest being an airline she frequently flies with. As a frequent traveller who still gets nervous at times to fly, she finds comfort in the way this airline does business—lightening the mood and treating passengers respectfully. Somewhere throughout her interactions with the staff, they were able to create an emotional connection with her, which makes them her first choice to fly with every single time. She loves this company's culture, its policies, their ability to provide flexibility for ever-changing plans, and their commitment to a positive customer experience. She also enjoys getting a chuckle out of the flight attendant's uniquely crafted safety message infused with humour on a flight.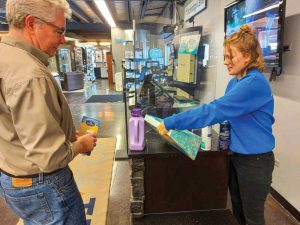 Creating brand advocates
When a customer has a great experience with a product or service, chances are, they will verbally share those details within their social circle. As business owners in the pool industry, one can identify many customers who are brand advocates for the organization. They probably refer friends to the business when specifically asked about pool or spa chemicals; however, this is likely as far as they will go when advocating. Many happy customers are more than willing to provide reviews for a business, they just are not aware of the easiest way to go about doing so or need a gentle reminder. Businesses could consider offering an incentive for customers to leave a review online; however, they could also just start asking happy customers to leave reviews. Not only can businesses consider using this content in future marketing, and they will also see how this positively impacts the company's digital presence as well.
As an example, the author shares an experience she had with a small, local, candle-making business in her hometown, which she visited with her teenage son. When they left the shop with their custom created candles (i.e. a unique product offering) and good memories from the day, she wanted to share this experience with others, not only so they could enjoy some quality time with family or friends as well, but to help promote this small business. And within an hour of being home, she posted photos of their experience with a glowing testimonial, tagged the company, and told more than a thousand Facebook friends to check the place out. In just one experience, the business was able to create a brand advocate in her.
Handling negative comments and reviews
Inevitably, at some point, any business will likely encounter people who will share their negative experience or even be combative. As a business owner, it is important to try and address their concerns and, ideally, the conversation can turn into an offline one. For example, a business owner can ask the customer to direct message (DM) their contact information to further discuss the details of their concern privately. When people make negative comments, posts, or reviews publicly on a business account, other followers often watch the chain to see how the business responds. A straightforward and transparent response will gain respect from the audience, whether they choose to click "like" on the response or not. Ignoring a complaint or negative comment can reflect poorly on the business, and some followers may even theorize about how the business is hiding something by not responding.
When giving advice on handling difficult situations, Belcourt says, "We try hard to prevent negative reviews from happening in the first place, but in today's digital space, despite all best efforts, it is not always preventable. When we receive a negative review, we try to post a public reply as quicky as possible. We try to engage with an apology and a request for them to reach out to us offline, by phone to discuss ways we can earn back their business and make things right. If they continue to post negatively in the public space after our interaction, we ignore their 'trolling.' The continued negativity reflects on them and not on our brand at that point."
Building a unique brand
Speaking of branding, business owners and service providers must think about the brand image they want to convey and start jotting down words they would want people to say when asked about their brand. For instance, if a company's mission is to build high-end pools, some words they might write down about the desired brand image are "quality," "luxury," "craftsmanship," "reliability," and "trustworthy." Once the desired brand image has been established, it is important to match the content posted and shared to align it with the qualities selected.
Businesses and people alike should aim to remain "on brand" with whatever they post, how they respond to comments and feedback, and the messaging they put out to their audience. Authenticity is key, so always try to stay true to the core values and mission while creating consistency around a brand.
Notes
1 See The Harris Poll "Don't Get "Blocked" From a New Job Because of Social Media" commissioned by Express Employment Professionals published October 14, 2020. For more information, visit https://www.globenewswire.com/en/news-release/2020/10/14/2108532/0/en/Don-t-Get-Blocked-From-a-New-Job-Because-of-Social-Media.html[5].
2 See "70% of Employers are Snooping Candidates' Social Media Profiles" by Lauren Salm, published by CareerBuilder on June 15, 2017. For more information, visit https://www.careerbuilder.com/advice/social-media-survey-2017[6].

Author
Jamie Novak is the director of Pro Brands Marketing at BioLab, a division of KIK Consumer Products. She has held multiple positions in marketing and sales for major manufacturers such as, Newell Rubbermaid, Zodiac Pool Systems, and AquaStar Pool Products. Novak has more than 17 years' experience in the pool and spa industry. She received her MBA with concentrations in marketing and leading organizations from Johns Hopkins Carey Business School. A storyteller by nature, Novak is passionate about branding and the customer experience.
Endnotes:
[Image]: https://www.poolspamarketing.com/wp-content/uploads/2023/01/20221021_105933.jpg
[Image]: https://www.poolspamarketing.com/wp-content/uploads/2023/01/20200523_155531.jpg
[Image]: https://www.poolspamarketing.com/wp-content/uploads/2023/01/20221021_105738.jpg
[Image]: https://www.poolspamarketing.com/wp-content/uploads/2023/01/20200523_112135.jpg
https://www.globenewswire.com/en/news-release/2020/10/14/2108532/0/en/Don-t-Get-Blocked-From-a-New-Job-Because-of-Social-Media.html: https://www.globenewswire.com/en/news-release/2020/10/14/2108532/0/en/Don-t-Get-Blocked-From-a-New-Job-Because-of-Social-Media.html
https://www.careerbuilder.com/advice/social-media-survey-2017: https://www.careerbuilder.com/advice/social-media-survey-2017
Source URL: https://www.poolspamarketing.com/trade/features/curating-and-maintaining-an-online-brand-image/
---