Designing for functional operations: Practical considerations for commercial pump rooms
March 1, 2019
By Mike Fowler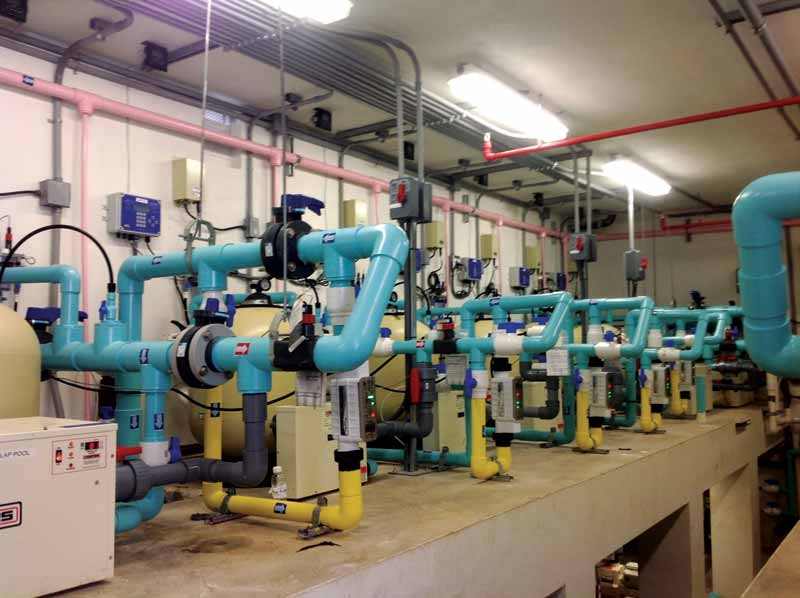 Pumps and filters are amazing pieces of pool equipment that perform critical roles in the successful operation of an aquatic facility. These products are continually being improved upon to offer greater efficiency, which ultimately reduces operating costs and water usage.
To maximize the features and benefits of this equipment, it is important installers select the right size and place each piece correctly—both in relation to each other, as well as to the pool itself and other on-site aquatic features (e.g. splash pads, water fountains). This article will discuss best practices for designing aquatic facility pump rooms, with a focus on efficient operations and maintenance.
Size and location considerations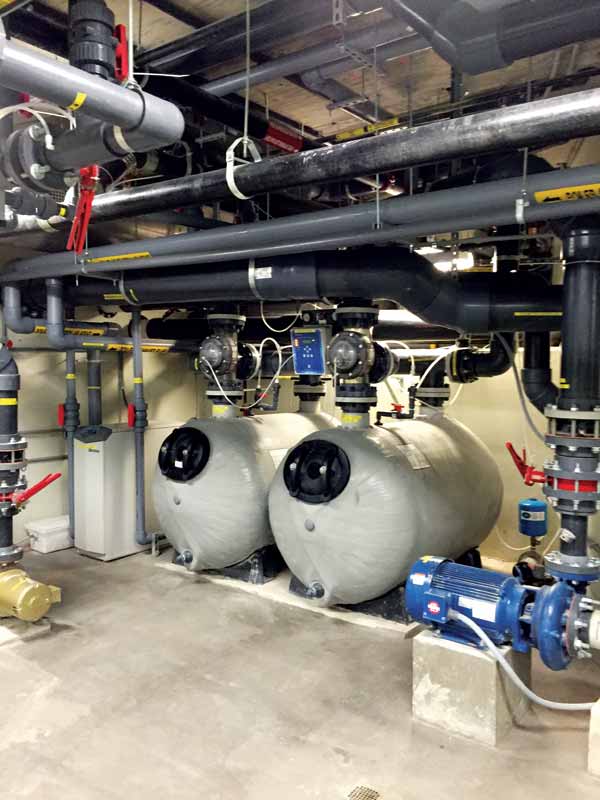 When planning an aquatic facility, designers and installers should create a functional equipment room that provides operators with proper access to all components. It is especially important that there is sufficient clearance around and above this equipment to allow for ease of service. These clearances are also key in ensuring proper ventilation—a factor that is often overlooked during the planning phase and can result in problems that could have been avoided. Further, it is also important to ensure proper ventilation for heaters placed in the pump room for air intake and exhaust purposes.
A pump room's location relative to the body (or bodies) of water being treated should never be overlooked. While some facilities may prefer to hide the pump room far from the pool or splash pad, bringing this equipment closer will make the overall system much more efficient. Keeping the pump room close to the body of water might also allow the facility to use a smaller pump or even smaller gas lines for the heaters. This is because equipment placed a distance away could result in a higher total dynamic head (TDH), creating the need for more or larger pumps. Further, when it comes to heaters, employing longer gas lines requires larger pipe, which leads to higher installation costs.
When planning the location of a pump room in relation to the facility's pool(s), plumbing is also a consideration. If a builder is using multiple pumps for circulation on a project, it is imperative to ensure the pool's plumbing is hydraulically balanced. It is also important to minimize the number of turns in the system and balance all plumbing lines when it comes to suction and return systems.
Commercial aquatic facilities with recirculation systems also have special plumbing considerations, especially when used for splash pads. Again, installers must plan plumbing systems that are hydraulically balanced so the pump can produce the flow needed to reach the body of water. This will ensure the equipment will operate correctly. Additionally, if the commercial system uses ultraviolet (UV) light, which is common for splash pads, builders must ensure this unit is installed correctly and receiving the flow necessary for proper sanitation. Variable-frequency drives (VFDs) often play a key role in pumps used for spray pads to ensure energy efficient operation; therefore, it is important this equipment is sized correctly. Further, VFDs can malfunction if not properly protected from weather, especially when installed outside a pump room.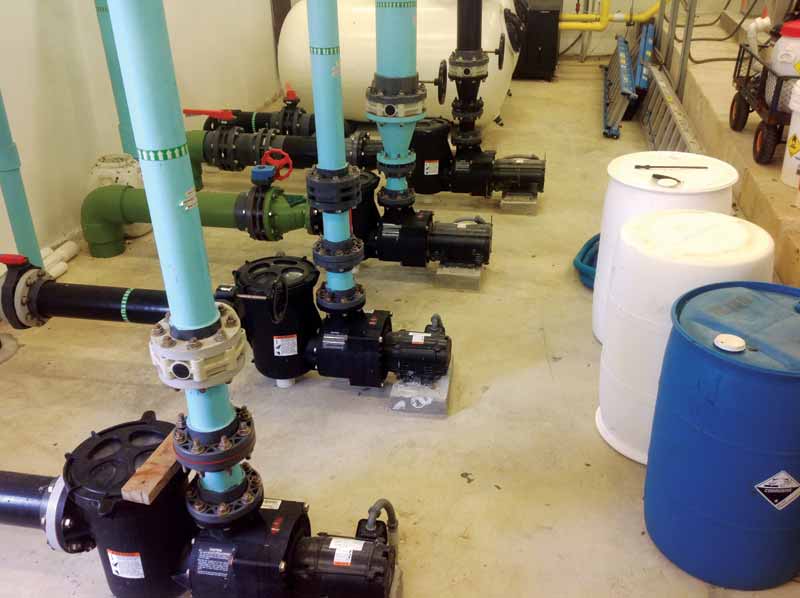 As far as best practices are concerned in terms of types and sizes of plumbing, most professionals use schedule 40 or 80 polyvinyl chloride (PVC) pipe used depending on specification. As a rule of thumb, installers commonly keep flowrates at 0.2 m/s (7 feet per second [fps]) or less.
Filter considerations
The closer the filters are to the main circulation pump, the better. In regards to the filtration system, the key is to size it based on the proper filtration rate, typically 56 litres per minute (lpm) (15 gallons per minute [gpm]) per square foot. Once this has been determined, how and where the horizontal filtration tanks will be placed can be decided. Depending on the size of the pump room, these can be placed side-by-side or stacked to allow for more free space in the room.
The question of 'to stack or not-to-stack' can best be answered by considering future servicing; the room should be designed with enough space to allow for easy access to all equipment. When installing multiple vertical tanks, sufficient space should be left for the filters, as well as their manifold piping. Installers should also be sure the backwash line is large enough (and placed properly) to handle the flow needed for proper backwashing of filters.
Installers should also remember filters sometimes need to be replaced. This access should be considered, as well as the proximity to entryways and electrical outlets.
Additionally, the size of the butterfly valves used on filter manifolds cannot be overlooked. Installers need to know the plumbing sizes to properly size these valves. If the system is a semi-automatic or automatic backwash system, the valves (e.g. diaphragm valves) should be sized to match up with the manifold piping, while any others in the system (e.g. check valves, ball valves, actuator valves) must be sized to handle the flowrate needed by the filter.
VFD considerations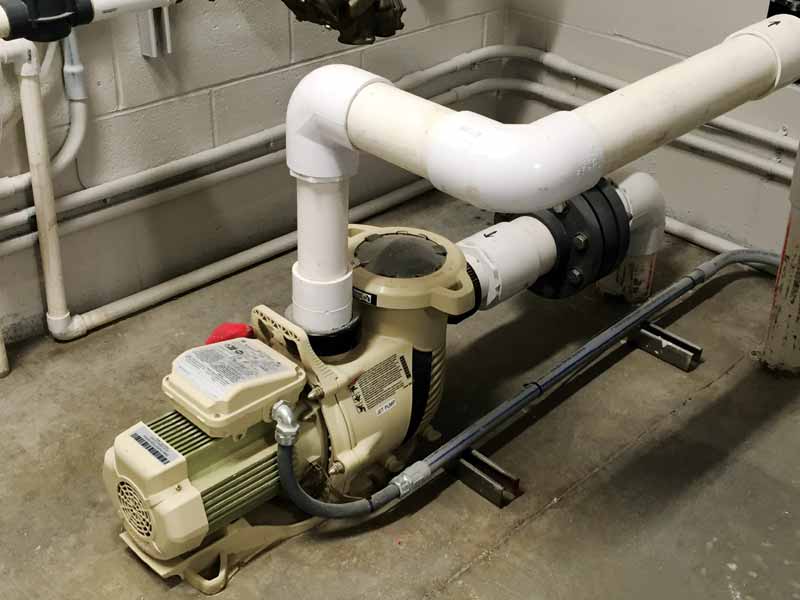 As the majority of commercial pump rooms have VFDs installed on all pumps, there are a few considerations when locating these new VFDs.
The location of the drive will determine whether or not it requires an enclosure that meets the electrical standards necessary for the protection of the actual drive cabinets and internal components. Whenever possible, the VFD should be installed in a location with no risk of potential harm from weather. If it has to be installed outdoors, the drive must be protected from the elements. Further, VFDs need air, so proper ventilation in pump rooms is essential.
Similar to other equipment, the drives and chemical controllers should be placed in a location that can be easily accessed by facility managers for regular programming.
UV sanitation considerations
It is commonplace for commercial pump rooms to house UV sanitation units—especially now that they are included in the recommendations of the Model Aquatic Health Code (MAHC). The size of the pool corresponds with that of the required UV unit and will also determine where it should be placed within the pump room. If the unit is for an indoor installation, it should be sized based on a 60 mJ/cm² dosage rate. This calculation will ensure the UV system eliminates pathogens that cause recreational water illnesses (RWIs). Additionally, the units will help eliminate chloramines in the pool area's air and water,  which will improve the overall air quality and bather experience.
The placement of these systems in the pump room is largely dependent on available space. Most can be installed either vertically or horizontally, and are available in low- and medium-pressure. The latter are physically smaller and, thus, do not take up as much space in the plumbing system as their counterparts. However, these systems tend to be more expensive to operate, as the replacement bulbs cost significantly more (and have to be replaced more often) than those of low-pressure systems. As such, the decision of whether to install a low- or medium-pressure system depends on the initial budget of the project, as well as the operational budget of the facility.
Heater considerations
Sufficient ventilation is key to ensuring a heater will run at its maximum capabilities/efficiencies and, thus, operate correctly. If this is overlooked, it could result in significant issues with the heater and lead to possible problems in the facility. As such, it is best to install this equipment close to the room's ventilation points. Additionally, if water treatment products are stored in the same space, they should be kept away from the heater to avoid the risk of chemical damage.
If a pump room is small, builders should consider installing the heater outside of the room to save space. Of course, it should first be determined if the unit is rated for outdoor installation; if not, there are many heaters designed specifically for outdoor use.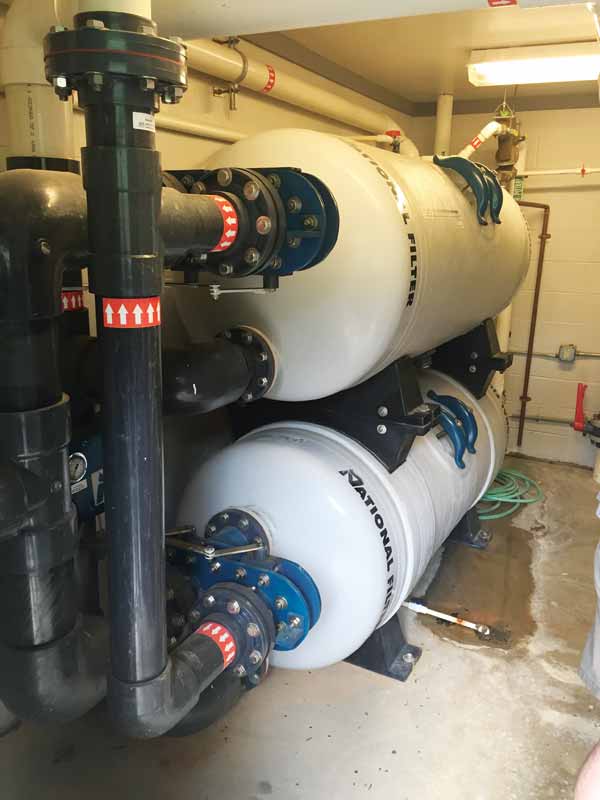 Outdoor heaters have specific requirements and must be installed properly in relation to the rest of the equipment room. Further, installers should ensure these heaters are not placed under an overhang where rainwater run-off could trickle into the unit. Likewise, it is important they are not located close to window openings or under a wooden deck.
Below-grade pump room considerations
There are many physical differences inherent in a below-grade pump room when compared to one placed on the same grade as the body of water. As such, there are special considerations to be made when selecting, installing, and operating equipment for below-grade rooms.
The piece of equipment most affected is the pool pump(s). When installed below the level of the pool, a pump's check valves must be positioned on the unit's discharge side. This will prevent water from running backwards through the pump when it is shut off, which can cause internal damage to the equipment. Flooded-suction pumps are best for these applications.
Emergency shut-off considerations
All pump rooms must include an emergency shutoff system to pass a safety inspection. Most inspectors prefer to see these units, which allow someone to shut the system down immediately with the push of a button, in an accessible area near the pool and/or hot tub. The shutoff is usually tied into a panel that has a relay going to the main pump, causing all flow or suction to and from the pool to be stopped in case of an emergency.
In the past few years, manufacturers have added VSPs to their product lines, offering devices with suction vacuum relief systems (SVRS) built into them. If there is a suction blockage in a line, the pumps lose prime or water feeding into them, which causes them to shut off and prevent entrapment within the system.
Conclusion
When building a commercial pump room, it is important to give pumps, filters, and other equipment plenty of space to breathe. Proper, functional design can save operators money and stress in the long-run, as well as ensure a facility is running safely and efficiently.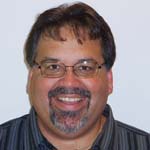 [6]Mike Fowler is a commercial sales manager for Pentair in Sanford, N.C. He has been with the company since 1992, starting his career in the technical services department at Purex Pool Products. Fowler has held many managerial roles within the company, including marketing, trade show manager, and account manager. He can be reached via e-mail at mike.fowler@pentair.com[7].
Endnotes:
[Image]: https://www.poolspamarketing.com/wp-content/uploads/2019/03/courtesy-Pentair-pump-room-copy.jpg
[Image]: https://www.poolspamarketing.com/wp-content/uploads/2019/03/pump_Courtesy-AquaticDesignGroup-UNC-Greensboro_mechanical-room-copy.jpg
[Image]: https://www.poolspamarketing.com/wp-content/uploads/2019/03/pump_Courtesy-Pentair-2013-12-11-14.17.29-copy.jpg
[Image]: https://www.poolspamarketing.com/wp-content/uploads/2019/03/pump_image1-Pentair.jpg
[Image]: https://www.poolspamarketing.com/wp-content/uploads/2019/03/IMG_4375-PentairCommercial-copy.jpg
[Image]: https://www.poolspamarketing.com/wp-content/uploads/2017/06/Fowler_Headshot.jpg
mike.fowler@pentair.com: mailto:mike.fowler@pentair.com
Source URL: https://www.poolspamarketing.com/trade/features/designing-for-functional-operations-practical-considerations-for-commercial-pump-rooms/
---