Extending the swimming season
February 10, 2020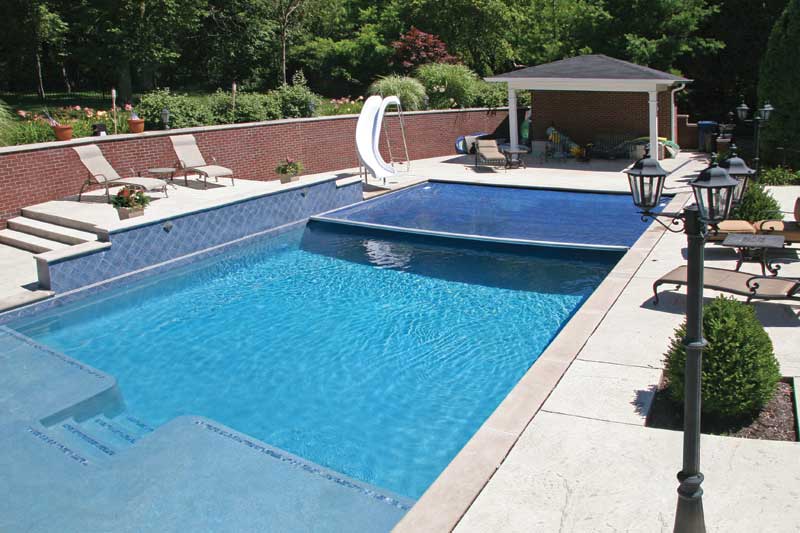 Depending on where the homeowner lives in North America, the pool season is unfortunately much shorter in some regions than it is in others. That said, many homeowners would love to extend the pool season into the fall and start using them earlier in the spring by being able to easily open and close them when the temperature is mild. Automatic pool covers lend themselves to lengthening the season while also providing safety, beauty, cost savings, and convenience to pool owners. As a result, savvy pool professionals are capitalizing on these benefits to help them sell more of these products.
Benefit 1: Extended season
Today's homeowners are looking for maximum enjoyment from their pool investment. This means spending as much time as possible in the water. Understanding this reality is why the demand for automatic pool covers is growing exponentially. Offering homeowners the convenience of opening and closing the pool—during warm or cold spells—can help make the season longer and allow families to get more enjoyment out of their backyard investment.
One no longer needs to completely close the pool for the winter at the first signs of snowfall. These covers open and close in less than one minute, and do not require the consumer to store the safety cover in their garage or pool house during the summer.
Allan Horwood, owner of Pool Patrol in British Columbia, says his customers are really interested in maximizing the investment they make in having a pool installed.
"We have a lot of customers that not only want to extend their swimming season, but also want to use their pool year round," says Horwood. "It all starts with what our team calls the 'NPO syndrome' (new pool owner syndrome). In fact, some clients—after building their pool—want their water heated to 32 C (90 F) so they can swim on New Year's Eve. If they want to do that, they are going to need an automatic pool cover."
In addition to extending the season, automatic pool covers help maintain the cleanliness of the water and, at the same time, keep water chemistry in check. Pool professionals who are selling these products should take the time to explain these benefits to homeowners. This is especially important during the fall when trees start to shed their leaves.
"Our favourite pools to open in the spring were those with automatic pool covers, as we would rarely find more than two worms in the water," says Horwood, whose company used to service pools on a regular maintenance route. "Homeowners realize these savings as many may pay upwards of $800 to clean a pool.
"Although there is an initial investment to make, there is also immediate savings built into having an automatic pool cover installed. Once a customer understands the benefits of owning one, they become much easier to sell."
Benefit 2: Safety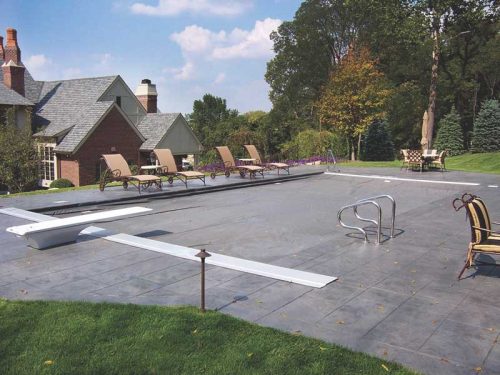 Another reason why many homeowners will purchase an automatic pool cover is for the safety benefits they offer when the pool is closed and not being used. That said, it is important for pool professionals to emphasize safety as much as convenience when selling them. The security of knowing these covers cannot be re-opened without a code or key gives pool owners peace of mind. Selling this safety aspect to a potential customer is an essential part of closing the sale.
When asking customers why they are interested in an automatic cover, many retailers will notice the main response is always safety. When pool professionals take the time to explain how an automatic cover also doubles as a safety cover, many customers will chose these products as they also get the added convenience of not having to manually remove a mesh cover each time they want to use their pool. In fact, most customers are sold when they are told it will only take 45 seconds to open or close their pool.
While seasonal safety covers are a good option for six months of the year, if they are not used during the summer months, there are no safety benefits.
Benefit 3: Savings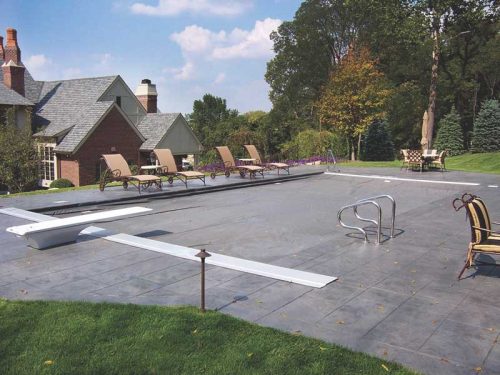 Automatic covers may be unrivaled when it comes to the savings they can offer a pool owner. In addition to reducing the cost of overall maintenance, automatic covers help retain heat when the pool is not in use by keeping chemicals and water from evaporating. Together, this contributes to reducing a homeowner's cost to operate the pool. Therefore, it is essential for pool professionals to remember to promote these benefits.
According to studies conducted by the U.S. Department of Energy, homeowners who have gas-heated pools and use a cover can save approximately $2000 per year. Likewise, research has demonstrated a cover can save approximately 30,283 L (8000 gal) of water evaporation throughout the year. Best of all, the annual cost to operate an automatic cover is roughly $5 per year.
Further, the Pool & Hot Tub Council of Canada (PHTCC) recommended guidelines titled "Energy Conservation Opportunities for Pools, Spas, and Water Features," states the use of pool covers can lower costs for heating, filtration, and chemical sanitization by up to 50 per cent.
"Heated pools lose up to 90 per cent of their heat from the surface of the water—no matter how much insulation is put under the pool," says Horwood. "Putting an automatic cover on your customer's pool can stop 70 per cent of this heat loss—savings which they will immediately see on their heating bills."
Benefit 4: Beauty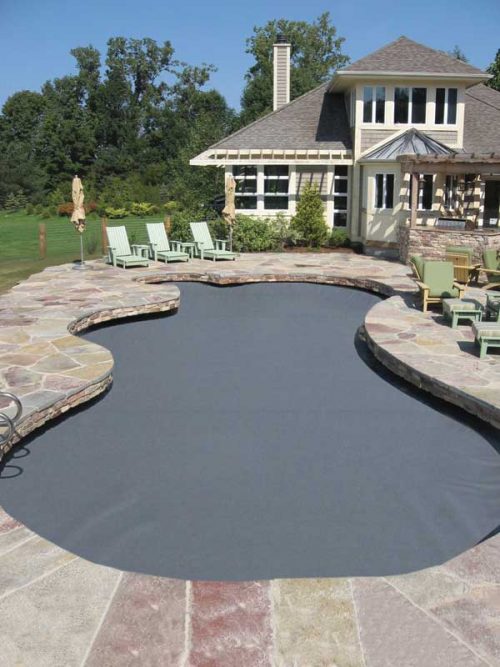 Although it is not necessarily among the top reasons a homeowner will choose an automatic pool cover, the product does have an added 'esthetic' bonus as it essentially disappears when it is open. This is another benefit which can help a pool professional 'seal the deal' when selling these products—especially to new customers who are having a pool installed.
In fact, pool professionals should be encouraging those customers who are contemplating an automatic cover to decide prior to the construction of their pool. This allows the cover to be installed under the coping, which blends the track into the pool's architecture. If the homeowner waits to add the automatic cover later, they will need to have a track installed on top of their deck. For some homeowners who are concerned with the esthetics of their backyard and, more specifically, their pool area, this may not be as appealing.
"There are a lot of winter covers some homeowners put on their pool that aren't the nicest to look at during the off season," says Horwood.  "In some regions, winter can be very long, leaving these homeowners looking at something undesirable in their backyard for several months at a time."
Finally, with so many colour choices available today, automatic covers can be customized to complement the homeowner's backyard design and complete the look of the entire pool area.
Benefit 5: Installation outsourcing
Installing automatic pool covers does require a certain amount of skill and ability. As with any installed product, the question pool professionals need to determine is whether they want to sell, install, and service the automatic cover, or simply sell these products and outsource the installation and ongoing service.
Some pool professionals sell and install automatic pool covers, while others decide to outsource both the installation and the maintenance. With tight labour markets, many pool professionals are now opting to outsource the installation and service of automatic pool covers so they can focus on their retail or new construction business.
Even builders with service departments can outsource this work (treated as a subcontractor) as it allows these businesses to profit from selling automatic covers, but focus on their core competency.
Like any installed product, service and maintenance are necessary for every automatic pool cover. Those companies that have a service department might prefer to do the work, while others may favour outsourcing these particular jobs. For example, if one's company does not work on automatic pool covers daily or even weekly, a simple repair that should typically take 10 to 15 minutes might take a regular pool professional more than an hour to perform. As a result, this can keep the business from taking on more profitable service calls. It all comes down to looking at one's business, their market, and the profitability of taking on the installation and service of automatic pool covers.
Fortunately, there are many professionals throughout Canada and the U.S. that now install and maintain automatic pool covers exclusively. It is now much easier for pool professionals to subcontract this portion of the job, which allows them to not only offer automatic pool covers to their customers, but also profit from selling them without having to train staff or have employees on hand to install and maintain these products.
Conclusion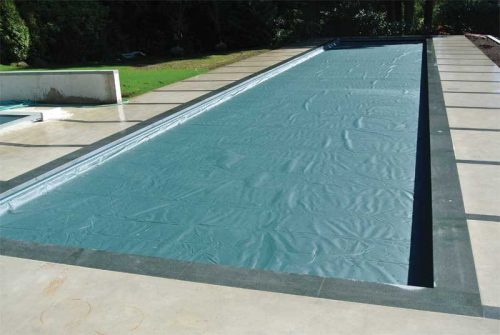 Year over year, the market demand for automatic pool covers continues to grow rapidly. Pool professionals have a tremendous profit potential when selling these products—whether they install them or subcontract the installation. That said, now is the time pool professionals should consider adding automatic covers to their product lineup as a way to quickly increase their profits this upcoming season.
Pool professionals should also look at automatic pool covers as a way to increase the customer's satisfaction with their pool investment. In fact, many in the industry will agree the automatic pool cover is one of the main reasons customers are pleased with their overall pool investment.
[6]Jacob Bloss is the director of operations at Cover Care LLC, which specializes in the installation/repair of automatic pool covers and services more than 20 major markets across the United States. Bloss can be reached via email at jbloss@covercare.net.
Endnotes:
[Image]: https://www.poolspamarketing.com/wp-content/uploads/2020/02/Courtesy-Automatic-Pool-Covers-BackPic2-copy.jpg
[Image]: https://www.poolspamarketing.com/wp-content/uploads/2020/02/APC-Mfg-Cover-Undertrack-copy.jpg
[Image]: https://www.poolspamarketing.com/wp-content/uploads/2020/02/APC-Mfg-Cover-Undertrack-copy.jpg
[Image]: https://www.poolspamarketing.com/wp-content/uploads/2020/02/Courtesy-Automatic-Pool-Covers-New-Under-Track-APC-Mfg-Freeform-cover-image-copy.jpg
[Image]: https://www.poolspamarketing.com/wp-content/uploads/2020/02/Courtesy-PoolPatrol-95-ft-cover-AllanHorwood-copy.jpg
[Image]: https://www.poolspamarketing.com/wp-content/uploads/2020/02/Bloss_Headshot.jpg
Source URL: https://www.poolspamarketing.com/trade/features/extending-the-swimming-season/
---