HVLS: The importance of their use
April 17, 2019
By Alex Risen and Christian Taber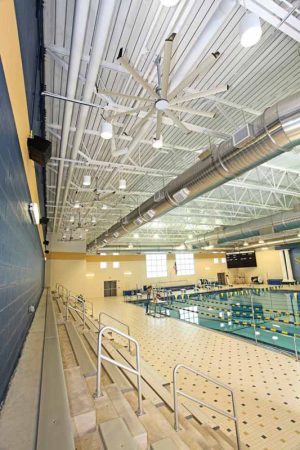 Natatoriums are no exception and have fought a long battle for proper ventilation. Heating, ventilation, and air conditioning (HVAC) systems are often thought to be the complete solution to indoor air quality (IAQ) concerns. While air handling units (AHUs) are a major component of the equation, the introduction of high-volume, low-speed (HVLS) fan technology can help create a more cost-effective, uniform environment; one where swimmers, staff, and spectators feel comfortable and safe.
Swimming in space
Like any large, open space, the bigger the pool, the more difficult it is to achieve a uniform temperature. Hot air rises to the ceiling, leaving cooler, denser air below near the occupant's level (and at the pool's water surface).
Other than achieving a desired, uniform temperature, it is far more tedious to distribute the air via traditional systems due to the sheer height of the space. By adding HVLS fans to the space, low-energy air circulation can be achieved, increasing the efficacy of the ventilated air.
A perfect score
The solution lies at the core of the building's design and engineering: creating highly efficient, cost-effective spaces as per modern standards. New facilities must consider these measures when planning, designing, and constructing a space; existing amenities often need to be renovated and updated to "make the grade."
HVLS fans are part of the modern solution. In warmer months, a hot natatorium, where spectators are uncomfortable, calls for an elevated air speed solution. Fans, in general, do not lower air temperature in a space; they simply provide a cooling effect that can make a person feel up to five to 10 degrees cooler. As a result, facility managers in air conditioned spaces raise the thermostat in warmer months to make the area more comfortable, thus saving money. According to the U.S. Department of Energy (DOE), every degree of thermostat offset reduces approximately three to six per cent of energy costs, a total of almost 15 per cent—money that could be used to upgrade and maintain the facility.
While occupant comfort is vital to the solution, HVLS fans impact other aspects as well.
Improving indoor air quality (IAQ)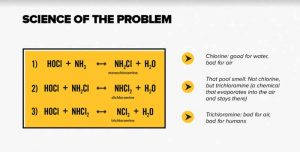 Chloramines, created by the reaction of chlorine with low concentrations of ammonia, are respiratory irritants, with trichloramine being the most toxic. The Center for Disease Control and Prevention's (CDC's) Model Aquatic Health Code (MAHC) (3rd edition, 2018, section 5.6.2.8) states every facility must have a system to minimize these combined chlorine compounds. HVLS fans can help manage chloramine levels, which are highest at the pool's water surface due to the compounds being denser than air, within a desired range.
Moving the concentrated, contaminated air from a stagnant spot at the water surface and spectator level, to an exhaust system and/or through filters can minimize localized air quality issues. Bringing in and distributing fresh air to the area is also required to maintain a balanced and effective system.
Chloramines are responsible for the pungent "pool smell." HVLS fans can reduce the unpleasant odour one often associates with chlorine-treated pools. It is important to note any equipment installed in the natatorium must be corrosion-resistant and able to handle the corrosive airborne chloramines and high humidity levels.
Design dive for HVLS
It is imperative to achieve the perfect natatorium design with comfort and health at the forefront.
The American Society of Heating, Refrigerating, and Air-Conditioning Engineers (ASHRAE), has set recommendations on air movement, humidity, and temperatures within pool and spa facilities. Local codes often use ASHRAE standards as their basis, but these must be checked when designing or renovating a space.
ASHRAE's 2015 HVAC Applications Handbook states the ideal air temperature within an aquatic facility should be two to four degrees above the water temperature, but not higher than 30 C (86 F). A cooling method must be provided when the water temperature is higher than room temperature (e.g. in a whirlpool or spa). A simple trick to maintain the temperature in natatoriums is to monitor how cool a swimmer feels when he/she gets out of
the pool.
ASHRAE recommends the air turnover in pools with no spectators to be four to six changes per hour and those with spectator areas at six to eight changes. Here, the airflow rate should maintain the appropriate air temperature and relative humidity level (which, according to the MAHC, must not be less than 80 per cent) in the space while mixing the air sufficiently.
Running adequate ductwork and installing a larger HVAC unit and boosters to distribute air can be excessively expensive. HVLS fans can reduce ducting, which would significantly increase construction costs, and still miss the mark on destratifying the air in the space to achieve uniformity.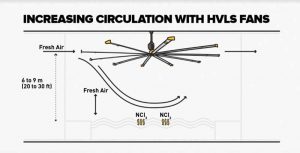 A typical HVLS fan placement is dictated by the size of the facility. A single fan placed over the geometric centre would provide an efficient dispersal of chloramines at the water surface level. However, larger pools and unique designs and layouts, may need more than one fan. With an air movement facility layout tool, designers and maintenance staff can see exactly where the air will go and the impact of the fan's placement on the space, including expected air speeds at occupant and water surface levels.
Linking HVLS fans to automation systems offers greater control to facility managers to operate ventilation and distribution systems cohesively.
Conclusion for HVLS
Like with any building, a natatorium's design must keep in mind its occupants and activities, which would help create a quality environment. HVLS fans can definitely aid in effective ventilation, gently circulating and mixing the air to achieve uniformity and proper IAQ throughout the space.
The MAHC offers recommendations on peak seasonal use of facilities and relative humidity measurements when considering energy consumption during non-peak times. As stated in the 2015 ASHRAE Handbook, reductions in room air temperature and/or relative humidity can increase evaporation from pools, creating the need for dehumidification and elevating pool water heating costs. For example, a system designed to provide the minimum ventilation rate without dehumidification is unable to maintain the desired relative humidity conditions in a space; potentially facilitating mould and mildew growth, thus providing a low IAQ.
As an added bonus, HVLS fans can play an important role as part of a system focused on earning points from the Canada Green Building Council's (CaGBC's) Leadership in Energy and Environmental Design (LEED), a green building certification system providing third-party verification for environmentally friendly building practices during construction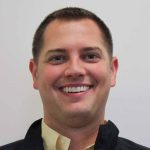 [4]Alex Risen leads the public relations team at Big Ass Fans in Lexington, Ky., which designs, engineers, and manufacturers fans and lights for industrial, commercial, and residential applications. He can be reached via e-mail at press@bigassfans.com.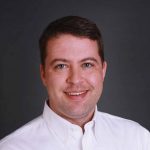 [5]Christian Taber LEED AP BD+C, HBDP, BEMP, CEM is the principal engineer of codes and standards at Big Ass Fans. He is part of the team responsible for assisting in the implementation of the company's portfolio of high volume, low speed (HLVS) fans in comfort and energy-saving applications across the globe. Taber has served on multiple American Society of Heating, Refrigerating, and Air-Conditioning Engineers (ASHRAE) and Air Movement and Control Association (AMCA) committees and his work has been featured in several technical journals and publications. He can be reached via e-mail at info@bigassfans.com.
Endnotes:
[Image]: https://www.poolspamarketing.com/wp-content/uploads/2019/05/Maine-Endwell-2.jpg
[Image]: https://www.poolspamarketing.com/wp-content/uploads/2019/05/natatorium-science-of-the-problem-chloramines.jpg
[Image]: https://www.poolspamarketing.com/wp-content/uploads/2019/05/natatorium-increasing-air-circulation-with-hvls-fans.jpg
[Image]: https://www.poolspamarketing.com/wp-content/uploads/2019/05/Risen_Headshot.jpg
[Image]: https://www.poolspamarketing.com/wp-content/uploads/2019/05/Taber_Headshot.jpg
Source URL: https://www.poolspamarketing.com/trade/features/hvls-fans-the-importance/
---