Liquid solar blankets: Helping homeowners make the most of their pool
March 24, 2021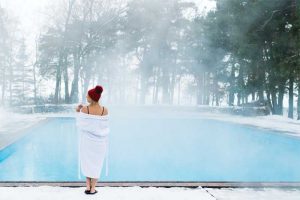 By Jamie Novak
As the pandemic continues and people remain quarantined at home this winter, many of those who are lucky enough to own a pool are looking to continue using it or open it earlier regardless of the outside temperature—especially those homeowners who just had their pool installed and are experiencing 'new pool syndrome.'
These homeowners really want to get the most out of their new investment while the neighbourhood looks on with envy.
As a result, many homeowners are cranking up their pool heaters to keep their kids (and themselves) active in the water. However, as the air temperature plummets below the water's temperature, some will start to see steam rise off the surface of the water. When this happens, it is not just the pool water evaporating into the atmosphere. In fact, so, too, is the heat and the money the homeowner will need to spend to rebalance their water chemistry upon introduction of new source water. That said, many pool owners—new and old—may not realize that heat loss and evaporation can be quite expensive.
Therefore, limiting water evaporation is one of the most cost-effective ways a homeowner can reduce unnecessary top-offs, chemistry adjustments, and heat loss. Recommending an easy-to-use liquid cover solution is also one of the simplest methods by which pool professionals can help their clients save water, money, and energy.
What are liquid covers?
A liquid cover is an evaporation suppressant that creates an invisible barrier at the surface of the pool to help trap heat and reduce evaporation. These products create monomolecular layers, or barriers, primarily composed of cetyl alcohol, stearyl alcohol, or ethyl alcohol (ethanol).
The product is added to the skimmer with the circulation system running to disperse the monomolecular layer on the surface.
When explaining how these products work to customers, pool pros can use the analogy that it is like putting a lid on a pot of boiling water. The layer is a single molecule in thickness and creates additional surface tension. It contains fatty alcohols that readily float on the surface to block direct interaction between the air and the pool water. Dispersants are also used in the formulas to spread the material across the surface of the water.
This type of technology was originally tested and applied in the drinking water reservoir industry. What was learned from using these products in the reservoir industry was the combination of both cetyl and steryl alcohol proved to be very effective at reducing evaporation.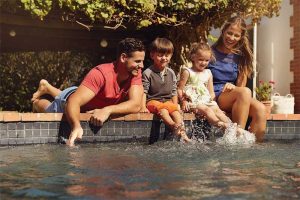 How do liquid covers work?
When liquid covers form the monomolecular layer on the pool water, extra surface tension is created on the water, helping to prevent the release of water vapour into the atmosphere. While the surface tension is broken when swimmers are present, the tight molecular arrangement of the layer causes it to quickly reform.
The number one difference between a physical solar cover and a liquid cover product is that a physical cover does nothing if it is sitting bunched up in the backyard. If someone forgets to put the solid cover on when the temperature drops on a cool night, there will be considerable evaporation loss. On the other hand, liquid solar products are always in the water if it is added consistently according to dosage instructions.
How can liquid covers be better than traditional covers?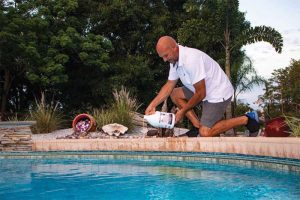 The traditional solution to heat loss and evaporation has been to use a solid pool cover, which significantly decreases energy consumption and heat loss through evaporation. According to Natural Resources Canada and the U.S. Department of Energy (DOE), solid covers can prevent water loss due to evaporation as well as reduce a pool's energy consumption by 30 to 50 per cent.
Traditionally, solar bubble blankets are sold to new pool owners as they are especially great at the beginning of the season to help heat the water more quickly. There are, however, some downfalls to using a solar blanket that some homeowners may not realize until they are wrestling with it by themselves to put it back on their pool. They can be bulky and tough to move, not to mention the additional dirt and debris a homeowner may be inadvertently introducing to the pool when dragging the cover across their yard.
For irregularly shaped pools, covers need to be cut or modified to fit properly for effectiveness, which can also add to the frustration when attempting to put it back in place.
Some consumers also unintentionally find they damage a portion of their lawn or surrounding garden when a solar blanket is accidentally placed in a garden or simply left on top of the grass for extended periods of time. Additionally, if a bubble solar blanket is left on the pool for too long on hot days, it could even overheat the pool and lead to cover damage, as well as creating a chemical imbalance in the water.
However, using a physical solar blanket along with a liquid solar product can provide maximum heat retention at the beginning and the end of the season when it becomes more difficult to maintain ideal water temperatures. When budgets are tight, a liquid solar option can provide some protection from heat loss and evaporation that some customers may not have.
What is the best way to sell liquid covers?
Understanding what liquid covers are made of and how they work are an important part of selling this product. This is mainly because the customer is being sold a cover they cannot see.
Often, the best way to sell clients on using a liquid cover is by describing how it can help to lower their utility costs by retaining heat in the pool water—which is especially important for those pool owners who are cranking up their heaters this winter during the pandemic lockdowns.
Most pool professionals agree pool owners are very willing to try the product when the savings from water and heat loss benefits are explained. Some pool professionals even include the liquid cover with the sale of a heater to ensure the customer's satisfaction because heating a pool—especially during the colder months—can be expensive.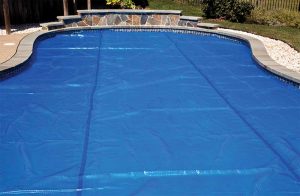 Pool retailers can also consider including a liquid cover product as part of their startup packages and explain to the customer how they can incorporate it as part of their weekly pool maintenance routine.
Pool service professionals should also consider including these products as a part of their service call offerings. This can be an especially easy sale if it is known the customer plans to use their pool over the course of the winter and into the early spring months.
In fact, many pool professionals report their customers say they get more swimming and enjoyment out of the pool simply because they do not have to deal with a physical cover—especially if only one adult is available to pull the cover off and put it back on.
Some pool professionals even quantify the benefits by saying liquid covers pay for themselves because the cost per swim becomes much less as a result of its ease of use in comparison to a physical bubble cover and the pool owner's ability to swim more frequently.
Start offering liquid covers to all clients
With so many new pool owners in the marketplace, industry professionals can offer consumers options that will make their pool ownership experience very satisfying. For homeowners, the idea of getting a pool is to enjoy it, not to labour over it. That said, pool owners want the best advice that will help them decrease work and increase efficiencies. Liquid covers are one of many products that are often overlooked that can help improve the pool maintenance process by removing some of the time and effort needed from the homeowner. Liquid covers can make a pool professional seem like a hero in the eyes of the pool owner as they realize the savings by reducing heat loss and evaporation in their pool.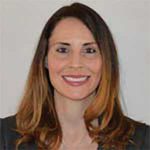 Jamie Novak is a brand manager at BioLab, focusing on Natural Chemistry, SeaKlear, and Aqua Pill specialty chemicals. She has more than 15 years of pool industry experience and previously worked in sales and marketing for Newell Rubbermaid. Novak can be reached via email at jamie.novak@biolabinc.com.
Source URL: https://www.poolspamarketing.com/trade/features/liquid-solar-blankets-helping-homeowners-make-the-most-of-their-pool/
---