Quality Property Services (2018)
September 16, 2018
By Jason Cramp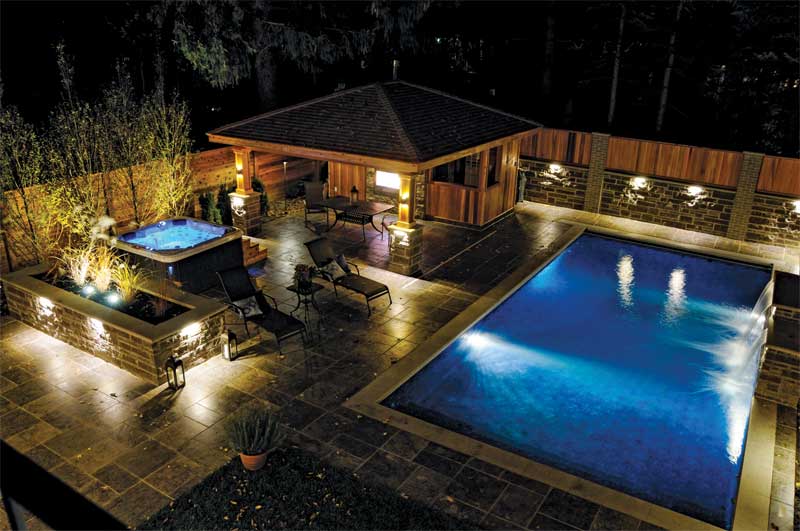 [1]
In designing/building this outdoor extension to their client's home, Quality Property Services of Toronto created a resort-like experience that offers the sophistication of a holiday destination in the comfort of a residential backyard.
To accomplish this, the company installed a 4.8- x 10.3-m (16- x 34-ft) vinyl-lined pool, which includes bullnose coping and full-width steel steps in the shallow end, making the pool appear as though it was made of concrete, while the pool's shallow end was designed to be larger than average to accommodate the homeowner's two small children.
Three illuminated water sheers, installed in a multi-tiered wall, help accentuate the pool, which is also equipped with a fully integrated automation system, including an automatic safety cover.
An expansive deck was incorporated into the project to provide abundant space for seating and poolside lounging. The deck houses a portable hot tub, which is tucked next to a hardscaped vertical planter—adjacent to the pool—to provide a warm-water hydrotherapy option. Here, trees and ornamental grasses were strategically planted to create a cozy nook.
A large cedar cabana, which is in proximity to the pool and hot tub, features a gas fireplace and provides ample space for outdoor dining. Cedar and natural stone were used throughout the project, including a retaining wall that was constructed at the rear of the property, which gives the space a cohesive look. Outdoor lighting was also installed to highlight the backyard's various features.
Endnotes:
[Image]: https://www.poolspamarketing.com/wp-content/uploads/2018/10/101-Buckingham-_9.jpg
Source URL: https://www.poolspamarketing.com/trade/features/quality-property-services-2018/
---