Rainbow Beach Aquatic Center: The unique renovation of an 80-year-old pool
November 23, 2018
By Gary Novitski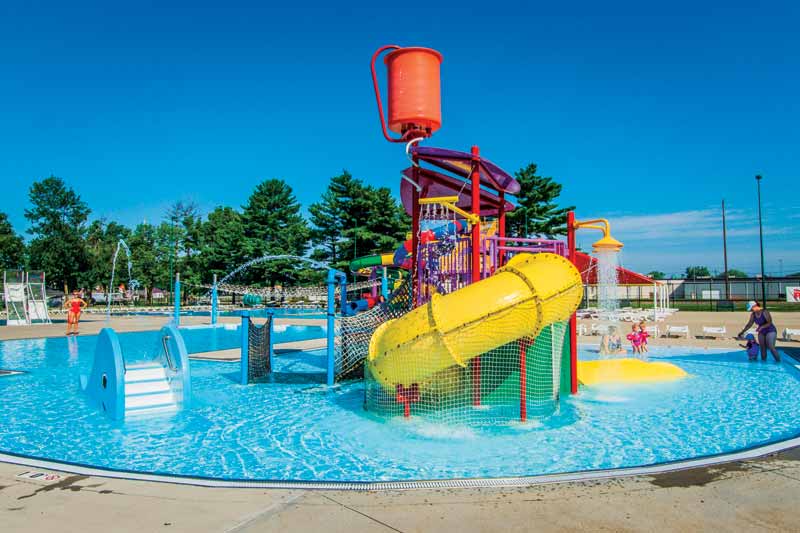 The city of Vincennes, Ind., has been home to a unique aquatic facility for the past 80 years. Known by locals as "Rainbow Beach," the centre was born in 1937 as a federal works progress administration project. Initially, the facility had two central goals: to provide jobs for unemployed workers during the Great Depression, and to address an alarming increase in the number of children who had drowned while swimming in the nearby Wabash River.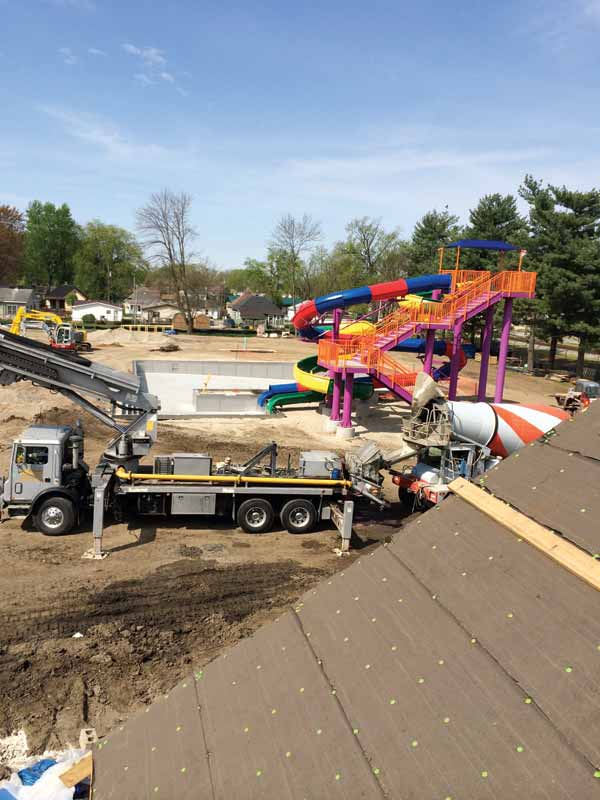 The original aquatic facility was among the most innovative of its kind. Initially designed by local architectural firm Sutton & Routt, the centre featured a vast pool surrounded by sandy beaches. A tall tower illuminated with colourful lights stood in the middle of the pool; water cascaded down the sides of the installation, resulting in a 'rainbow' effect. It was one of the first public facilities to incorporate both water and light features—not to mention a 'beach entry' for patrons.
Rainbow Beach is the largest and oldest aquatic facility in the state. From 1937 into the 1960s, it was a summer destination for families throughout Indiana and neighbouring Illinois. Postcards from the 1940s called it "Indiana's most beautiful bathing beach."
Those who remember visiting the facility in the 1940s recall the sandy beaches, ornate planter urns with water fountains pouring into the pool, and the colourful lights. The pool also featured a tall diving tower, as well as several other smaller diving boards.
In the mid-1960s, the facility's extensive use took its toll and city officials had to decide whether to permanently close Rainbow Beach or perform extensive repairs. In 1971, the decision was made to redesign the pool by removing the sand beaches and adding regulation swim lanes.
Following a successful renovation, the centre was embraced and well-used by patrons for another 40 years, but eventually wear and tear again forced community officials to re-examine the pool and its surrounding amenities.
For the second time, it was decided the entire location needed to be reconstructed to bring it up-to-date for users; however, as with many parks and recreation facilities, a change of funding became a significant hurdle in regard to preserving the legacy of Rainbow Beach.
Grassroots movement
The fond memories of this unique aquatic facility were strong among the residents of Vincennes—and it was this legacy that created a grassroots approach for a city-wide effort by residents and businesses alike. The goal was to raise taxes and sell bonds to fund the facility's renovation and restore it as a centrepiece for the city.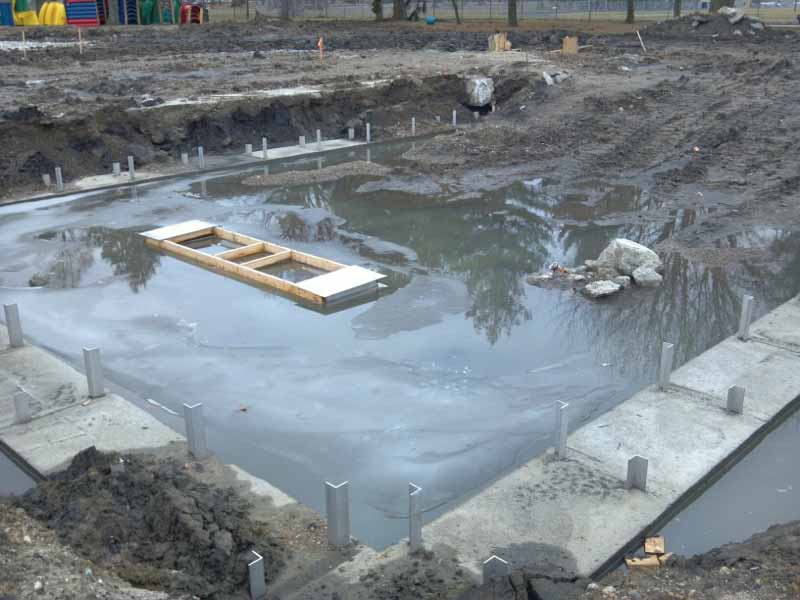 Situated adjacent to Gregg Park, the municipally owned aquatic centre is part of the Vincennes Parks and Recreation. Steve Beaman, the department's superintendent, was one of the main supporters of the renovation.
Beaman spent weeks peddling his vision for a new Rainbow Beach—a passion fuelled by his own childhood memories of riding his bike with his buddies to the pool back in middle school when it was "the place to go" during the long summer months. Beaman said that as he spoke to more people about Rainbow Beach, he started to hear similar stories from members of the community.
For Beaman, this commonality proved Rainbow Beach to be a summer hot spot that created strong generational ties. The pool was part of local history and residents wanted to maintain it for future generations.
New design
The Rainbow Beach renovation and construction was budgeted at $3.4 million. Through an overall bond, $3.8 million dollars was raised for a complete renovation, which included several pools, a bathhouse, and a new concession stand that could be accessed through both the pool area and Gregg Park. Once the funds were raised and the project put out to bid, the contract was awarded to RenoSys Corp., located in Indiana.
The new design was comprised not just of a single pool, but rather four bodies of water—three pools and a splash pad. Additionally, a climbing wall and lily pad walk were incorporated. These two features were paid for by additional donations totalling $80,000, which were provided by citizens and local businesses after the job went to bid.
The main pool was to include two large flume slides—one open and one closed—and would be divided into two sections: a slide plunge pool, measuring 6.7 x 7.3 m (22 x 24 ft), with a depth of 1.09 m (3.6 ft) on one side where the slide would empty; and another area, separated by a 2.7 x 2.1-m (9 x 6.9 ft) transition, roughly 17 m (56 ft) wide, 22.9-m (75 ft) long, and 1.8 m (6 ft) deep, and comprised of eight lanes. This pool's perimeter measured 108.5 m (356 ft) and required just over 654,876 L (173,000 gal) of water.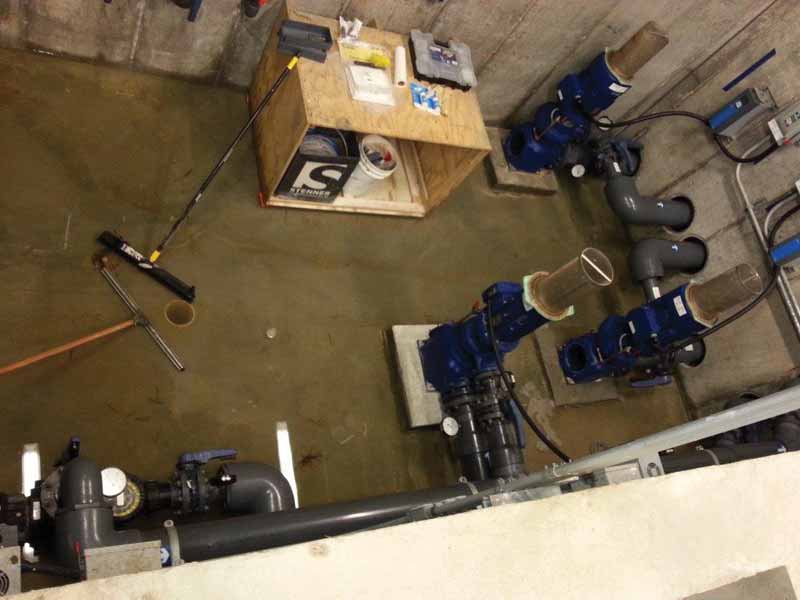 The second pool, designed for small children and families, would also be divided into two sections, connected via a 2.4- x 6.4-m (8- x 21-ft) transition. This installation would include a 10.9-m (36-ft) wide, 15.8-m (52-ft) long shallow area, featuring a zero-depth entry and a play area with a small slide; and a deeper 'activity pool.' This 8.5- x 14.6-m (28- x 48-ft) section would be home to the project's custom-designed lily pad walk. This floatable stepping system was designed to be anchored to the floor with a net system stretched across the pool. The second pool's perimeter measured 100.5 m (330 ft) and required 155,202 L (41,000 gal) of water.
The project's third pool would be a 3-m (10-ft) deep diving pool—something not common in today's aquatic facilities. The 10.6- x 8.5-m (35- x 28-ft) installation would include two dive stands with competitive diving boards, as well as the community-funded 3.7-m (12-ft) tall climbing wall. This pool's perimeter measured 39.6 m (130 ft) and required 280,121 L (74,000 gal) of water.
Finally, the project's fourth body of water would be the splash pad, which would be equipped with water-dumping amenities and spray features, which included a water tower, splash umbrella, and misting water wickets, all of which were created by Water Odyssey. This section would extend into Gregg Park and remain open for park-goers into the evening summer hours, after the pools were closed for the day. The splash pad's perimeter measured 144.8 m (475 ft) and used 9085 L (2400 gal) of water.
In addition to the pools, RenoSys was contracted to build the facility's new bathhouse, which would include locker rooms, offices, and a concession stand for visitors.
The transformation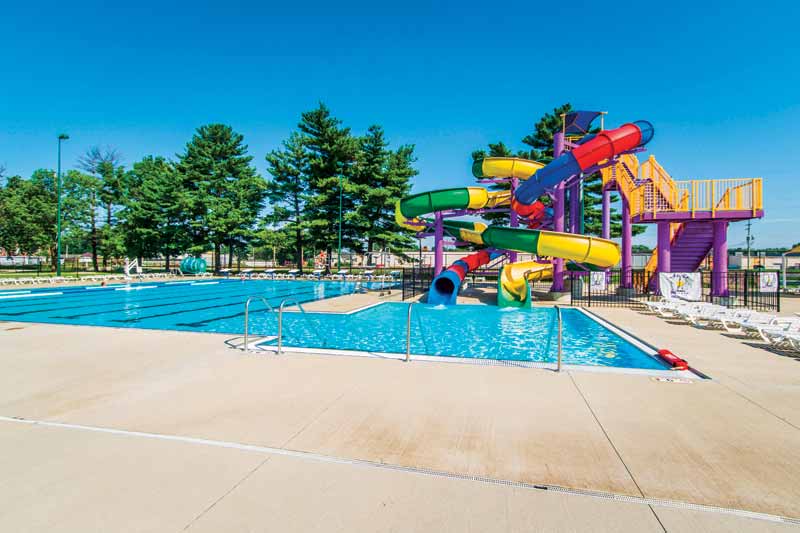 The facility was slated to open in 2014 on Memorial Day weekend; however, as with any major construction project, there were a multitude of challenges. This delayed the opening until July.
Demolition challenge
The demolition of the old pool started in the fall, but an extended winter and a wet spring caused a few unexpected surprises.
In total, this portion of the project took nearly three months to complete, running from early September through late November. One of the biggest challenges occurred when RenoSys uncovered an unusually thick and unexpected section of concrete under the original pool, which took a great deal of time to remove. The demolition also involved the removal of 4825 m2 (51,940 sf) of existing deck and all of the pool walls, as well as the existing pool plumbing—which had to be completely taken out and disposed of off-site.
Once the demolition was complete, the steel wall structures for the three main pools were installed in mid-December. This process is normally immediately followed with the pouring of concrete for the pools and decks, but the winter weather posed a challenge.
Weather challenges
Jim McAllister, construction supervisor at RenoSys, recalls standing on the site of the new facility on January 4 and looking at a thermometer that read -25 C (-14 F). Throughout the winter, the crew worked in sub-freezing weather, which included snow and ice storms, along with high winds.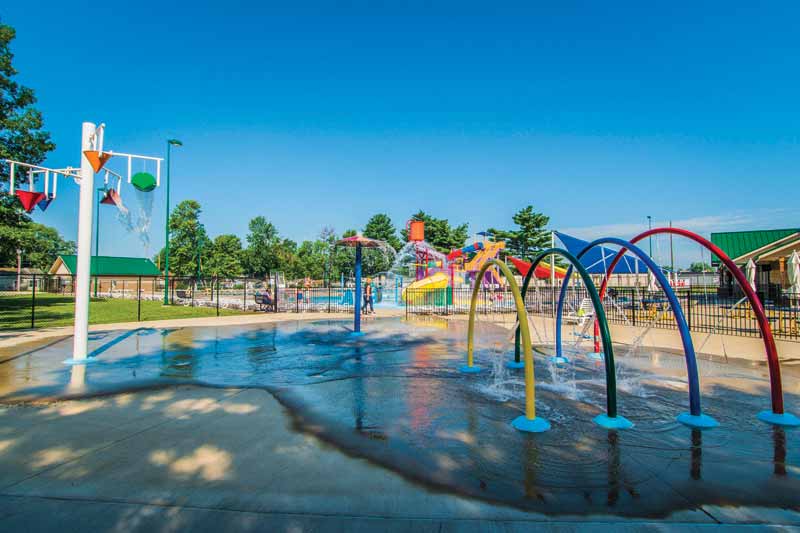 After working through the frigid winter, RenoSys was confronted with an incredibly wet spring, which resulted in extremely muddy conditions. McAllister remembers the workers had to wear rubber boots to get around the area, and then had to change into clean shoes to climb the four ladders to work on the roof of the new building that housed the restrooms and concession stand.
Mechanical/pump room challenges
Building multiple pools in one area is always a significant challenge—and Rainbow Beach, which had four separate bodies of water, was no exception.
Project designs can become disorderly without proper planning and flow that is determined in advance. Arranging an organized mechanical/pump room would allow for more efficient operation of the pools, as well as make it easier for technicians to perform equipment service and maintenance.
For Rainbow Beach, none of the four pools shared equipment. This is because each body of water had a different turnover rate, as per state and local codes. For example, the water in the diving pool would not need to be turned over as often as the wading pool due to the lighter bather load.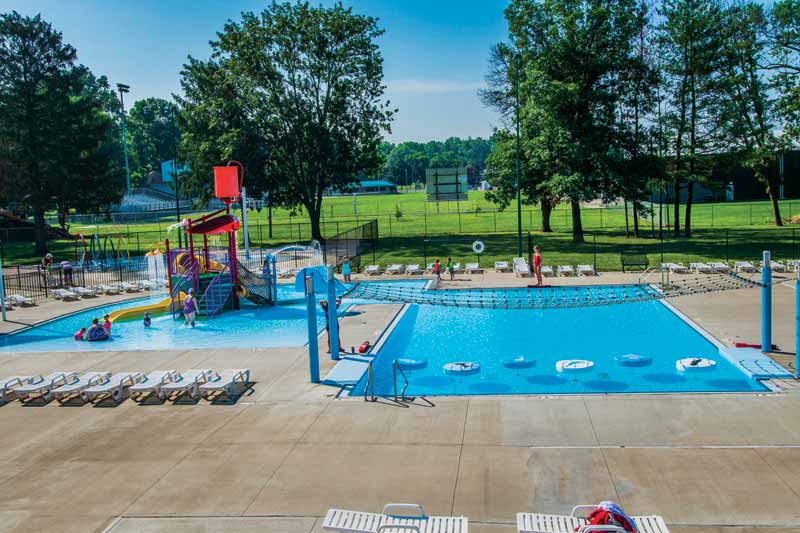 The facility's mechanical/pump room is an 8.5- x 10-m (28- x 33-ft) structure, which includes a 2.4- x 3.7-m (8- by 12-ft) chemical storage room. The lane/plunge pool and activity pool were designed with vacuum filtration systems. These flooded systems use gravity flow, so they are installed in tanks below the pools' water levels, while all other pump room equipment is located at ground level.
The filter media used for these pools is a cellulose fibre, which is considered more environmentally friendly when compared to the traditional diatomaceous earth (DE) media. Each filter system was designed specifically for the individual pool's flowrate and turnover requirements. Another feature of these types of filters is the long backwash runs, which saves on chemicals, heat, and maintenance time—all with virtually no lost water.
The filtration systems for the shallow and the diving pools were handled through high-rate sand filters, due to the low gallons per minute (gpm) and smaller volume of water.
Gutter system installation
As Rainbow Beach has always been the region's 'showcase' aquatic facility, every detail was considered when renovating the pools, including sizing the perimeter gutter system. This aspect of an installation is often an afterthought, which can lead to technical issues after a facility opens.
For this project, the stainless steel gutters were custom-fit according to the pool and flow characteristics of each body of water. The system combines gutter and plumbing into a built-in trough with pressurized filtered water inlet supply returns. Additionally, the maintenance and repair costs of stainless steel gutters are minimal, as these installations eliminate buried pipes, which can break as a result of freeze/thaw damage or ground movement.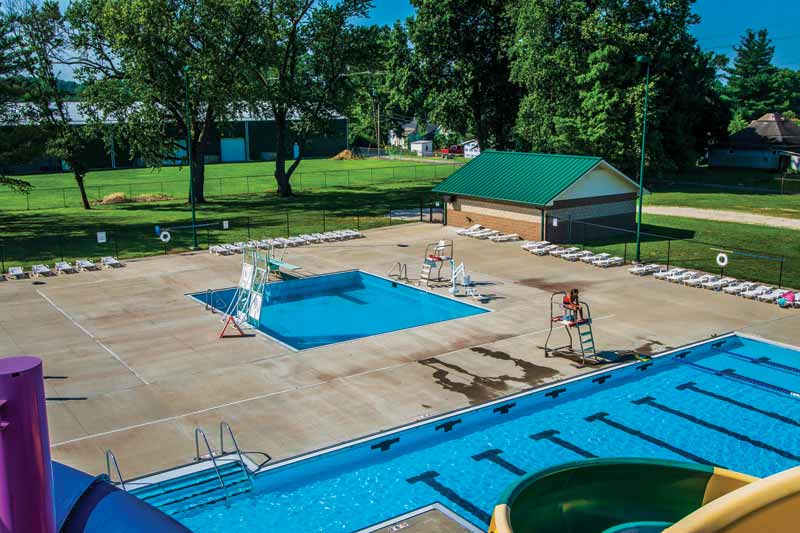 The gutters were finished using outdoor-grade polyvinyl chloride (PVC) grating, which offers colourfast, ultraviolet (UV) resistance and is certified slip-resistant.
Pride for Indiana
Not only is Rainbow Beach a claim-to-fame for the city of Vincennes, but the facility is also a source of pride for RenoSys Corp. The company added several unique features to the installation, including a custom-designed and manufactured children's slide for the shallow play pool. The 1.7-m (5.6-ft) tall installation is nicknamed 'Billy Blue.' The blue whale slide features a built-in PVC-lined spout to spray water and a kid-safe padded ladder.
Open for summer fun
When the renovated Rainbow Beach aquatic centre opened, the citizens of Vincennes and surrounding communities came in droves and enjoyed the amenities to the very last day of the swim season. The facility never could have been a reality without the determination of the community and the added forethought of those involved in the planning.
The aquatic centre was recognized by the Indiana Association of Cities and Towns with a Community Achievement Award as a result of the collaborative efforts of city officials, the business community, and determined residents.
Today, Rainbow Beach is back to its previous glory and is, once again, a showpiece aquatic facility for the state of Indiana.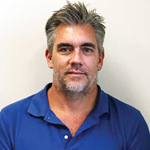 [9]Gary L. Novitski is the vice-president of the commercial division of stainless steel pools and spas for RenoSys Corporation, headquartered in Indianapolis, Ind. He has more than 16 years of experience in the commercial aquatics industry. Novitski can be reached via e-mail at garyn@renosys.com[10].
Endnotes:
[Image]: https://www.poolspamarketing.com/wp-content/uploads/2018/11/DSC_4732.jpg
[Image]: https://www.poolspamarketing.com/wp-content/uploads/2018/11/RainbowBeach-Construction-IMG_0150-copy.jpg
[Image]: https://www.poolspamarketing.com/wp-content/uploads/2018/11/Rainbow-Beach-during-construction-wet-spring.jpg
[Image]: https://www.poolspamarketing.com/wp-content/uploads/2018/11/20150403_104514.jpg
[Image]: https://www.poolspamarketing.com/wp-content/uploads/2018/11/DSC_4737.jpg
[Image]: https://www.poolspamarketing.com/wp-content/uploads/2018/11/DSC_4728.jpg
[Image]: https://www.poolspamarketing.com/wp-content/uploads/2018/11/DSC_4745.jpg
[Image]: https://www.poolspamarketing.com/wp-content/uploads/2018/11/DSC_4747.jpg
[Image]: https://www.poolspamarketing.com/wp-content/uploads/2017/11/Novitski_Headshotx.jpg
garyn@renosys.com: mailto:garyn@renosys.com
Source URL: https://www.poolspamarketing.com/trade/features/rainbow-beach-aquatic-center/
---