The art of aquatic fun: Creating inclusion on the splash pad
November 23, 2018
By Melinda Pearson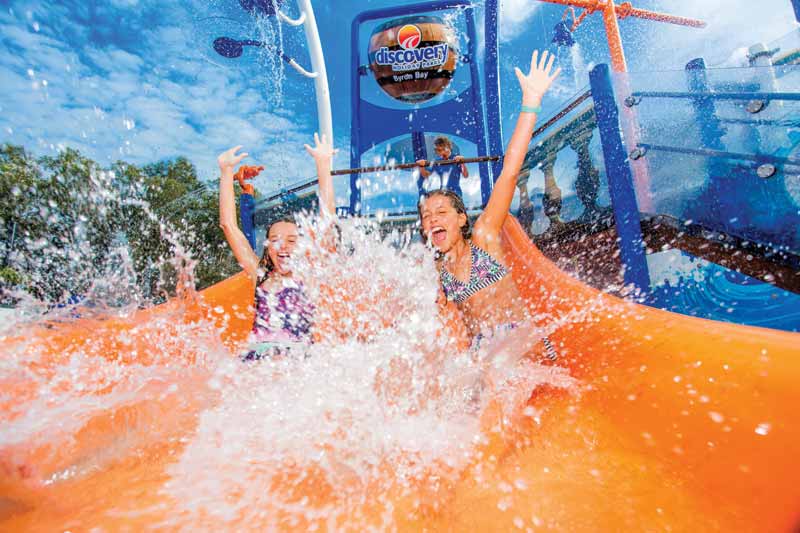 Watching a splash pad for a few minutes can tell an observer a lot about how people play. Maybe mom and baby are experiencing a new milestone together while elsewhere a spray tunnel channels a flurry of traffic by foot and wheelchair, next to a child who is calmly manipulating a stream of water. Meanwhile, from the shade, two grandparents watch their little ones master the twists and turns of the waterslide.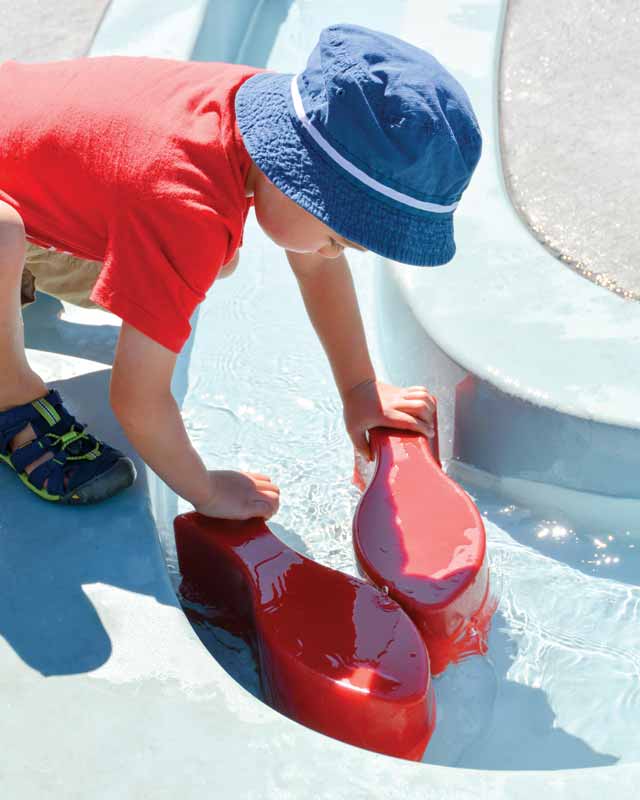 This tremendous capacity to collectively support individuals in one space is an exciting feat, hinging on a key ingredient: fun. People engage voluntarily and spontaneously when they are having fun.
To ensure parks are hitting the mark when it comes to inclusion (i.e. maximum participation), one must examine the motivating impulse driving people to participate. This article takes a closer look at how to unleash the fun factor in a community splash pad when choosing products, organizing space, and knowing the audience.
Who wants to play?
When a community is examined closely, often there are particular segments which are not being met. This relates to a burgeoning demographic of young parents, at-risk youth, or neglected cultural groups and/or income brackets who are awaiting a safe place to play close to home. With only two in five U.S. parks agencies having formal inclusion policies[3], alongside persistent struggles with childhood obesity and declining outdoor play[4], there is a ways to go before closing the gap.
The first of the 'Seven Principles of Universal Design[5]' says that engaging otherwise disengaged groups strongly correlates with curb appeal: give them a beautiful, inviting public space that is "marketable to all people."
The splash pad can do a lot of heavy lifting here. Harnessing the universal appeal of water has a unique capacity to tease out the innermost play instincts of multiple individuals simultaneously. Meanwhile, its zero-depth playscape eliminates barriers with respect to access and risk to help level the playing field for all abilities and generations, which makes the sense of arrival and invitation even more enticing. (For more, read "Splash Play: Bringing Inclusion to Water Play" [Hutchinson, 2015], published in Recreation Management Magazine.)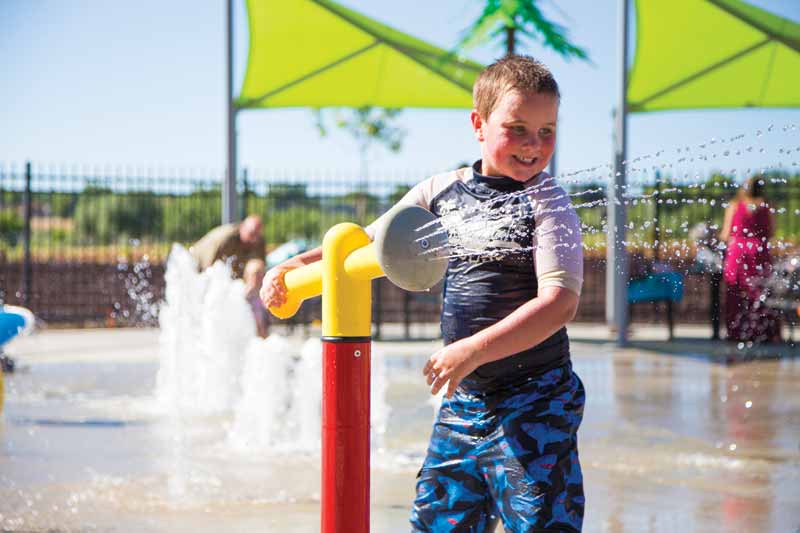 Such a phenomenon stretches across 799 m2 (8600 sf) of Winnipeg's downtown core. In 2010, the city set out to transform an under-served, high-risk area into a safe and welcoming play space for local families by building an esthetically pleasing public spray park. The impact was transformative. Central Park, once a forgotten greenspace in the heart of downtown Winnipeg, now unites a multi-cultural area and employs people, effectively contributing to the overall diminishment of crime[7].
Similarly, Villano Park, a new master planned design for Hamden, Conn., greets visitors and passersby with an architectural cluster of water features; giant spraying leaves and a perched butterfly offer gentle spray patterns, while simultaneously amplifying the soothing effects of nature. Created by product designer Markus Ehring, the spray park incorporates familiar nature elements on an awe-inspiring scale for a space able to be appreciated on multiple levels. As such, it is an ideal place for neighbours to come together and enjoy a sense of community, serving as a beautiful centrepiece and a symbol of neighbourhood revitalization[8].
Motivating play features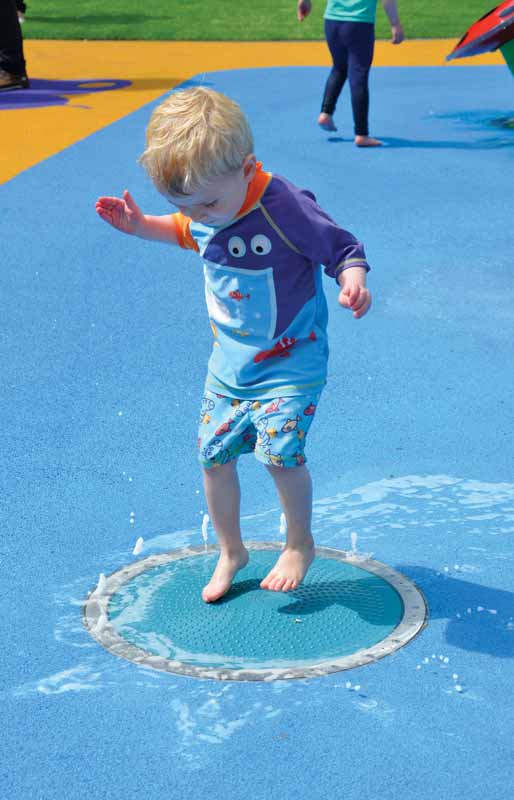 Once a community has extended the invitation, next comes play time. Casting the right features have a direct impact on whether or not people participate and engage with others in the communities. Not only is this critical for a well-used space, but this also makes room for vast developmental benefits of free, unstructured play—a threatened past-time amidst increasingly scheduled family routines[10].
To build an accessible park that will be enjoyed by a community and help members reconnect with play, the selected equipment should align with the universal design principles of flexible, simple, and intuitive use. For example, does the spray arch allow wheelchair users easy access in accordance with various accessibility legislation. Is the transfer station on the water play structure evident to those with mobility impairments? Is the park activator easy to find and use?
Great play features will give kids visual and tactile clues to uncover their intended water effects. Often it is best to look beyond standards of accessibility and create play features designed for action-reaction experiences and sensory encounters. Some equipment is effective in harnessing a child's intrinsic desire to simply mess about, provoking natural points of interaction throughout the splash pad. (See "Empowering Pedagogy for Early Childhood Education" (Dietze & Kashin, 2016).
Conversely, physically intensive features with little tolerance for error can undermine the free play experience. For example, a 3.7-m (12-ft) high play structure may exhaust a child's energy, while one that is 1.2 to 1.8 m (4 to 6 ft) presents an inviting challenge.
As part of a recent renovation project, Apex Center Pool in Arvada, Colo., replaced its outdated pool structure, which involved a staggering climb to a waterslide, with an activity tower. The new installation introduced strategic elevations and two spacious play pods where kids were given enough room to explore spray effects and interact and collaborate with their peers. Meanwhile, Americans with Disabilities Act (ADA) transfer stairs and clear sightlines through the tower's panels put caretakers at ease as children explore independently and build their confidence through free self-initiated play.
"Our guests love the new feature," says Lauri Dannemiller, district executive director for Apex Parks and Recreation. "We are excited to have updated our pool with such a fun, creative structure to serve our community."
It is just as important to think off the pad when applying universal design principles. For example, are the restrooms easy to get to? Could a wheelchair-user access the amenities?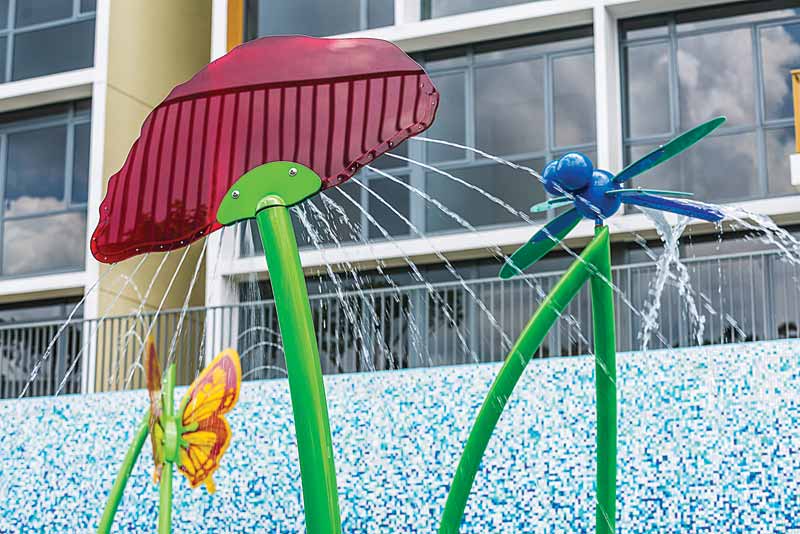 To ensure a fully accessible park, a facility manager should step back and evaluate the entire site as if they were the guest—or, better yet, invite someone with a mobility impairment to provide their perspective.
The goal is to make the experience as seamless as possible—from parking to overall navigation.
Keeping them curious
How do you keep people coming back for more? Sustaining the play impulse, but philosophies of play show us people benefit most when play triggers new discoveries. This understanding is explained by early childhood development researcher, Dr. Beverlie Dietze, as a cycle of curiosity, which begins with inquiry and flows into exploration, experimentation, and mastery. By organizing space on the splash pad, it is possible to make room for this cycle and build the momentum for all users.
Designers should begin by planning dedicated areas for transitional moments, peaceful pauses, and bursts of action, which are buffered by clear, connecting paths of access. This pacing will encourage a steady flow of activity between zones while also meeting accessibility standards.
Montreal-based playground blogger Christine Latreille describes her family's first experience with play zones at Parc du Boisé, Qué.
"My little guy was delighted to have the quieter play area where he wasn't getting run over by rowdier big kids or getting water sprayed in his face," she says. "My older one, of course, wants gallons of water to dump on him. Different play zones keep them both engaged and happy."
While the play industry traditionally categorizes zones by age group, emerging perspectives point to even greater, age-less, possibilities for inclusion. It is not unusual to see a rambunctious toddler reaching for a water cannon, while also seeing a big sister sitting down to patter inground sprays with her younger sibling. A play style approach to splash pad zones—which facilitate discovery, exploration, and adventure—shifts the focus towards individual play preferences and energy levels.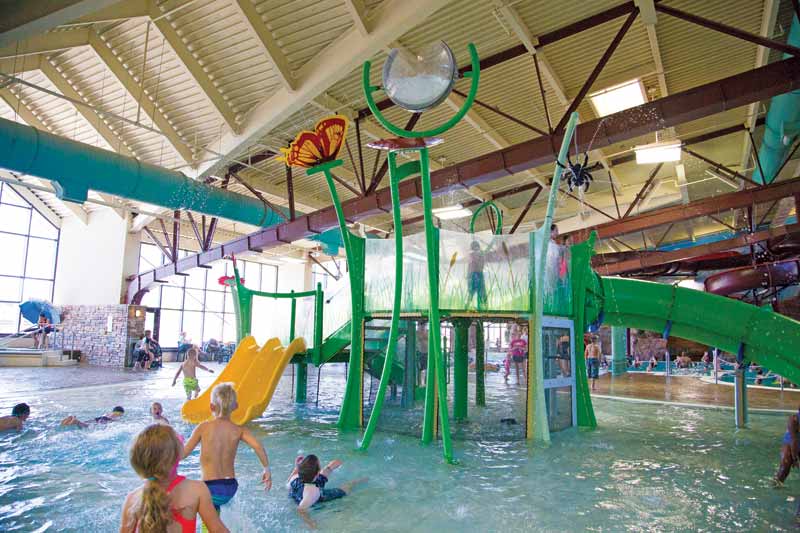 A discovery zone, featuring gentle spray textures, fascinating weirs, and meandering streams, provides a calm space for thoughtful play. This zone may appeal toddlers, children with autism or other cognitive disabilities, or anyone seeking a comfortable spot to sit and relax. Meanwhile, an exploration zone that introduces more stimulation (e.g. tipping buckets) and physically engaging activities (e.g. aim and spray), serves as a stepping stone to new experiences, skill building, and collaboration. In these spaces, both novice and experienced waterplayers can find opportunities to step out of their comfort zone and take on new challenges. A high-energy adventure zone for non-stop action and exhilarating splashes (e.g. largescale dumping buckets) will serve those craving excitement and uninhibited fun. In tandem, play zones should offer rewarding journeys for every play style so visitors can delight in creating their own kind of fun. Having this balance of low- and high-energy play gives kids and adults the ability to shift between contrasting activities without exhausting their enthusiasm.
Dream big, start small
Communities that play together, stay together. Kids and adults alike connect under the rush of the mega soaker, meet friends at the discovery stream, and build compassion taking turns at the waterslide. To reap the rewards of inclusive play, park designers cannot forget about the fun. Any community can jumpstart this process in its own backyard by taking an informal inventory of its parks and recreation spaces. Perhaps adding a picnic area would draw new visitors to the splash pad? Even if it is one small change, this is a step in the right direction.
Professionals of fun can help shift the statistics on inclusivity by provoking more people to play through deliberate and thoughtful design interventions to make the quality of life in communities better—and more fun.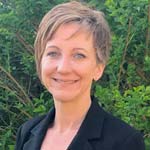 [13]With more than 20 years' experience in the aquatics industry, Melinda Pearson has helped deliver hundreds of unique and creative aquatic projects around the globe. She focuses on play value and the use of creativity to help children develop their imagination and engage at an early age to interact with the world around them in a healthy way. Pearson can be reached via e-mail at melinda.pearson@waterplay.com[14].
Endnotes:
[Image]: https://www.poolspamarketing.com/wp-content/uploads/2018/11/Discovery-Parks-Byron-Bay-Australia-4.jpg
[Image]: https://www.poolspamarketing.com/wp-content/uploads/2018/11/Waterplay-Variety-Park-49-EDIT.jpg
With only two in five U.S. parks agencies having formal inclusion policies: http://www.nrpa.org/contentassets/e386270247644310b06960be9e9986a9/park-recreation-inclusion-report.pdf
declining outdoor play: https://www.nrpa.org/uploadedFiles/nrpa.org/Advocacy/Children-in-Nature.pdf
Seven Principles of Universal Design: http://universaldesign.ie/What-is-Universal-Design/The-7-Principles
[Image]: https://www.poolspamarketing.com/wp-content/uploads/2018/11/ApexCenter-Colorado-splashpad-113.jpg
effectively contributing to the overall diminishment of crime: https://www.okanaganwoman.com/single-post/2017/08/09/Water-is-Woman%E2%80%99s-Play?hg=0
it is an ideal place for neighbours to come together and enjoy a sense of community, serving as a beautiful centrepiece and a symbol of neighbourhood revitalization: http://www.nhregister.com/news/article/Delight-as-Villano-Park-splash-pad-opens-for-13041278.php
[Image]: https://www.poolspamarketing.com/wp-content/uploads/2018/11/PUDDLES-UK-The-Quarry-Shrewsbury-1.jpg
a threatened past-time amidst increasingly scheduled family routines: http://time.com/4928925/secret-power-play
[Image]: https://www.poolspamarketing.com/wp-content/uploads/2018/11/wandervale-singapore-grasslands-7.jpg
[Image]: https://www.poolspamarketing.com/wp-content/uploads/2018/11/ApexCenter-Colorado-Pool-3.jpg
[Image]: https://www.poolspamarketing.com/wp-content/uploads/2018/11/Pearson_headshot_crop.jpg
melinda.pearson@waterplay.com: mailto:melinda.pearson@waterplay.com
Source URL: https://www.poolspamarketing.com/trade/features/the-art-of-aquatic-fun-creating-inclusion-on-the-splash-pad/
---