Treating spas like pools could get service techs in hot water: Best practices to ensure proper hot tub maintenance
February 6, 2020
CONTINUING EDUCATION
Read this article, "Treating spas like pools could get service techs in hot water: Best practices to ensure proper hot tub maintenance."
Take the quiz here.[1]
Earn 25 credits towards the Pool & Hot Tub Council of Canada's ( PHTCC's) Trade Certification Program.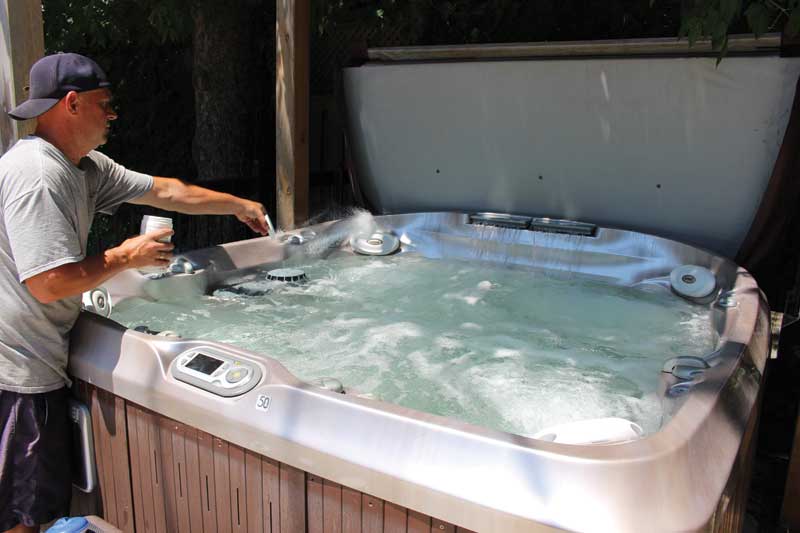 Many are familiar with the (not so glamorous) expression that hot tubs are communal baths. When a bather gets into a hot tub, waste from their body stays behind in the water. This includes dead skin cells, sweat, dirt, oil, lotions, perfumes, colognes, makeup, and more. While a lot of what is left behind is usually harmless, this type of contamination is the primary concern when it comes to maintaining the overall quality of the water.
To ensure the client's hot tub water stays clean and safe, service techs must take adequate measures to keep spas clean, both inside and out. Further, to keep the water in bathing condition, spa owners should be educated on proper maintenance between service calls.
Hot tubs are not 'mini pools'
Service techs must explain to hot tub owners that their spas are not 'mini pools;' therefore, they need to be treated differently. There are many differences between pools and spas, including:
The maximum temperature for most pools is 26 C (80 F), while spa/hot tub water should be maintained between 37 and 40 C (100 and 104 F);
Hot tubs have a higher evaporation rate. This leads to more scale and increased calcium levels, with air jets and blowers causing a quicker chemical reduction;
Water balance is an important factor, too. A smaller body of water means a greater effect on pH, total alkalinity, calcium hardness, and total dissolved solids (TDS) from added chemicals; and
The bather load ratio of four people in a hot tub equals 200 people in a pool.
One must remember the same rules for operating pools do not apply to hot tubs. Think about how small a hot tub is compared to an Olympic-sized pool. Bacterial infections and viruses, even pathogens and fecal matter, have more room to float in pool water. That said, if the same amount of germs enter a hot tub, the potential exposure increases because the volume is much smaller and, therefore, the risk of infection is higher.
"It's important to remember bather-to-water ratios in hot tubs and pools are vastly different," says Kathi Belcourt of Aqua-Tech Pools, Spas, and Bath in Winnipeg. "Remember four people in a hot tub equals 200 people in a pool. That is a lot more contamination from bathers in every hot tub. It's not unusual to have four bathers in a residential hot tub, while it's much more unlikely to have 200 people in a pool."
Hot water does not kill germs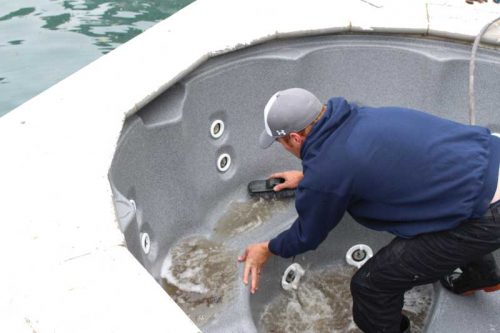 Service techs should start by informing their clients that hot water does not kill germs. Hot tubs are typically maintained between 37 and 40 C (100 and 104 F). This temperature may feel scalding on the skin at first, especially if one jumps into the hot tub immediately after walking through a snowy backyard or swimming in a cold pool. However, this temperature is certainly not high enough to kill bacteria and other germs that may be present in the water. In fact, the warm, wet environment of the vessel actually fosters bacterial growth. Germs living at typical hot tub temperatures can survive for days, even weeks.
"Most spa owners think bacteria and germs are more likely to appear in a warm environment rather than a cold one," explains Belcourt. "My goal is to educate clients on the differences between hot and cold water temperatures and the importance of consistent water sanitation. Hot tub water that isn't disinfected is far less forgiving than pool water that isn't balanced."
Soaking: not a substitute for bathing
Statistics show a majority of people do not shower before they get into a hot tub. This habit can severely impact the water quality as chlorine and bromine react with bather waste and cause turbid or cloudy water, forming chloramines that give spas a distinctive odour, or reacting with organic compounds (contaminants) that settle along the waterline and leave a coating where bacteria can grow.
In addition, having jets in a hot tub increases the need to sanitize and clean filters regularly.
"While jets make the muscles feel good, they also exfoliate one's skin and their bathing suit at the same time," says Belcourt. "As a result, the soaps from laundering one's swimsuit enter the water, as does the moisturizer they apply after showering."
Even when bathers shower before entering a hot tub, contaminants from their bodies can cause the sanitizer to be used up very quickly. The more people there are and the longer they stay in the spa, the faster disinfectant levels decrease. This results in a lower concentration of sanitizer levels than what needs to be present in the water to kill harmful bacteria. Further, chloramines can cause irritation to the eyes, skin, and respiratory tract.
"One must remember although body wash feels great on the skin, it leaves a film of oil on the body that is removed by the jets, which quickly mixes into the hot tub water and clogs up the filters," says Belcourt.
In fact, a surprising number of bathers carry pathogens, germs, and bacteria, such as Staphylococcus aureus and Pseudomonas, on the surface of their bodies that can cause skin diseases. Gastrointestinal pathogens from feces, such as Escherichia coli (E. coli), can also contaminate the water.
According to the Centers for Disease Control and Prevention (CDC), more than one in five (21.6 per cent) of adults are unaware that swimming when ill with diarrhea can heavily contaminate the water and make other bathers sick.1 Therefore, it is critical end-users are properly educated about recreational water habits and hygiene, both in commercial and residential environments.
Due to these reasons, a hot-tub specific approach for disinfection and routine physical maintenance is mandatory.
"Owning a hot tub is like having a dog or a puppy, while maintaining a pool is more like keeping a cat," explains Belcourt. "With the latter, one can go away for the weekend, and leave behind some food and water, and the cat will be fine. So will the pool. However, both a hot tub and a dog need more attention and can't be left alone for days. But then again, there is nothing better than all the love and enjoyment one gets from their dog, which is also true of the many benefits one receives from their hot tub."
Laminated checklist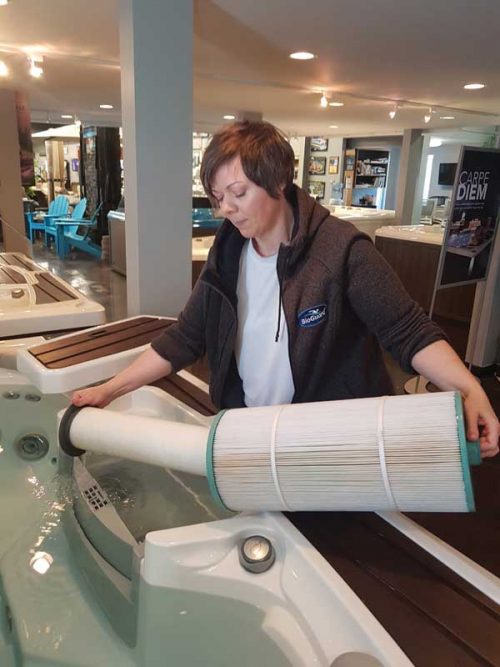 Many technicians are now leaving a laminated 'enter-exit-checklist' attached to spa covers. This encourages users to check sanitizer and disinfectant levels as they open and close the spa when they enter and exit the vessel. Note: It is important water balance parameters are in range, and a sufficient amount of sanitizer is present in the water.
Enzymes
Service techs should consider incorporating broad-spectrum enzymes into the hot tub water-care routine. These enzymes break down non-living waste, such as hair products, lotions, oils, and more. The enzyme technology also reduces the amount of time and effort spent in maintaining a sparkling clean spa.
Further, enzymes also prevent unsightly scum lines and unpleasant odours; thereby, reducing the frequency of filter cleanings.
"With hot water, it is very easy for the water chemistry to get slightly out of balance," says Belcourt. "This can even happen when the spa water mixes with the cold air outside as the cover is removed, causing the pH balance to rise quickly. When this happens the enzymes attempt to remove the calcium scale, the filter catches the scale, and the oil clings to the scale on the filter. Therefore, one needs a broad-spectrum cleaner that not only removes oil, but also the scale that is likely to be attached to the filter.
Disinfectants/sanitizer
Disinfectants will kill germs in a hot tub. That said, not only do these get used up quickly due to the quantity of organic waste in the water, the heat of a hot tub actually breaks down these chemicals rapidly, creating the need to add these products more frequently. Ideally, the sanitizer in a hot tub should be adjusted after every use, and the filter should be cleaned and/or replaced regularly. Although technicians should ensure the filters are clean, they must encourage their clients to keep an eye on the sanitizer levels.
"I'm a big fan of reminders," says Belcourt, who sends reminders to customers via email, telling them to clean their filters on the first day of every month. "I also find if I get a laugh out of the customer, they will actually remember my reminder, so whenever a customer leaves the store I say: Shock your spa, you filthy animal!"
Pro tips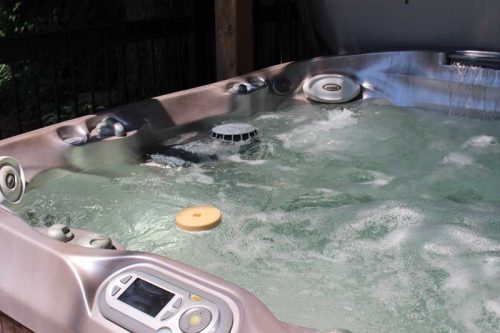 Pool pros must follow a few tips to ensure the overall wellness of their clients' hot tubs.
Service tip 1
The CDC recommends checking and adjusting hot tub chemicals every hour when bather load is high to make sure chlorine is at 2 to 4 parts per million (ppm) and the pH level is 7.2 to 7.8. In the case of bromine, the sanitizer level should be between 4 and 6 ppm.
Service tip 2
Service techs should be sure to include a note on their maintenance checklist to scrub off any slimy bacteria (biofilm) that appears on hot tub walls, so it does not continue to circulate in the water.
Service tip 3
One should also make a note of the installation date and any hardware changes or major repairs on the customer record. Many newer hot tubs come from the factory or have options to add secondary disinfection devices, which can help improve the water quality and lessen the amount of maintenance work. That said, these devices require regular upkeep that is often overlooked, such as replacing solarized ultraviolet (UV) bulbs or replacing an ozonator as they have a limited lifespan.
Notes:
1 See "Fast Facts: Information on Healthy Swimming and Recreational Water" published online by the Centers for Disease Control and Prevention (CDC) on Sep. 15, 2016. For more information, visit www.cdc.gov/healthywater/swimming/fast-facts.html. (Accessed on Nov. 29, 2019)
[6]Chris Marcano is the director of training and education for BioLab, a manufacturer of pool and hot tub chemicals in Lawrenceville, Ga. Marcano has more than 19 years of experience in the industry and is a Certified Pool/Spa Operator (CPO) instructor, and a member of the education committee for the National Plasterers Council (NPC). He is also active on the Pool & Hot Tub Alliance (PHTA's) board of regents and is a local PHTA chapter president. He can be reached via email at chris.marcano@biolabinc.com.
Endnotes:
Take the quiz here.: https://www.poolspamarketing.com/continuing-education/continuing-education-february-2020/
[Image]: https://www.poolspamarketing.com/wp-content/uploads/2020/02/IMG_2982.jpg
[Image]: https://www.poolspamarketing.com/wp-content/uploads/2020/02/IMG_4504.jpg
[Image]: https://www.poolspamarketing.com/wp-content/uploads/2020/02/Courtesy-AquatechPoolSpaBath-Winnepeg-Canada-20191122_105431.jpg
[Image]: https://www.poolspamarketing.com/wp-content/uploads/2020/02/IMG_2988.jpg
[Image]: https://www.poolspamarketing.com/wp-content/uploads/2020/02/Marcano_Headshot.jpg
Source URL: https://www.poolspamarketing.com/trade/features/treating-spas-like-pools-could-get-service-techs-in-hot-water-best-practices-to-ensure-proper-hot-tub-maintenance/
---