Fitness spas
December 1, 2010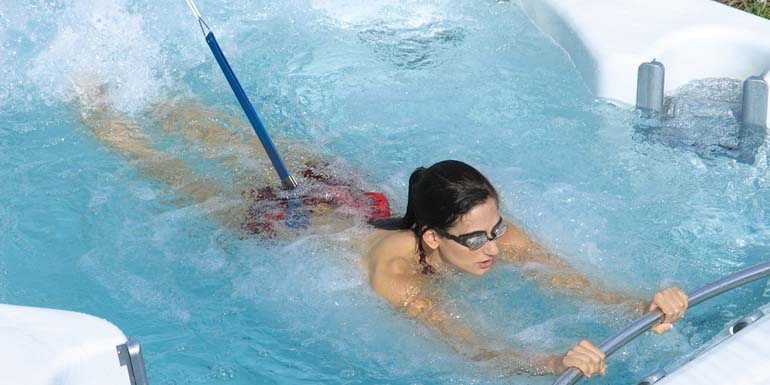 By Rob Santos and Pedro Vargas
Fitness spas, also known as swim spas, are quickly gaining momentum in the marketplace, as they offer a range of health and lifestyle benefits and their affordability often makes them a good fit for homeowners who want both a pool for lap swimming and a hot tub for hydrotherapy.
These spas are designed with gym-like features, such as treadmill swim zones, which use jet propulsion systems for resistance, as well as peripheral fitness equipment options, making them well suited to athletes in training, physical therapy patients, fitness enthusiasts and families.
Size and portability advantages
When compared to a typical swimming or lap pool, the main benefits of a fitness spa are its size and portability, as this alone gives prospective buyers more flexibility over installation, and ultimately, the entire backyard design plan.
A building permit is not required for most fitness spa installations; however, the local building code department should be contacted to ensure whether a building permit is necessary and for information on applicable bylaws (e.g. distance from property lines, buildings, fencing requirements, etc.).
In contrast, most swimming or lap pools are installed directly into the ground, making building permits necessary. Depending on local bylaws, homeowners may also be required to put several safety precautions in place. For example, they may need to install self-closing, self-latching gates, which lead into the backyard, or four-sided fencing surrounding the entire pool. Each additional requirement raises installation costs and has an affect on the outdoor landscape.
The vast majority of fitness spa installations simply require the unit be placed on a solid, flat foundation, such as concrete or other decking material, that has a minimum rating of 68 kg per square metre (150 lb per square foot). This simplifies fitness spa installation; most can be easily installed in any backyard on delivery day.
Design and options
The comfort and hydrotherapy features found in today's fitness spas are available in many sizes with various options, colours, textures and design features. For example, key features can include incorporated therapy seats, strategically placed hydrotherapy jets and self-contained operational equipment.
For convenience, important information such as water temperature, filtration program settings, pump controls and lighting systems are displayed on the spa side control panel. Most importantly, from a homeowner's standpoint, the majority of fitness spas feature self-contained operating systems, which eliminate the need for a dedicated backyard equipment area. This feature also protects the equipment's electrical components from the elements and extends the life expectancy of the unit's operating systems, pumps, heaters and lighting.
Modern fitness spas also offer a host of standard and optional amenities, which can include cascading waterfalls, water fountains, multi-coloured light emitting diode (LED) lighting packages and built-in, iPod-ready, marine-grade stereo systems with surround-sound speakers.
Must-have features
Most standard equipped fitness spas are perfect for recreational swimming. However, a buyer will want to ensure it has these minimum features:
a dedicated swim pump or water diverter valve to direct the pump's output flow of water to either the therapy seats or swim jets;
a swim pump capable of producing 606 litres per minute (lpm) (160 gallons per minute [gpm]) (closed flow), which is required to produce an adequate swimming current;
an ozonator that produces 450 parts per million (ppm) to provide overall chemical reduction, which reduces the corrosive effects on the spa and relieves bathers from typical chemical odours and irritation;
an LED lighting system, as they consume less power, operate on low voltage and offer a variety of lighting schematics;
maintenance-free cabinetry (spa skirt) to lessen the time owners spend outside of the spa; and
a lockable spa cover to prevent unauthorized access, as well as to minimize operational and maintenance costs.
Athletes and fitness enthusiasts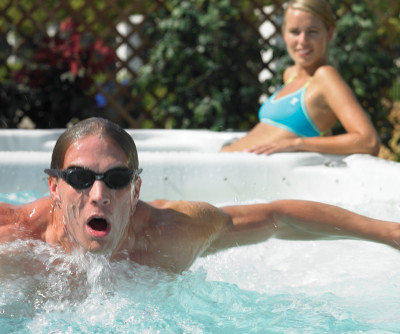 Fitness spas are designed to provide an aquatic gym experience for athletes and fitness enthusiasts of all levels. Some are even designed with separate swim and spa zones. The swim zone is a spacious area for treadmill swimming, while the spa zone is a separate hydrotherapy area with independent temperature controls.
Most manufacturers offer at least two different propulsion systems for varying degrees of swim resistance, in addition to multiple pumps and jets for hydrotherapy. These propulsion systems use high-powered jets, which provide adjustable underwater currents that allow bathers to perform a variety of swimming and aquatic exercises.
Some models are available with a dual swim jet feature designed for athletes, as it creates a 'splash-free' water current that is adjustable for varying levels of aquatic exercise or endurance training.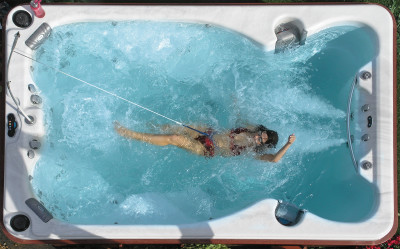 These spas also generally feature attachment points for exercise bands and other equipment. Bands come with hand attachments for toning and sculpting, while oars can be used for rowing exercises. There is often an adjustable belt feature, with resistance bands for walking, jogging or running in place. Some fitness spa models also have an optional tether feature, designed to intensify swimming workouts for athletes in training. This option includes a fibreglass rod that attaches to the spa and fitness belt that attaches to the swimmer to add additional resistance and stability.
Although performance is an important element of a fitness spa, it is equally important for potential customers to assess their personal needs. Buyers should first decide what levels of swim resistance and therapy they would like the spa to deliver before they make their final purchase.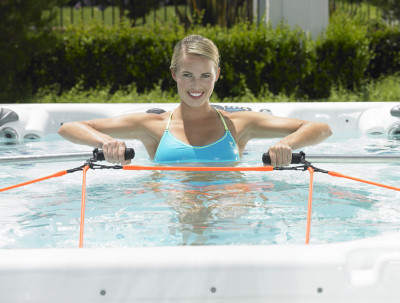 A fitness spa is a rather large investment; therefore a buyer would not want to outgrow it within the first year by questioning their swimming ability. It comes down to whether the buyer is purchasing the fitness spa for recreational use (i.e. mostly for entertaining or kids playing) or whether he/she is a committed swimmer and plans on using it more than twice a week.  For example, if the buyer is a mid-range swimmer looking for a swim zone and hydrotherapy, he or she will want to make sure the fitness spa includes the following features:
A dedicated swim pump to produce more power and offer greater swim resistance: Most systems allow the user to either divert water flow or decrease intensity at the jet nozzle. By comparison, the only means to increase power is to replace the swim pump system(s) with larger pumps that produce more litres/gallons per minute (lpm [gpm], which is a costly procedure.
Fitness equipment: Fitness spas, with available fitness equipment, add increased value to the buyer by simply offering more exercise options.
If the buyer is a highly skilled swimmer or athlete in training, they will want to make sure the fitness spa includes these additional features:
A high-performance ozone system: Most people do not realize how much they perspire in an average hot tub, let alone exercising in one. High-performance ozone systems are considered a must to help the user maintain healthy, clean water without increasing the amount of powerful chemicals, such as chlorine.
Tether system: These systems virtually eliminate the possibility of the owner out growing their fitness spa. A tether system provides resistance at any swim level—even for professional swimmers—and is an option a buyer should consider very closely.
Rehabilitation and relaxation
Fitness spas are also designed to provide a form of physical therapy or rehabilitation for those recovering from an injury or with physical limitations by providing numerous options for low-impact aquatic exercise.
For those with injuries, exercise can be performed in water much easier than on land and, as a result, can lead to a rapid, more permanent recovery. For those with arthritis, fitness spas provide an excellent way to build strength, ease tired muscles and relax stiff joints, as the water's buoyancy greatly reduces gravitational pull and relieves constant pressure on the body.
Not only can these spas be used as home gyms and rehabilitation centres, many also offer the same benefits as a full-service day spa, such as relaxation and massage therapy. Each ergonomically designed seat is intended to cradle the body and features strategically placed jets to provide a back, neck or whole body massage.
Most fitness spas are equipped with the same hydrotherapy jets used in traditional hot tubs. The combinations, configurations and sizes of these jets provide various massage options.
Heating and electricity consumption
A standard fitness spa comes with a 5.5-kW electric heater that is suitable for spa owners who maintain a constant operating water temperature. For owners who wish to operate the spa at cooler temperatures during the day and warmer temperatures at night, an 11-kW electric heater is recommended.
A gas heater will heat spa water at a much quicker rate than an electric heater; however, they must be set up and operated outside the spa cabinet, which complicates installation and adds safety concerns. Electrically heated spas are generally safer due to their self-contained design.
The most efficient way to operate a fitness spa—or any spa for that matter—is by maintaining a consistent water temperature. Conversely, flash heating (a term used when the owner only heats the spa prior to using it) is the most inefficient heating method and is considered poor spa maintenance. Spas kept at a consistent operating temperature not only cost less to operate, but also promote a steady chemical dissolve rate, which, over time, saves owners even more money.
Depending on the model, most fitness spas typically operate on a 240-volt system with a 50-amp breaker. Due to the magnitude of a fitness spa, they consume a little more energy than an average spa; however, it is not a significant difference.
Most fitness spas also have an internal, self-contained electrical heating system, compared to conventional inground spas, where the earth provides heat. An internal heating system allows owners to set and maintain their ideal water temperature.
A great alternative
Fitness spas are perfect for buyers seeking the benefits of an inground pool without having to worry about extensive installation or maintenance issues. These well-rounded spas can be used for recreational, rehabilitation or fitness purposes, making them well suited to a range of different clients.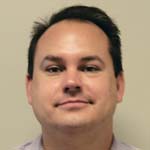 Rob Santos is the product development manager for Cal Spas in Pomona, Calif. In his 19 years with the company he has experience in product development, retail showroom, customer service and warranties. He can be reached via e-mail at rsantos@calspas.com[5].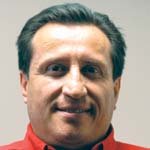 Pedro Vargas is Cal Spas' engineering manager, specializing in electronics engineering. He has been with the company since 1989 and has more than 14 years experience in hot tub development, testing, research and engineering. He can be reached via e-mail at pvargas@calspas.com[6].
Endnotes:
[Image]: http://poolspamarketing.com/wp-content/uploads/2010/12/33_F1257_Kicking.jpg
[Image]: http://www.poolspas.ca/wp-content/uploads/2015/07/06_Man-SwimmingCloseSm.jpg
[Image]: http://www.poolspas.ca/wp-content/uploads/2015/07/35_F1257_Treadmill-swimming.jpg
[Image]: http://www.poolspas.ca/wp-content/uploads/2015/07/05_WomanExercisingSm.jpg
rsantos@calspas.com: mailto:rsantos@calspas.com
pvargas@calspas.com: mailto:pvargas@calspas.com
Source URL: https://www.poolspamarketing.com/trade/fitness-spas-2/
---