Frameless glass fencing adds safety and esthetics to the backyard
March 2, 2016
By Jordan Goodman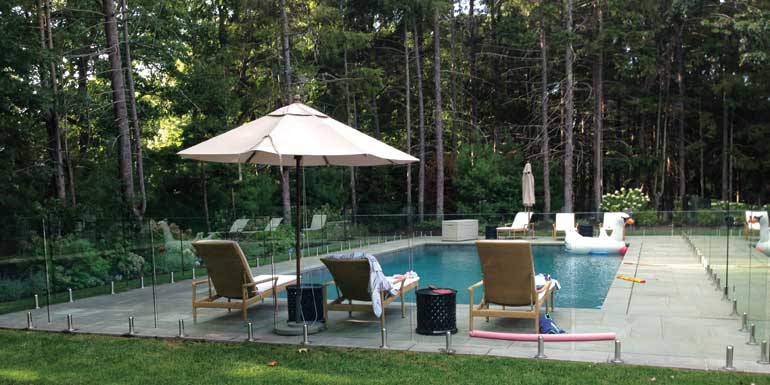 The use of frameless glass fencing is a growing trend in residential pool, spa/hot tub, and landscape design, as it is a sleek, elegant, and affordable way to increase safety in the backyard. In terms of safety, fencing is one of a number of security measures that can be installed around the pool perimeter to prevent unwanted access. In fact, several provinces, states, and municipalities across North America have, or are, introducing new regulations for pool safety aimed at preventing accidents, particularly involving small children. To this end, there is a variety of fencing products and materials available to builders/installers to not only ensure the pool installation meets code, but is also safe.
Frameless glass fencing systems not only prevent access to the pool, but also provide unobstructed views into and out of the pool, spa, and/or patio area. All activities in and around the pool are visible, allowing parents to observe their children at all times. Gates also automatically close and latch, preventing toddlers from entering the pool area unsupervised. Further, glass panels are climb-resistant and feature polished faces and rounded edges.
Pools and patios are ideal places for summer fun, family gatherings, parties, and relaxation. For these reasons, many homeowners do not want to segregate the pool area from other parts of their landscaped backyard. Therefore, in addition to design appeal, many builders are turning to frameless glass fencing systems to not only provide peace of mind by restricting the pool area, but also keeping the backyard oasis visible to the homeowner and their guests.
Frameless glass fencing and pool codes
Fences installed around pools must meet local building codes. The purpose of these regulations is to prevent unsupervised access to the pool area. The rules typically apply to inground and above-ground pools, as well as spas/hot tubs.
Pool codes in most areas require the height of the fence to be 1.2 to 1.5 m (4 to 5 ft) above the finished ground level. The gap between the finished ground and the bottom of the glass (measured on the side facing away from the pool) must fall within code guidelines as well.
Pool fencing specifics vary by municipality, or provincially, in cases such as Quebec, where four-sided perimeter fencing is required, but the U.S. Consumer Product Safety Commission (CPSC) recommends a maximum of 101.6 mm (4 in.) between the glass and a solid base such as wood, tile, or concrete. For mutable surfaces such as grass or gravel, the maximum recommended distance is 50.8 mm (2 in.). The agency also specifies no more than 101.6 mm (4 in.) between vertical glass panels. For above-ground pools, the fence must be installed either at ground level or mounted to the top of the pool structure, with no more than a 101.6-mm (4-in.) gap. The purpose of these regulations is to ensure no child can crawl under or through the fence.
All glass gates must be self-closing and self-latching, with locks installed at a specified height, out of reach of small children. These building codes apply to both public and residential pools. Before specifying frameless glass fencing for a pool and/or spa/hot tub project, check the applicable building code regulations first.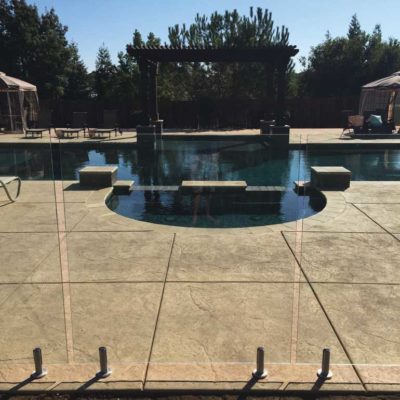 Simple, elegant construction
The most common installation for frameless glass fencing uses 12.7-mm (0.5-in.) thick tempered glass, secured by stainless steel clamps embedded into the patio's concrete, tile, wood, etc. This simplicity, combined with its clean lines and esthetic, sets it apart from other fencing materials, such as wood, iron, and aluminum.
Tempered glass is far stronger than standard glass and does not corrode like iron, aluminum, or chain-link fences. Some clients may ask: "Isn't glass fragile and breakable?" "How is it 'safe'"?
The process used to create tempered glass makes it difficult to break. It is a type of safety glass that is manufactured using controlled thermal or chemical treatments to increase its strength in comparison to standard glass. Tempering puts the outer and inner structures into tension.
Vehicle windshields, for example, are made of tempered glass. The average total thickness of a windshield—two sheets of tempered glass sandwiching a plastic film—is 6.35 mm (0.25 in.). The thickness of the panels used in frameless glass fencing is 12.7 mm (0.5 in.).
If a tempered glass fence panel breaks, the same properties that makes it so strong cause it to shatter into tiny pieces, instead of dangerous shards.
Glass versus other materials
Wood fencing, while traditionally popular and inexpensive from a materials standpoint, is susceptible to rot and damage from bugs or other animals/pests, and requires periodic painting or treatment to extend its life.
Metal fencing, such as aluminum, steel, and wrought-iron, is more costly on the front-end and, for some types, versatility is limited. Chain-link fencing is versatile, but utilitarian in appearance and, as a result, lacks in esthetic beauty. Steel fencing is extremely heavy and can be difficult to install. Further, metal fences (except for aluminum) are also susceptible to corrosion, which is a concern in high-moisture areas, such as pool and/or spa/hot tub environments where sanitizers (e.g. chlorine, bromine) are used. As described earlier, frameless glass fencing is constructed of tempered glass and stainless steel clamps which resist corrosion. As a result, these fencing systems last longer than other materials in these environments.
Further, most glass panels and stainless steel clamps do not require any routine maintenance. Because the panels are fitted above the ground, the buildup of dust and debris around the bottom of the fence is eliminated. No paints or sealants are necessary, only the occasional wipe down to restore clarity.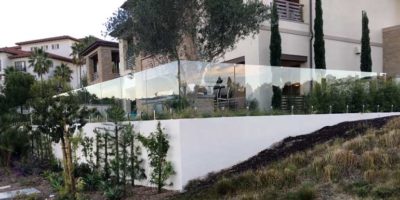 Not just for pools
The same qualities that make frameless glass fencing ideal for pool areas also make it suitable for patios, decks, and terraces. The reasons for this are twofold: the stainless steel supports are low to the ground and the seams between each glass panel are almost invisible. As glass fencing systems co-ordinate with almost any landscape plan, different areas of a project can be fenced off without sacrificing design unification.
Another benefit of frameless glass fencing is its ability to add curb appeal to any property—residential or commercial. Therefore, clients can consider it an investment, rather than a simple home improvement.
Homeowners looking to incorporate a frameless glass fencing system into their backyard design, but are curious about how difficult it is to install, need not worry. Most licensed contractors can install these fences as specialized tools are not required. Depending on the surface where the stainless steel clamps are to be installed, it can be done in two ways: base-mounted or core-drilled.
Base-mounted installation
For base-mounted installations, clamps are secured to the surface of an existing structure (e.g. wood, concrete, tile, etc.), using lag screws/bolts. The clamps typically have a square or round design and come in satin or polished finishes.
Core-drilled installation
There are two options when using the core-drilled installation method. Drilling holes into the existing surface (e.g. concrete), then securing the clamps in place with grout, or embedding the clamps into fresh concrete.
Glass gates
Whether base-mounted or core-drilled, gates can be mounted onto an adjacent glass panel, wall, or post, opening away from the pool area. The gates are designed to automatically close and latch. Some building codes require the gate latch to be placed at a minimum distance from the ground to keep it out of reach of small children; however, this distance varies depending on the local building codes.
Safety and sophistication combined
Frameless glass fencing is a growing outdoor architectural design trend which will continue to be used into the future as an increasing number of pool owners recognize its unique safety characteristics and distinctly pleasing esthetics. Elegant and secure, glass fencing systems offer protection with minimal intrusion, and its simple design sets it apart from other fencing options.
BASIC GUIDELINES FOR INSTALLING FRAMELESS GLASS FENCING
This article is intended to provide an overview of the growing trend of using frameless glass pool fencing in backyard pool and landscape projects. As this design trend becomes more popular, and more builders start to install these fencing systems, it is important for installers to pay close attention to the manufacturer's installation guidelines, in addition to the following:
• Handle glass with care and attention, ensuring there is sufficient room to manoeuver around various obstacles in the backyard;
• Store and lift glass panels in upright positon, and in dry conditions;
• Wear protective clothing, such as gloves, safety glasses, and steel-toe boots;
• Make sure no underground cabling or pipes will be affected (especially when using the core-drilled installation method);
• Use a level and timber wedges to make sure clamps are perfectly vertical;
• Make sure the clamps are positioned in a straight line;
• Glass fence panels should not touch the metal clamps, only the rubber spacers;
• If a gate is to be installed between two glass fence panels, be sure to leave enough space between them to fit the gate, with space outside both edges of the glass gate (typically 9.5 mm [0.375 in.]) to allow it to swing;
• Adjust the spring tension of the gate hinges so it closes automatically, even if only slightly open; and
• The space under a gate should not exceed 101.6 mm (4 in.) to ensure clearance for the glass, while at the same time making sure small children or pets cannot get stuck beneath it.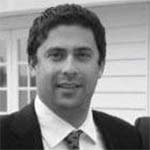 [4]Jordan Goodman is the founder and CEO of Aquaview Architectural[5], a manufacturer and distributor of glass pool fences and railing systems in Beverly Hills, Calif. Goodman is a member of the Master Pools Guild and works with top builders, designers, architects, and contractors across Canada, the United States, and Europe. He can be reached via e-mail at jordan@aquaviewfencing.com[6].
Endnotes:
[Image]: http://poolspamarketing.com/wp-content/uploads/2016/03/6.jpg
[Image]: http://www.poolspas.ca/wp-content/uploads/2016/05/11.jpg
[Image]: http://www.poolspas.ca/wp-content/uploads/2016/05/8.jpg
[Image]: http://poolspamarketing.com/wp-content/uploads/2016/03/Goodman_Headshot.jpg
Aquaview Architectural: http://www.aquaviewfencing.com/
jordan@aquaviewfencing.com: mailto:jordan@aquaviewfencing.com
Source URL: https://www.poolspamarketing.com/trade/frameless-glass-fencing-adds-safety-and-esthetics-to-the-backyard/
---