Using cast concrete to create unique residential outdoor retreats
March 25, 2019
By Bruce Riley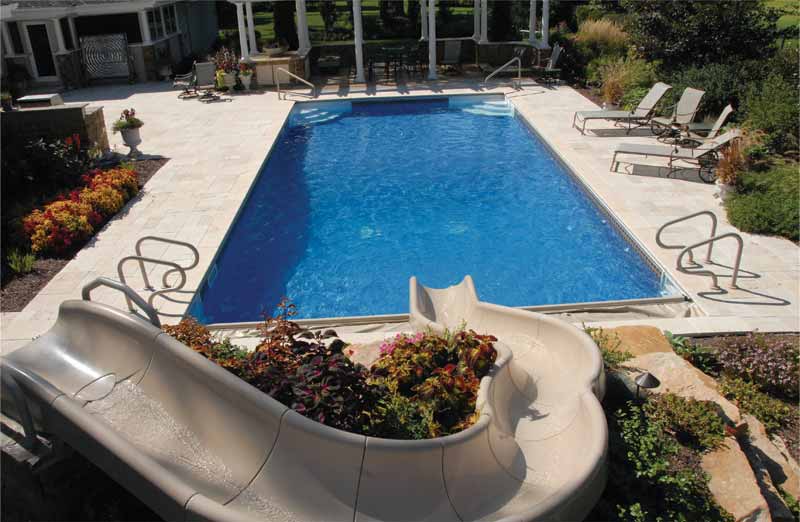 In the past, the term 'hardscape' referred mostly to concrete decks or pavers. Today, however, backyard designers are offering a wide range of hardscape products for both on and around the pool and backyard. Not only are professionals suggesting pavers, flagstone, and stamped concrete, but they are also providing designers with rock coping, waterfall grottos, slides, retaining walls, planting areas, and other 'stone' work that builds up and out from the pool.
Much of what is incorporated at the pool edge is created using a mix of cast-concrete stone as well as natural rock. These nature-inspired elements can be built to incorporate fun accessories like slides, waterfalls, and jump rocks which are then blended with pavers and other hardscape decks that lead into a cabana and/or other outdoor living area. Whether a pool builder is asked to plan a full outdoor renovation or the homeowner is just looking to install a new element or two, selecting the right mix of hardscaping can turn their backyard into a visual masterpiece.
Backyard of dreams
When it comes down to it, pool builders tasked with designing and creating the homeowner's backyard dreams. That first sit-down with the customer is critical in regards to introducing a variety of hardscape options to the client.
"It's very important to just listen to the customer," says Robert Shaeffer of Bob's Pools in Pennsylvania.
Consumers usually come to the table with ideas of what they are looking to install on their pool or in their backyard and an increasing number of them are looking for a water feature of some sort.
"Water features have become much more common now," says Shaeffer. "In the past, I might have installed only one or two of them every year, but now I'm discussing water features with all of my customers."
In addition to water features, creative deck treatments and integrated slides and jump rocks are items that create a stunning visual impact to achieve the homeowner's backyard dream.
In fact, often, the type of water feature the customer wants will determine the size and shape of the pool.
"In today's marketplace, it's about starting with the hardscape accessories around the perimeter then figuring out the pool as opposed to designing the pool first and then adding the water feature or slide," says Shaeffer.
Water features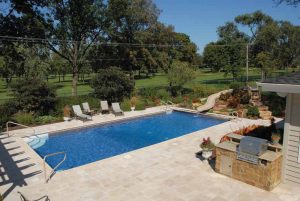 In some situations, homeowners invest more on the water features than they spend on the pool. In these cases, they are willing to do so because they find the sound these features create to be soothing, whether it is just a waterfall, grotto, or a slide.
Style
When deciding which style of waterfall to offer, it is important for builders to consider the different types of rocks—natural rock formations, a stacked stone look, or something more 'fountain-like'—so the design will complement their client's home and its surrounding environment. For example, if the house has a rustic setting, products that resemble boulders found in rural areas should be considered. However, if the home is more formal, a stacked stone look would likely be more appropriate. Further, if the home has a more contemporary design, builders should definitely look at the new, more modern-looking products that are available today.
Size
Once the style has been selected, it is important for the builder to choose a water feature that is 'in scale' with the pool area. Installing a water feature that is too large or too small can ruin the visual effect. The best rule of thumb is to fill approximately two-thirds of the space where the waterfall is placed. For example, if the plan is to centre the water feature on a 6.1-m (20-ft) wide pool wall, the water feature and surrounding rocks and plants should incorporate at least 3.6 to 4.2 m (12 to 14 ft) with 1 m (3 ft) on either side. If it is built any smaller, the feature will look awkward and reduce the desired effect of blending it into the landscape.
Depending on budget, or the size of the pool, builders should consider offering water features in small, medium, or large options. Today's backyards are getting smaller and, in some cases, can only accommodate a small pool; therefore, it is important to be able to offer a water feature that fits a range of pool sizes. Medium-sized water features might include a larger waterfall with additional flanking landscape boulders, which might comprise real stones. Adding additional landscape boulders can lengthen the waterfall setting along the pool edge—even integrating a small slide is possible.
Slides surrounded by cast-concrete rock offer a more functional and exciting water feature as it not only creates an attraction for kids, but also allows water to cascade down into the pool, providing soothing sounds that can be enjoyed by all. Finally, if a builder is working with a much larger pool, water features that incorporate grottos, caves, seating, and waterfalls are sure to become the focal point of the backyard.
Sound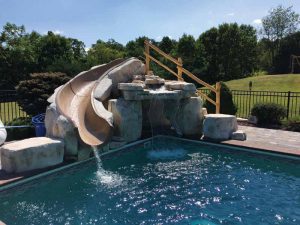 The natural sound of trickling water emanating from the feature is a key element that consumers are drawn to when incorporating this particular hardscaping option. In lower light, the subtle noises made by even a small waterfall, for instance, can fill a space brilliantly. Creating tranquil sounds of flowing water have become important in today's backyards as it provides a relaxing soundscape.
"People like to keep their water features running well into the fall and sit outside with the sound of water cascading in the background," says Shaeffer.
Waterflow
One of the main reasons many builders use cast-concrete stone over natural stone is because the former, along with component systems, create features with predictable water flow. It is critical the flowing water makes its way back into the pool. If the water does not return to the pool properly, it can get underneath the vessel and cause problems. It is also challenging to get the water to flow in a pleasing stream. That said, cast-concrete systems are designed to ensure the water flows properly and beautifully back into the pool.
Waterfalls built using natural stone can have seepage problems as a result of the bond and motar failing between the stones. Before the availability of component water feature systems it was hard to ensure water would flow back into the pool after pouring over a mass of natural boulders as a result of the difficulty of placing the stones in a configuration that would force the water to flow in a predetermined direction.
Further, water takes the path of least resistance, so every angle and crevice can potentially cause problems exponentially. Every natural boulder is unique; therefore, it is impossible to predict the outcome of the water flow. In contrast, component systems have been tested and designed to ensure water flows exactly as predicted, assuming the builder follows the installation instructions correctly.
Once the feature is fully functioning, builders must make sure there is not too much water flowing through the waterfall. A common mistake is to have water splash out and cause the pool to lose water. Sometimes this splash out is not visually obvious because it flows out behind the water feature. In this case, the client's water bill will not only increase, but the splash out may cause damage to surrounding vegetation and decking.
Mimicking nature
Many builders like to mix real stone with cast concrete, too. This allows installers to offer the best of both worlds—natural stone with cast concrete stained to match, but much easier and lighter to install.
"We mix natural stone with cast concrete often as it gives us more flexibility," says Shaeffer. "In doing this, we work from the colours and textures of the natural stone to stain the cast concrete to match and blend them together."
Glen MacGillivray of Aqua-Tech Pools Ltd., in Winnipeg, notes, offering cast-concrete stone hardscape features has helped his company integrate water features into more of their pool designs.
"Building (water features) with natural stone can be unpredictable," says MacGillivray. "A builder can spend all day arranging the natural boulders and then have the consumer come home to say they would like to see them arranged differently.
"It's too much like artwork, and the labour costs can quickly get out of control. When installing component systems, a crew of four workers can arrange everything in roughly half-a-day to a full-day."
Not only is real rock hard to work with, it is also extremely expensive.
"We do have customers that happen to have a lot of beautiful stone on their property and ask us to use that stone to create a water feature," says Shaeffer. "We have made some beautiful natural-stone water features, but they are expensive, labour intensive, and can be unpredictable."
Weight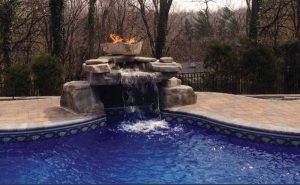 Hardscapes, whether they are fountains, slides, grottos, or caves are attractive but they can be heavy—especially if they are made solely out of natural stone. Putting a large amount of weight on the edge of the pool could compress the ground and settle the entire installation. That said, one reason why pool professionals and hardscapers are choosing to use or mix-in cast concrete is because it weighs one-fifth that of natural stone. They are also designed with a weight distribution per foot that takes pool construction into consideration. Therefore, it is important for builders to create a support structure to bear the weight of the water feature.
Integrated slides
Indeed, water features offer a tranquil, natural quality to any pool; however, many homeowners with children are looking for a hardscape addition, such as grottos and caves that are not only esthetically pleasing, but also fun.
Manufacturers are aware of this need so many offer component systems that allow installers to build rock staircases to incorporate slides into the structures. These modular stair systems can be easily built in one day, which is much faster than building a staircase system from scratch that would generally take at least three to four days. The labour savings alone make these component systems extremely price competitive in the marketplace.
The cost of the cast-concrete rock structure or component kit can be controlled much more easily, whereas in the past these features were made of real stone and could easily go beyond the original quoted price simply due to the unpredictability of the materials.
Using prefabricated slides—rather than constructing one—is a preferred method for many pool builders as they have been tested for safety and have built-in water delivery systems to ensure the surface remains consistently lubricated for sliding. Beneath the slide is a stainless steel support structure which makes it easy to build a composite rock feature around.
Decking treatments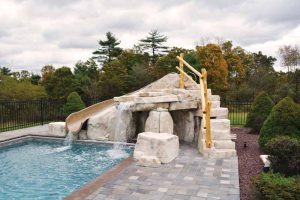 Once the homeowner has the water feature or slide they desire, they can then look at custom deck options, which, in most cases, are determined by budget and functionality.
Many consumers want a deck made entirely of pavers or a combination of flagstone and pavers. However, this can be an expensive option especially if the consumer is looking to create a large deck and patio area for entertaining around the pool. Exposing consumers to the creative use of concrete textures and colours will often provide the look they want without the costs associated with more expensive pavers or flagstone.
"We start with plain concrete which can look quite attractive and sometimes we recommend two concrete colours that contrast to create a co-ordinated look without dramatically increasing the cost of the project," says Schaeffer.
Staining and shading
Builders can use various concrete stains as a cost-effective method to create beautiful decks surrounding the pool. As part of this process, the cast concrete water features also are stained and shaded to match the surrounding natural rocks and pavers.
"Staining concrete is a real art form," says Shaeffer. "In fact, we have found this to be easier than getting all of the natural stones to match and look good together."
Cast concrete manufacturers provide kits to dye the concrete stone to mimic the surrounding natural hardscaping and deck treatments. This can take some time as builders must stand back and look at the stones, adjusting and re-adjusting to get the colours just right.
"We generally put two guys on the job with large sponges to complete the staining process," says Shaeffer. "Most builders start the staining process at the back of the hardscape feature and work toward the front."
It takes a good eye and some patience to get the cast concrete to look like real stone. Once professionals get a handle on the staining process they come to realize the colour will also change a bit once the concrete is sealed. Testing small sections at the back of the water feature is always a good approach as hardscape designers master the art of staining concrete.
Many pool professionals agree that using flagstone or a stone coping along the immediate perimeter of the pool helps to define the water's edge within the hardscape. The deck beyond that can be something more affordable, or just different in colour or texture to create a more interesting visual appeal. Builders should show their clients lots of photos to get a sense from them which look they prefer.
Ladders and rails within hardscapes
Although some designers think ladders and rails interrupt the 'line of sight' on a pool, savvy builders realize these components can actually add to the esthetic appeal of a project. Ladders are particularly important as a second point of egress from the pool in the deep end.
"We explain to the client that just like their home, they need to have more than one egress from the pool," says Schaeffer.
Installing ladders away from areas where people might be sitting and enjoying dinner is best.
"You don't want pool users to be disturbing those who are enjoying the rest of the deck and backyard area (e.g. parents eating dinner while kids are using the water slide)," says Schaeffer.
Ladders indicate the second place of egress from the pool, with the steps in the shallow end being the first method.
Although most ladders are not the focal point of the water feature, they are needed and should be placed in the deep end so bathers can easily get out of the water after going down the slide or jumping off the grotto.
In fact, there are many new options available that help ladders and rails accent the pool's overall esthetic. For instance, powder-coated or thermoplastic-coated rail goods co-ordinate with the customer's backyard décor and can improve the overall look of the backyard. Thermoplastic-coated rails are also saltwater safe, which means they will not corrode on pools equipped with salt-chlorine generators. New 'designer rails' are also available which provide a high-end look, but are just as easy to install. Pool professionals can choose ladders and rails in colours to match the coping and deck. Further, many ladders and rails come with paver kits, making these accessories easier to install on paver decks.
Hardscape lighting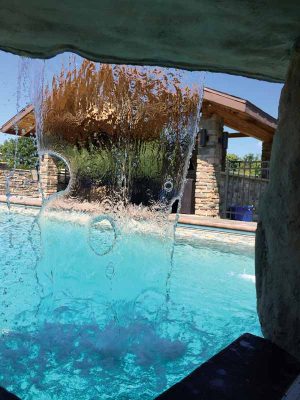 Naturally, pool builders discuss the details of the client's project (e.g. the pool's shape and surrounding landscape elements) during the day; however, it is important not to forget what the finished project will look like in the evening.
"You have to help the homeowner visualize and plan how they will be able to use their pool and outdoor living space at night," says MacGillivray. "For instance, if you do not plan to include pool lighting, the homeowner will have a big black hole in their backyard, which will not be inviting or very safe."
Some homeowners often neglect thinking about how their pool and backyard will function at night so this becomes the job of the builder or backyard designer to add strategic nighttime lighting and other effects that draw the client outside after the sun has gone down.
"Even if the homeowner does not think they will be swimming at night, they will likely say they plan to sit outside and enjoy conversation or entertain nearby the pool, close to a warming element," says MacGillivray.
Regardless whether the project is a new installation or a renovation, pool builders and landscapers should take the time to include a warming hardscape element in the design (e.g. fire pit, fire table, or fireplace). Homeowners look to their backyard professional to incorporate these fire features so they get more enjoyment out of their pool and outdoor living space at night.
In the past, builders exclusively provided lighting options around the pool to illuminate the backyard for nighttime use. However, fire features have become much more economical over the last five to eight years, many of which now include integral water features that allow pool builders to capitalize on the mesmerizing effects of fire and water in the backyard.
To avoid big surcharges relative to the bond beam (the top horizontal part of the pool where the coping material [e.g. natural stone, brick, concrete, or tile] is placed), cast-concrete rock also allows builders to incorporate lighting more easily.
"In our projects we will often cut channels in the surface of the cast-concrete stone into which we'll embed long lighting strips to create a glow that illuminates a waterfall or cascade," says Dan Lenz of All Seasons Pools in Illinois. "These lights not only help to set the mood for water features, but also define surfaces and textures at night. In most cases, the objective is to hide the source of the light within the grotto or waterfall, creating a glow and another source of light that beckons homeowners outside once the sun goes down."
Do not forget landscaping
As the pool, water feature, slide, and deck are being designed, it is important builders do not forget to plan the landscaping, too. By incorporating natural elements such as potted plants or pockets of vegetation into the mix, it helps to soften the edges and create an oasis-like setting. Planting areas can be planned into and around the hardscape features, as well as on the backside of the water feature. This type of landscaping can also be completed around slides.
"In one particular case, we created a water feature using cast-concrete stones plus a slide with planting pockets on the front and back," says Lenz. "We even integrated a herb garden on the backside of the hardscape feature for the homeowner."
On this particular project, All Seasons Pools accomplished multiple goals including creating privacy from neighbours, providing tranquil 'white noise' from the water flowing down the slide, and offering the homeowners a fun feature that would be used by their grandchildren.
Rules of thumb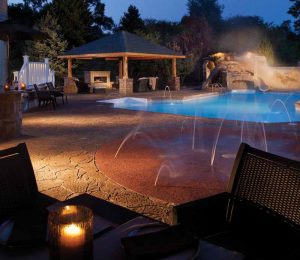 Pool professionals are not always trained in landscaping but there are a few rules of thumb that should
be followed:
•Have at least three 'layers' of plants that are tall, medium, and short to provide visual interest around the water feature.
•Include a variety of leaf colours and textures. Plants such as ornamental grasses, ferns, and palms are good choices. Builders should consult with a local nursery to find out what will grow best in the region where the pool is being installed. Short plants such as herbs can also work for planned plant 'pockets' within the water feature.
•Most importantly, do not choose plants that drop their leaves close to the pool edge—customers will not be happy with the added debris in the pool water.
Backyard oasis
Moving water provides soothing sounds and inspires children to play and adults to relax. By night, water features create focal points that when strategically lit, provide a warm ambiance that makes people want to sit, linger, socialize, and enjoy the backyard. Thoughtfully designed, these projects can be stunning and provide the perfect setting for 24-7 family enjoyment. Pool professionals that select and install the right mix of hardscaping can turn their client's backyard into a visual masterpiece.
By Bruce Riley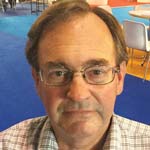 [8]Bruce Riley is the managing director of RicoRock Inc., makers of cast-concrete rock, including component systems for building caves/grottos, waterfalls, and waterslide products for use in pool applications. Riley focuses on developing new products and managing commercial installations. He built rock-type pools in southern California for more than 25 years and now uses this experience to design standard waterfall kits for the company. He can be reached via e-mail at bruce@ricorock.com.
Endnotes:
[Image]: https://www.poolspamarketing.com/wp-content/uploads/2019/05/Pann-view-from-top-of-slide-copy.jpg
[Image]: https://www.poolspamarketing.com/wp-content/uploads/2019/05/All-Seasons-Pann-job-p-2-copy.jpg
[Image]: https://www.poolspamarketing.com/wp-content/uploads/2019/05/IMG_9493.jpg
[Image]: https://www.poolspamarketing.com/wp-content/uploads/2019/05/Bobs-fountain-fire.jpg
[Image]: https://www.poolspamarketing.com/wp-content/uploads/2019/05/DSC_0685-bobs4-angle5.jpg
[Image]: https://www.poolspamarketing.com/wp-content/uploads/2019/05/IMG_9489.jpg
[Image]: https://www.poolspamarketing.com/wp-content/uploads/2019/05/All_Seasons_Pools_night_shot_deck_treatment_liner-copy.jpg
[Image]: https://www.poolspamarketing.com/wp-content/uploads/2017/06/Riley_Headshot.jpg
Source URL: https://www.poolspamarketing.com/trade/hardscape-design-in-your-background/
---