How technology is transforming the backyard pool experience
April 27, 2017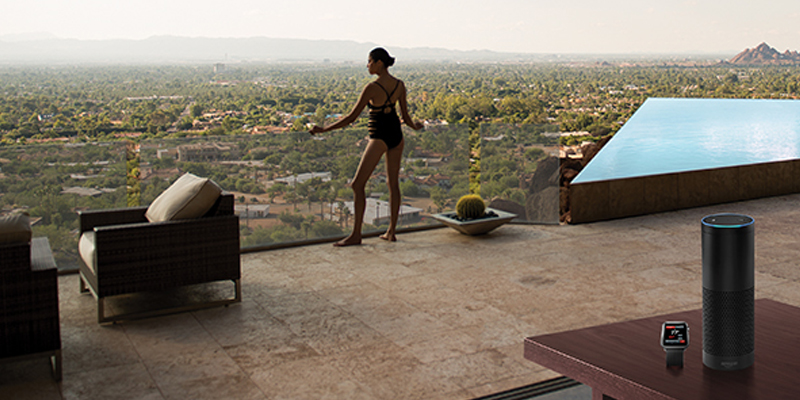 [1]
Not long ago, pool maintenance required a fair amount of personal attention and effort. Managing water chemistry, maintaining the filter, and cleaning the pool and surrounding area were some of the tasks pool owners wanted to minimize in favour of having more time to relax and reap the benefits of their backyard investment.
Today, exciting new technologies are delivering on the promise of more time for fun and relaxation. Some of these include mobile integration, programmable control systems, and new product designs that handle operation and maintenance with ease. They all make pool ownership simpler and more enjoyable.
The benefits of pool automation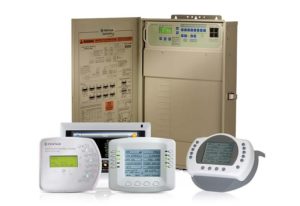 As advanced communication technologies has become commonplace with everyone being connected, pool management is following suit. With the integration of mobile apps for automation systems, homeowners can now monitor and control their pools from anywhere in the world.
Pentair Aquatic Systems' ScreenLogic2® Interface[3] can control the IntelliTouch®[4] and EasyTouch® automation systems[5], locally or remotely, via Wi-Fi or cellular. Pentair developed the ScreenLogic app for use with mobile devices along with the Apple Watch®. It provides a simple, intuitive interface that enables users to monitor and control water temperature, lighting, fountains, waterfalls, and other pool features easily and conveniently.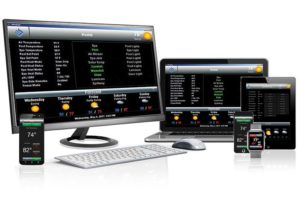 This combination of pool automation and mobile app technology allows for quick, simple, and customizable information display and control.
"The ScreenLogic app for Apple Watch reflects Pentair's ongoing drive to give pool owners the control they prefer on the newest devices," says Pentair's senior product manager, automation & chemical control system, David MacCallum. "Like our interfaces for Android®, iPhone®, and iPad® mobile digital devices, the app for Apple Watch supports expanding pool owner mobility expectations, offering access and control whether they are relaxing beside their pool or sitting in an airport thousands of kilometers away."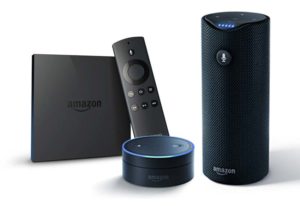 Cloud-based pool system control is not limited to mobile operating systems. Devices like the Amazon Echo™ and its smaller cousins, Amazon Tap™ and Amazon Echo Dot™, as well as Amazon Fire™ TV, provide other access points to voice-activated pool control. Amazon's Alexa™ behaves a lot like Apple's Siri® with a compatible pool automation system. Homeowners can ask Alexa to tell them the current water temperature or to turn on their spa.
New technologies are making it possible to program, control, and monitor every aspect of a pool's operation. They also allow for reductions in energy use, chemical requirements, and emissions. A cachet few imagined even a decade ago makes this type of pool control achievable.
Water chemistry technology advances
When it comes to water maintenance, chemical controllers can now automatically monitor chemistry levels and dispense the appropriate amount of sanitizer and water balance products.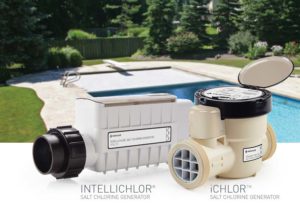 For sanitizing, some devices, like Pentair's iChlor™[9] and IntelliChlor® Salt Chlorine Generators[10], automatically produce chlorine from salt. This eliminates the need to buy, store, and add harsh chlorine products manually. Further, fewer resources are used in the production, packaging, and transportation of chlorine.
Pools have been commonly equipped with chlorine generators and automatic chemical dispensers for decades. Now, intelligent personal assistants such as Alexa or Siri can manage all of this for homeowners. These devices can report on pH, oxidation-reduction potential (ORP), and salt levels for pools and spas equipped with compatible chemical controllers, making it even easier to care for the water.
Technology enriches equipment shopping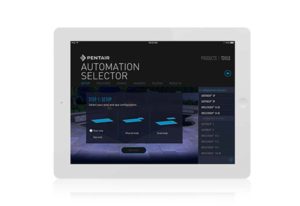 The availability of new technology has also made equipment selection easier for pool and spa owners. Now it is possible to evaluate the most important features and benefits of different pumps, cleaners, filters, and heaters, as well as use interactive calculators that demonstrate the energy savings potential of a combination of different products. Pentair has enabled this capability in the form of the Pool IQ™[12] iPad app. Apps are in development for additional platforms.
One of Pool IQ's top features is the 'Automation Selector Tool,' which is useful when designing a new backyard oasis or upgrading equipment. After entering data such as pool size, water features, and desired control options, the app will run a unique algorithm and recommend the most appropriate control systems.
Focusing on pool enjoyment
There may be many reasons as to why a homeowner was first interested in a pool or spa. They wanted to relax poolside with family and friends, enjoy cookouts with neighbours, or take in the soothing sounds of magical waterfalls. They wanted to get more out of their weekend without adding too much effort. Thankfully, new technology has revolutionized the pool and spa care experience.
Visit www.pentairpool.com/automation[13] to see Pentair's suite of automation products.
About Pentair
Decades of commitment to reliable, technologically advanced, and energy-efficient pool products has built Pentair's reputation as a leader in the pool and spa industry. The company's lineup includes innovative and high-performance pool pumps, filters, heaters, cleaners, lights, automation systems, and more. Engineered and constructed with pool and spa owners in mind, each product adheres to Pentair's strict standards for quality performance and design.
Apple Watch®, iPhone®, iPad®, iOS,™ and Siri® are trademarks and/or registered trademarks of Apple Inc., in the United States and/or other countries.
Android® is a registered trademark of Google Inc.
Amazon Echo™, Amazon Echo Dot™, Amazon Fire™, Amazon Tap™, and Alexa are trademarks of Amazon Technologies Inc.
Endnotes:
[Image]: http://poolspamarketing.com/wp-content/uploads/2017/04/Transform-the-Backyard-Experience-HEADER.jpg
[Image]: https://www.poolspas.ca/wp-content/uploads/2017/04/1_IntelliTouch-and-EasyTouc.jpg
ScreenLogic2® Interface: https://pentairpool.com/en/products/automation/screenlogic2%20interface%20for%20intellitouch%20and%20easytouch%20automation%20systems?utm_source=PSM%20Advertorial&utm_campaign=2017%20April-ScreenLogic2&utm_medium=Digital
IntelliTouch®: https://pentairpool.com/en/products/automation/intellitouch%20systems?utm_source=PSM%20Advertorial&utm_campaign=2017%20April-IntelliTouch&utm_medium=Digital
EasyTouch® automation systems: https://pentairpool.com/en/products/automation/easytouch%20control%20systems?utm_source=PSM%20Advertorial&utm_campaign=2017%20April-EasyTouch&utm_medium=Digital
[Image]: https://www.poolspas.ca/wp-content/uploads/2017/04/2_Pentairs-ScreenLogic2-Int.jpg
[Image]: https://www.poolspas.ca/wp-content/uploads/2017/04/3_Apple-iPad-Amazon-Echo-.jpg
[Image]: https://www.poolspas.ca/wp-content/uploads/2017/04/4_iChlorSaltChlorineGenerat.jpg
iChlor™: https://pentairpool.com/en/products/sanitizers/ichlor%20salt%20chlorine%20generator?utm_source=PSM%20Advertorial&utm_campaign=2017%20April-iChlor&utm_medium=Digital
IntelliChlor® Salt Chlorine Generators: https://pentairpool.com/en/products/sanitizers/intellichlor?utm_source=PSM%20Advertorial&utm_campaign=2017%20April-IntelliChlor&utm_medium=Digital
[Image]: https://www.poolspas.ca/wp-content/uploads/2017/04/5_Automation-Selector-Tool-.jpg
Pool IQ™: http://pentairpooliq.com/?utm_source=PSM%20Advertorial&utm_campaign=2017%20April-PoolIQ&utm_medium=Digital
www.pentairpool.com/automation: https://pentairpool.com/en/products/automation?utm_source=PSM%20Advertorial&utm_campaign=2017%20April-Automation&utm_medium=Digital
Source URL: https://www.poolspamarketing.com/trade/how-technology-is-transforming-the-backyard-pool-experience/
---