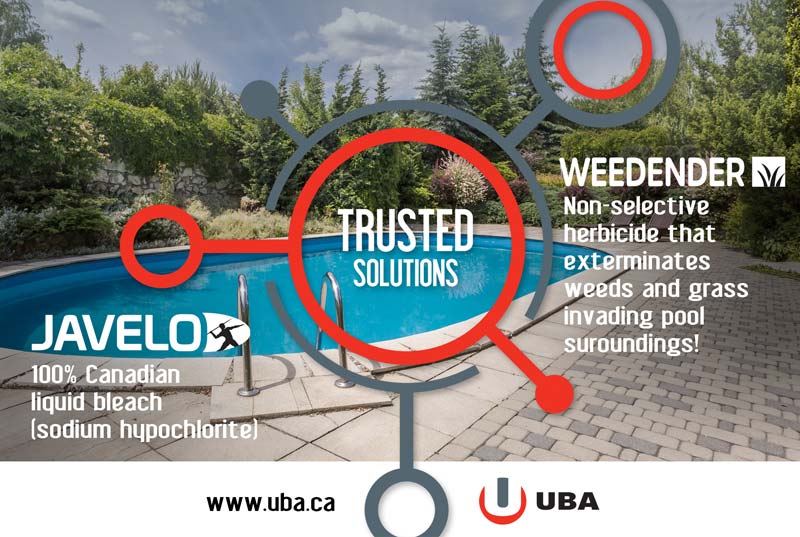 With summer right around the corner, the pool product market is booming. In fact, many pool and spa/hot tub retailers are likely searching for all types of products to carry—from equipment, to filters, to chemicals. UBA, a chemical distributor that operates across Ontario and Quebec, presents five things retailers should check when selecting a chemical distributor.
Health, safety, and environmental care
Today, the safe management of chemicals, in terms of public safety and environmental care, must be a value that drives the actions of the chemical distributor one chooses to do business with. They must take concrete steps regarding health, safety, and the environment!
Knowledge of pool industry regulations
Retailers should deal with an expert who can provide proper guidance on the safe management of pool/spa chemicals. Quebec's guide for operating swimming pools and other artificial pools (available in French only) states chemical storage tanks can pose certain risks. For example, a distributor that fully understands the issues surrounding chemical storage tanks should advise retailers to use a spill containment tray in the event of accidental spill or tank failure.
Assurance of chemical quality
It is important retailers ensure they are working with a specialized, skilled chemical distributor that knows where its products are sourced. In this regard, it is hard to beat working with a chemical distributor which manufactures its own products. Retailers can learn more about the chemicals UBA manufactures here.
Complementary chemicals
When thinking about pool/spa chemicals, there is no doubt the first thing that comes to mind is chlorine. Experienced chemical distributors can also provide specialty products to deal with other pool/spa water quality issues. For example, there are solutions to help fight the lawn and weeds that encroach on docks or concrete surrounding pool areas! See UBA's full pool/spa chemical lineup here.
Turnkey products and services
Retailers deserve peace of mind with their delivery! Do business with a chemical distributor that provides turnkey chemical distribution and chemical system installation services.
About UBA
For more than 60 years, UBA has been offering reliable, custom chemical solutions for a wide variety of customers. Since the construction of its sodium hypochlorite (Javelo) production facility in 2011, UBA has become a leader in the sale and distribution of chemicals for the pool and spa industry. UBA also provides formulas to help stop lawn and weeds from encroaching poolside such as WeedEnder and WeedErase.
To learn more about UBA, click here.
All information listed in this section was submitted by UBA.
Kenilworth Media Inc. cannot assume responsibility for errors of relevance,
fact or omission. The publisher does not endorse any products featured in this article.