Impressive water and lights feature highlights Emirates Palace Hotel
December 1, 2014
By Ritesh Khetia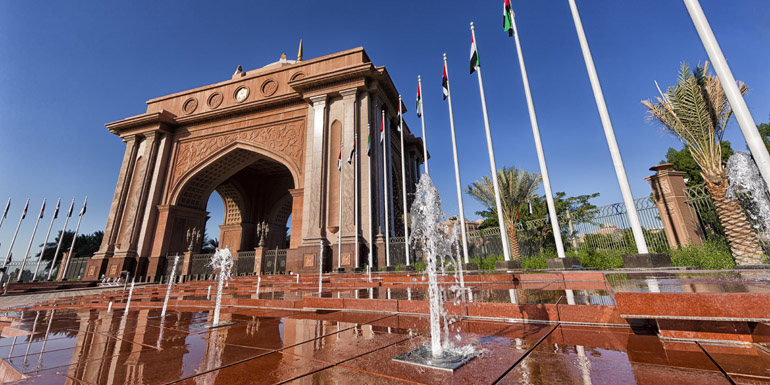 Already one of the Abu Dhabi's most luxurious districts, the Ras Al Akhdar quarter has been further enhanced with the installation of new water features for the Triumphant Arch at the Emirates Palace Hotel. The water features were commissioned by Abu Dhabi's Department of Transport as part of an ongoing initiative for upgrading the roadway and improving this important part of the city.
Emirates Palace Hotel is a world-renowned landmark in the United Arab Emirates (UAE), known for its mythical 'seven-star rating,' opulence, and exclusivity. Its fountains were manufactured by leading water feature specialist Crystal, based in Toronto, and with offices in the Middle East, and designed in tandem with Parsons' Dubai office in the UAE. The fountains were installed by United Technology & Trading Co., a specialist contractor located in Dubai.
This article takes and in-depth look at the water features' design objectives, its use of innovative technology to create spectacular effects and deliver energy efficiency, and the challenges faced when programming the fountains.
Location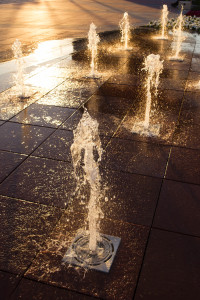 The 45- x 25-m (147- x 82-ft) fountains are located at the foot of the Emirates Palace Triumphant Arch. The road running through the arch serves as an exclusive entrance to the hotel for dignitaries, and is accompanied on each side with the impressive dry-deck fountains. In addition, the arch and the water features are adjacent to the busy 8-km (5-mi) coastal road, and are visible to passing cars and pedestrians.
Water feature design and effects
The objectives for the fountain project were:
To maximize the visual impact for people in vehicles and pedestrians;
To ensure daytime and nighttime use is maximized;
To create evaporative cooling benefits;
To reduce microclimatic temperatures;
To encourage pedestrian interaction with the water feature; and
To mask roadway noise.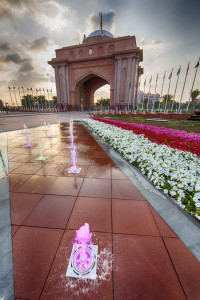 Many of these design objectives are achieved by the lively, sequenced shows of water and light. A total of 124 sequencing devices and innovative red, green, and blue (RGB) light-emitting diode (LED) ring lights (which look like a donut ring with a water nozzle in the middle) were used to create eye catching displays to ensure visual impact is maximized.
The pioneering technology incorporated into the LED lights is key to the fountain's spectacular effects. The devices can sequence water up to 10 times per second while ensuring it is always possible for a constant flow of water to come through the nozzles. Essentially, this means water effects can be constantly manipulated without having to abruptly halt water flow with valves. This also eliminates the 'water hammer' effect, created by turning valves on and off, which can damage the pumping and mechanical systems. Further, if severe enough, it can also create increased vibration, noise, and possible leaks. Therefore, a constant flow ensures water is readily available for sequencing, rather than having a slight delay associated with valve systems.
The RGB LED ring lights are also integrated within each sequencing device. Traditionally, LED lights would be placed outside the sequencing device and water nozzle to illuminate water as it sprays upwards. However, the equipment used for this installation combine the lights and sequenced water into one component for highly focused 360-degree water illumination.
Additionally, the RGB LED lights are capable of blending together to create an extensive palate of 16 million different colours. Each LED light can also be individually controlled and programmed with the use of an external digital multiplex (DMX) control panel. This enables individual lights to create separate colours, and to be dimmed or turned on/off individually to create dynamic animated light sequences.
Steal the show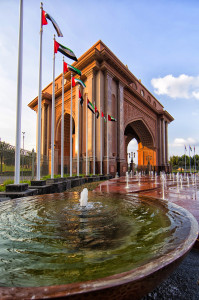 [4]The Emirates Palace Triumphant Arch fountains have been programmed to put on choreographed three-minute sequenced shows every half hour. Four different shows are currently pre-set in the fountains' control panels, but new shows can be programmed at any time. This takes advantage of the sequencing devices and LED lighting's flexible technology, and ensures the water features display will never become repetitive.
The shows play in various modes during the day and at night, contributing to the fountains' overall cooling benefits. The sound of water rising and falling onto the fountains' granite surfaces also provides sufficient noise to mask traffic.
A further eye-catching design element of the water features is each nozzle is positioned on a series of sloping separate stone squares. The squares are positioned in a fish-scaled pattern and gradually step down. This gives the water features a real sense of depth, and allows the public to feel as though the entire water feature is dancing around them.
Dry-deck water features are usually flat, which can stop effects at the back of the fountain from being appreciated. However, stepped design and differing heights of the Emirates Palace fountains, ensures they are all the more striking for passersby.
Water preservation and energy efficiency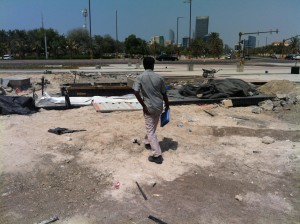 A prerequisite for this elaborate water fountain project was the feature had to adhere to the principles of Estidama— a building design methodology for constructing and operating buildings and communities more sustainably. Named after the Arabic word for sustainability, Estidama is an elective design methodology for environmental building and construction. It also contains a green building rating system called the Pearl Rating System that is used to evaluate sustainable building development practices in Abu Dhabi, similar to LEED in North America.
Key principles the fountains were required to meet included:
On-site recirculation of water;
Elimination of standing water such as reflective ponds and pools;
Taking measures to minimize energy use and evaporation;
Using minimum water volumes, yet still creating effects; and
Embracing sustainable energy principles.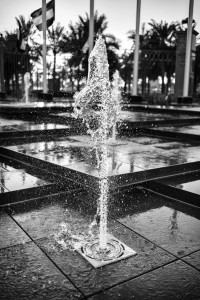 Water is a precious resource in all parts of the world, but particularly so in the Middle East, a region that is largely irrigated desert where rainfall is scarce. Therefore, careful planning was required to ensure minimal amounts of water were wasted by the fountains.
In keeping with the Estidama principles, an innovative water recirculating system was designed. As soon as water hits the ground, the system immediately drains the water, chemically filters it, and sends it back to the fountains' underground reservoir tanks, where it is pumped back through the system. This means water is only lost through evaporation. The fountains were specifically designed as dry decks with no pools to ensure water evaporation was kept to a minimum.
As the water and light shows are programmed to run for three minutes every half hour, this also minimizes the features energy use. In between shows, the water feature effects run in 'passive' mode. The fountains are still on, but with more subtle effects, where water is not sequenced at a fast pace or projected to high levels, which saves significant amounts of energy. This makes the water features more interesting, as viewers never know exactly when they will see the fountains fully in action.
Variable-frequency drive (VFD) technology enables the flexible water shows to be programmed. Essentially they act as dimmer switches which allow the water effects to be turned up and down according to how the shows are programmed, as well as save energy.
In addition, the DMX control panel enables the fountains' LED lights to be dimmed or turned on/off individually to create dynamic animated light sequences, but also to save energy. Late at night, when fewer people are around, the water feature effects are significantly 'dimmed' to save energy. Regular, less energetic water shows also help minimize water use and evaporation.
Design and installation challenges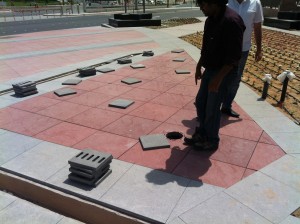 A number of challenges had to be overcome during the design and installation of the Emirates Palace Triumphant Arch water features. One main challenge was the fountains needed to be installed on both sides of the road that runs through the arch. However, there was no authorization to dig up the street due to a decree from the Abu Dhabi Department of Transport, which wanted to avoid disrupting traffic on the road as the surrounding area is quite busy.
Ideally, water feature shows should be programmed from a single equipment room and a single animation control panel to ensure the water and lights show is seamless. However, because the road could not be excavated or altered, this was not possible.
This issue was addressed by constructing two separate equipment rooms with individual animation control panels and reservoir water tanks for both segments of the fountains. Then, to ensure in-time sequencing of the water and light effects, the control panels were linked by a subtle cable that runs underneath the road.
Another challenge was choreographing the fountains' water and light shows. As 124 nozzles and LED lights were to be placed in a stepped design (at different heights), rather than in a flat conventional dry deck grid, it was difficult to know what different effects would look like. As a result, this took a significant amount of 'trial and error' with modern software to choreograph the right effects, and understand how they would look from many different viewpoints.
Let the show go on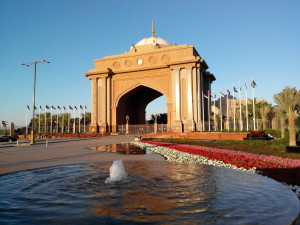 The new Emirates Palace Triumphant Arch water features are an impressive addition to the general landscape of this grand area of Abu Dhabi, and to the exclusive Emirates Palace Hotel entrance. They clearly demonstrate what modern water features are capable of in terms of theatrical shows and environmental principles. Water feature technology has developed substantially in recent years, creating significant design opportunities for landscape architects, developers, and other professionals designing commercial and residential waterscapes.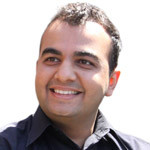 Ritesh Khetia is the director of overseas operations for Crystal Fountains Inc., which has operations in Toronto, United Arab Emirates, and Europe. He has been involved in a number of the company's wide array of high-profile projects worldwide and has contributed to a variety of industry publications. Khetia's expertise is derived from more than eight years in the water feature industry. He can be reached via e-mail at Rkhetia@crystalfountains.com[9].
Endnotes:
[Image]: http://poolspamarketing.com/wp-content/uploads/2014/12/73A2867-1.jpg
[Image]: http://www.poolspas.ca/wp-content/uploads/2015/04/73A3156-1.jpg
[Image]: http://www.poolspas.ca/wp-content/uploads/2015/04/073A3361-1.jpg
[Image]: http://www.poolspas.ca/wp-content/uploads/2014/12/073A3333-1.jpg
[Image]: http://www.poolspas.ca/wp-content/uploads/2015/04/Emirates-Construction-11.jpg
[Image]: http://www.poolspas.ca/wp-content/uploads/2014/12/73A3132-1.jpg
[Image]: http://www.poolspas.ca/wp-content/uploads/2015/04/Emirates-Construction-10.jpg
[Image]: http://www.poolspas.ca/wp-content/uploads/2015/04/Emirates-Construction-13.jpg
Rkhetia@crystalfountains.com: mailto:Rkhetia@crystalfountains.com
Source URL: https://www.poolspamarketing.com/trade/impressive-water-and-lights-feature-highlights-emirates-palace-hotel/
---