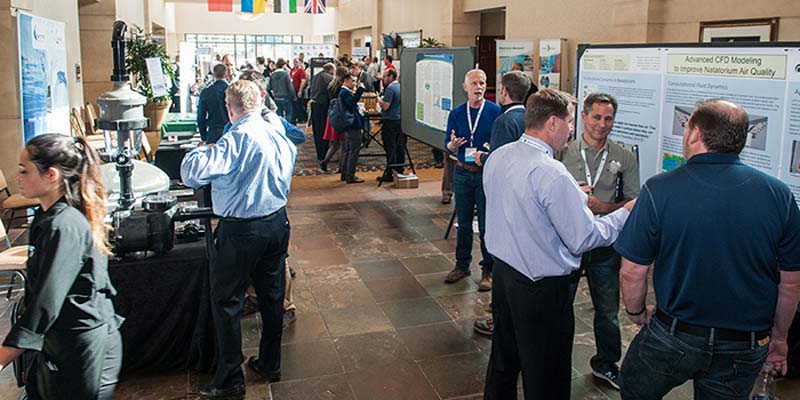 Registration opens today for the 2018 World Aquatic Health™ Conference (WAHC™), which will be held in Charleston, SC, this Oct. 10-12.
New this year's conference, which is hosted by the National Swimming Pool Foundation® (NSPF®), is six WAHCity broadcast locations. WAHCity attendees will have the opportunity to gather in the greater areas of Minneapolis, MN; Colorado Springs, CO; Boston, MA; Los Angeles, CA; Dallas, TX; and Niagara Falls, Ont., for the broadcast WAHC session. Each WAHCity will be held at a Great Wolf Lodge waterpark; the resorts are offering special rates for attendees and their families.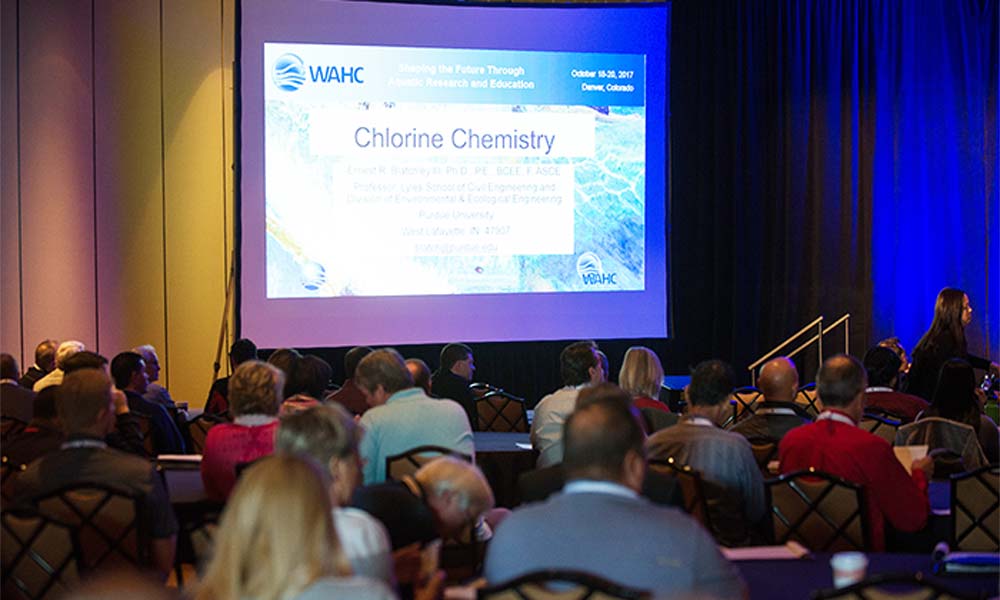 WAHCity attendees will be presented Elements of WAHC, a broadcast track featuring core concepts for every aquatic professional, along with popular topics and speakers from previous conferences, including drowning prevention, improving water and air quality, preventing biofilms, applying filtration science, and facility management. These participants will enjoy the opportunity to network with local peers and professionals and experience a behind-the-scenes tour of the hosting Great Wolf Lodge.
Attendees of the conference held in Charleston will enjoy more than 40 seminars this year. This year's tracks include topics, such as advanced service concepts, design and engineering, elements of WAHC, facility management and design, improving water and air quality, and increasing fun while reducing risk. More than 400 aquatic specialists convene at the WAHC to network with industry leaders, develop professionally, and help shape the future through aquatics. Annual attendees represent all segments of the aquatics industry, including pool operators, service technicians, aquatic managers, environmental health officials, academia, pool builders/designers/engineers, health professionals, aquatic therapists, retailers, and manufacturers, from around the world.
Actively shaping the future of aquatics through research and education, 2018 keynote speakers mirror the WAHC mission. Seasoned WAHC speaker Eadric Bressel, Ph.D., specializes in kinesiology at Utah State University and conducts research reinforcing the health benefits of aquatics. Renowned Genesis® faculty member Feras Irikat is the director of design and marketing for Lunada Bay Tile and influences aquatics through his mastery of colour theory and colour psychology.
This year's WAHC pre- and post-conference events will include opportunities to participate in NSPF's Advanced Service Technician (AST®) certification, Certified Pool/Spa Operator® (CPO®) certification, Environmental Health Leader's Symposium, and an insider's tour of local Charleston aquatic facilities. USA Swimming Regional Build a Pool Conference will take place following the WAHC, from Oct. 13-14. Other aquatic organizations are invited to host meetings surrounding the dates of the WAHC and may contact the conference team to schedule a room and time.
Convenient registration, seminar schedule, presenter bios, special conference events, poster presentation applications, and links to the hotel room reservation group rate can be found at thewahc.org.
The NSPF is currently accepting sponsors for WAHC 2018. Sponsors support the best in aquatic research and education, as well as the fun, food, and drinks offered throughout the conference. Every sponsoring organization receives special benefits in return: at least one conference registration ($445 value), access to full attendee information, company logo on attendee materials and on the WAHC website through 2018, an opportunity guest blog for NSPF, recognition at the keynote addresses, and exposure to the ever-growing number of industry-influencing attendees.
This leading scientific and educational conference on aquatics offers an opening registration rate of $445 for the WAHC in Charleston, saving attendees $150 between April 2 and May 31. Advanced price registration is valid from June 1 to July 31 at $495, followed by the regular price at $595. The WAHCity events are offered at the opening registration rate of $225, advanced price at $250, and the regular price at $300.
For more information about the WAHC or WAHCity broadcast locations, e-mail conference@nspf.org or visit thewahc.org.