Master Spas expansion to create new jobs
July 25, 2018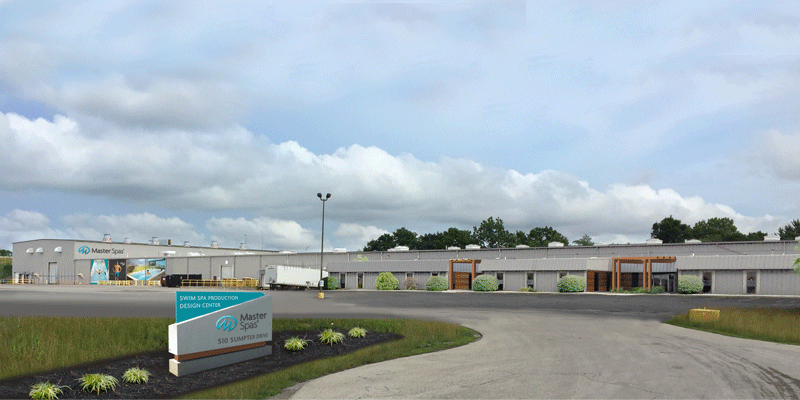 Master Spas, a hot tub manufacturer in Fort Wayne, Ind., is investing US$15.3 million to expand its operations, creating more than 100 new jobs.
The expansion includes the purchase of a larger building which will become one of the largest swim spa manufacturing facilities globally.
With this addition, Master Spas' total facility space will grow to 42,735 m2 (460,000 sf) on 13 ha (33 acres), an increase of 55 per cent. The new building is expected to be in full operation by January 2019.
The new space will become a state-of-the-art swim spa factory, which will include manufacturing, warehouse, research and development, and a design centre with new offices for the marketing and engineering departments. This will free up needed space in the company's existing building to expand the hot tub operation, allow for more parking, and make room for additional offices for its growing staff. Company leaders expect to employ a total of 550 workers within the year.
"We are excited for the opportunity to continue growing to support Master Spas' expanding dealer network and increased product demand," said the company's president, Terry Valmassoi. "We pride ourselves on quality and innovation, and we know this new facility will help us remain an industry leader."
The company was founded in Fort Wayne in 1996 by current CEO, Bob Lauter. Master Spas serves customers worldwide through its network of more than 300 independent dealers and contract service centres throughout the U.S., Canada, and Europe.
Endnotes:
[Image]: https://www.poolspamarketing.com/wp-content/uploads/2018/07/MasterSpasExpansion.gif
Source URL: https://www.poolspamarketing.com/trade/news/briefs/master-spas-expansion-to-create-new-jobs/
---