Pleatco crowns 2018 Perfect PoolGuy and Pool Gal
October 23, 2018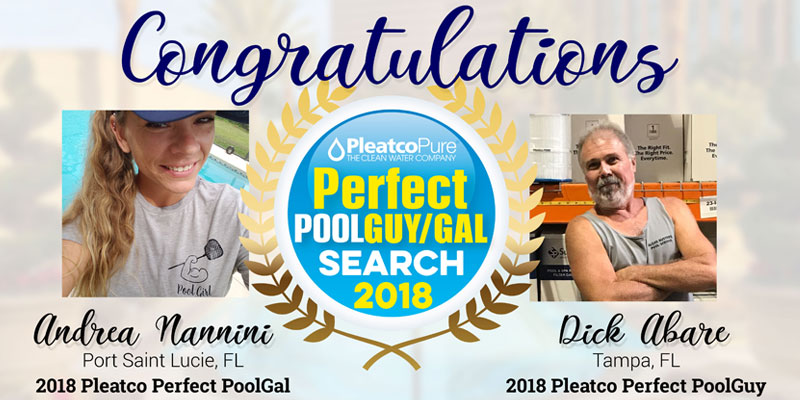 After receiving more than 70 entries from aquatic industry professionals, Pleatco[2], a manufacturer of filter cartridges in Glen Cove, N.Y., and longtime co-sponsors GENESIS®[3] and the National Swimming Pool Foundation,®[4] have named the winners of the 2018 Perfect PoolGuy and PoolGal search.
Dick Abare, of Tampa, Fla., won the Perfect PoolGuy title, while Andrea Nannini, from Port Saint Lucie, Fla., received this year's Perfect PoolGal designation.
"When we made the calls in the final judging stage, every single person commented on his passion, honesty, leadership, and integrity," said Pleatco's CEO Howard Smith.
In response to winning the award, Abare said, "It's an honour and a privilege to be chosen. It's very exciting to be part of the Pleatco family and I'm looking forward to our adventure together.
"I'm overwhelmed and very grateful for all the support from my family, friends, and this outstanding industry."
Following her mother into the pool industry, Nannini started as a service tech in 2002 and in 2016 she earned her pool operator certification. Over the years, she has taken every opportunity possible to learn everything she can with her two main career goals: to be the most knowledgeable pool professional, and to inspire other women and fellow pool girls to believe in themselves by following what they are passionate about.
"When I started in the pool industry 16 years ago, I never would've dreamed I would be where I am today," she said. "My mother, who I consider to be the best pool girl ever, opened the door for me and I will never look back."
This year's winners will each receive a trip for two to next week's International Pool | Spa | Patio Expo in Las Vegas, Nev. Both winners may attend the GENESIS® school free of charge ($5000 value) being held at the show. Winners (and finalists) will also receive NSPF's AST® Certification course ($1100 value) free of charge, also offered at the show. The NSPF® is also offering this certification course free of charge to all other major award winners.
Due to the number of entrants, Pleatco once again expanded the contest and created additional awards.
"During our final interviews, we were impressed by the calibre and diversity of so many individuals that we felt it was proper to recognize the outstanding achievements of several other entrants," said Pleatco's executive vice-president, Jeff Smith. "In that spirit, we selected contestants for special awards based on their contribution to their community and the pool and spa industry."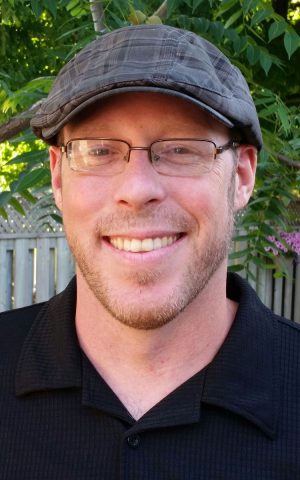 The recipients of these awards include:
Steve Goodale, pictured right, (Paris, Ont.) Industry Leadership Award
Chris Richards (Hurst, Texas) Big Heart Award
Eric Honeyman (Wichita, Kan.) Community Leader Award
Libby McKennon (El Paso, Texas) Customer Service Award
Lamar Jeantinoble (West Palm Beach, Fla.) Future Leadership Award
"The service industry is extremely important when it comes to helping owners fully enjoy and appreciate their pools," said GENESIS® ambassador and co-founder Brian Van Bower. "Skip Phillips and I started our careers in pool service and it has always been near and dear to our hearts. We are proud to help honour our hard-working service professionals through the Pleatco contest."
NSPF® CEO Thomas Lachocki, Ph.D., said the NSPF is fortunate to be the co-sponsor of this wonderful contest.
"The NSPF fully supports initiatives that keep pools safer, keep pools open, and ensure more people can enjoy the water," said Lachocki. "We recognize the crucial role every pool service technician plays, we are honoured to celebrate them, and we are pleased to offer our certification course as a major prize for each and every finalist to nurture their continued growth."
On behalf of Pleatco, GENSIS®, and NSPF®, Smith thanks everyone who entered, nominated, and voted in the 11th annual Pleatco Perfect PoolGuy and PoolGal contest.
"We have been truly overwhelmed by the sheer quality of the nominations and the thousands of votes cast," said Smith. "The entries were compelling and heartfelt across the board and we look forward to a great awards presentation."
The official awards ceremony will be held Thurs., Nov. 1, at Pleatco's booth (#3137) at 1 p.m.
Endnotes:
[Image]: https://www.poolspamarketing.com/wp-content/uploads/2018/10/PleatcoCrowns2018.jpg
Pleatco: http://www.pleatco.com/
GENESIS®: http://www.genesis3.com/
National Swimming Pool Foundation,®: https://www.nspf.org/
[Image]: https://www.poolspamarketing.com/wp-content/uploads/2018/10/JC_PleatcoGoodale.jpg
Source URL: https://www.poolspamarketing.com/trade/news/briefs/pleatco-crowns-2018-perfect-poolguy-and-pool-gal/
---