Pool permits increase in 2018, but only slightly
March 27, 2019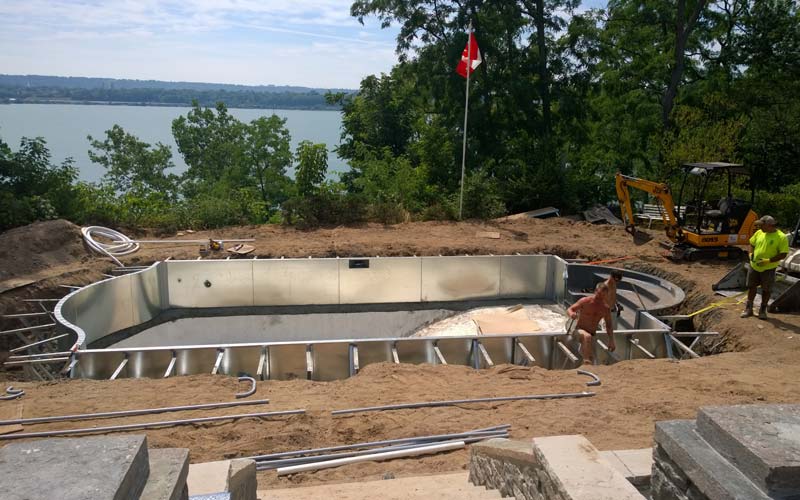 Despite global economic uncertainty, trade conflicts, a decline in consumer confidence, and a late start to the season, pool permits increased in 2018 by 1.3 per cent year-over-year.
Similar to the weather experienced in 2017, the conditions last year—especially early on—were not favourable for pool builders either; however, industry professionals persevered to avoid a second consecutive season with fewer residential inground pool building permits. In fact, in looking at Environment and Natural Resources Canada records, not only did spring start late, but the transition from winter to spring never really occurred as summer-like weather arrived in May and only got warmer through to August.
At the same time, consumer confidence did a full 180 after rising steadily in 2017 to start last year on a decline. According to The Conference Board of Canada, although finances improved, Canadians became pessimistic about the outlook of the labour market and, at the start of 2018, questioned whether it was a good time to make a major purchase.
 How did this factor on the trends for the number of pool installations in 2018? Other than a small increase in permit registrations in December 2017, it interrupted what would have been 13 consecutive months—between June 2017 and June 2018—in which pool permits decreased year-over-year.
The ebbs and flows of pool permit registrations in 2018 essentially mimicked the warm-to-hot weather patterns experienced across the country despite consumer confidence weakening as summer arrived.
Unlike the start of the 2017 season, which benefited from the strength of the record-breaking summer the year prior, the same cannot be said for last year. The end of the 2017 season was weak and this trend continued into the first and second quarters of 2018, which were down 23.5 per cent and six per cent, respectively. However, once summer—and the extreme heat—finally arrived, pool permits increased in the third and fourth quarters, which had gains of 20.5 per cent and seven per cent. This is evidence the trend of winter arriving later, and lasting longer, still continues. As a result, more than 80 per cent of all pool permit registrations occurred during the last eight months of the year.
For a complete report on the state of the Canadian swimming pool industry, watch for the April 2019 issue of Pool & Spa Marketing.
Endnotes:
[Image]: https://www.poolspamarketing.com/wp-content/uploads/2019/03/JC_PoolPermitsIncrease.jpg
Source URL: https://www.poolspamarketing.com/trade/news/briefs/pool-permits-increase-in-2018-but-only-slightly/
---