Are you busy but eager to continue expanding your knowledge? The Pool & Hot Tub Alliance has you covered! Our GENESIS® education program offers virtual training opportunities, so the courses come to you. Earn continuing education units (CEUs) while advancing your pool construction, design, and engineering skills.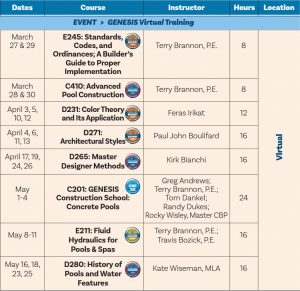 Take a look at our upcoming virtual courses and register today!
"Sponsored" material is supplied by the sponsor. The publisher cannot assume responsibility for any errors of relevance, fact or omission. Hosting sponsored material does constitute endorsement of the sponsor.