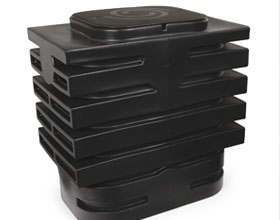 Atlantic is proud to introduce two totally redesigned pump vaults and a new vault extension which fits them both.
The new PV7500 and PV15000 Vaults occupy the same footprint as Eco-Blox, so the Vaults can easily fit in rectangular excavations. Vaults are rotomolded of virtually indestructible polyethylene and heavily ribbed for long, worry-free service. Slotted on two sides with oversized inlets for maximum flow capacity, flat panels accommodate Automatic Fill Valves and up to 76.2 mm (3 in.) plumbing. Extremely strong low profile injection molded vault lid supports gravel and foot traffic, fits all sizes and can be removed without gravel falling into Vault. The Pump Vault Extension increases the height of the larger PV15000 Vault in deeper, larger basins, with each extension adding the height of one Eco-Blox. The larger Vault accommodates all pumps from the Atlantic-OASE line and can easily handle two smaller pumps. The smaller PV7500 Vault has all the attributes of its larger sibling, but with a shorter height.
Designed for use with our new Small Eco-Blox, the PV7500 is perfect for shallower excavations and the new lower profile Eco-Rise system.
"Sponsored" material is supplied by the sponsor. The publisher cannot assume responsibility for any errors of relevance, fact or omission. Hosting sponsored material does constitute endorsement of the sponsor.