Outdoor aquatic facilities set to reopen in parts of Ontario
by Dave Flaherty | June 9, 2020 1:10 pm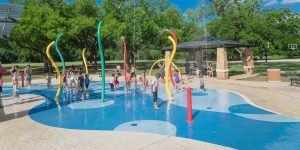 Splash pads, wading pools, and outdoor swimming pools across many parts of Ontario will be permitted to reopen this Friday as the Ford government continues to ease COVID-19-related measures.
The province announced it is moving into the second phase of Ontario's reopening on Friday, June 12.
In consultation with the Chief Medical Officer of Health and local health officials, the government is easing restrictions in communities where it is safe to do so, based on trends of public health indicators such as lower rates of transmission, increased capacity in hospitals, and progress made in testing.
. The Pool & Hot Tub Council of Canada (PHTCC) released further details on the announcement, such as measures facility operators will be taking:
This includes public pools as well as pools situated in hotels, motels, condo parks, resorts, and other private facilities
Waterparks, wave pools, and water slides will not be permitted to reopen
Change rooms and showers will be available to the public if operators can adequately sanitize and disinfect the facilities
Facility employees will maintain physical distancing of at least two metres
Reducing resting areas and pool capacity
Limiting and distancing pool-side seating
Timed entry (e.g., appointment only).
Equipment rented or loaned must be disinfected or quarantined appropriately between use
Aquatic activities such as fitness classes and swim lessons must be in line with physical distancing measures. For example, only other household members can assist swimmers with physical contact
As the province is now looking at reopening through a regional lens, the City of Toronto and other GTA municipalities such as Peel, York, and Durham regions, and the cities of Mississauga, Hamilton, and Barrie are not included in the latest measures.
"We are able to make this announcement today because of the extraordinary effort of our frontline workers and every other person in the province that helped to stop the spread of this deadly virus," said Premier Doug Ford. "Entering the second phase means parts of the province will see more people back on the job and an opportunity to get back together with friends and family. Although this is extremely encouraging, I urge everyone to exercise caution and continue to follow public health advice as we are not out of the woods yet."
Source URL: https://www.poolspamarketing.com/trade/news/outdoor-aquatic-facilities-set-to-reopen-in-parts-of-ontario/
---