Outdoor structure maker Studio Shed expanding to Canada
by Dave Flaherty | August 11, 2021 12:58 pm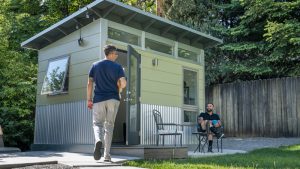 Studio Shed, maker of prefabricated outdoor structures and accessory dwelling units (ADUs)[1], announced its North American expansion to Canada, opening e-commerce sales to residents this summer.
Since 2008, Studio Shed has provided backyard solutions for home improvement projects across the United States.
During the pandemic, the company saw a significant increase in sales, up to 150 per cent from previous years.
"The pandemic highlighted the need for flexible space for many homeowners," said company co-founder and creative director Jeremy Nova. "Bringing Studio Shed products to more regions has always been a priority for us. We are thrilled to officially launch in Canada, especially as more provinces, states, and local jurisdictions embrace the permitting and construction of these types of structures."
Earlier this year, the company announced exclusive partnerships with Marvin Windows, Acorn Finance, and Point Digital Finance to increase accessibility and affordability of its products. In addition to checking permitting and shipping costs online, customers can also view estimated monthly payments based on location, credit score, and project costs through enhanced online features.
Endnotes:
accessory dwelling units (ADUs): https://accessorydwellings.org/what-adus-are-and-why-people-build-them/
Source URL: https://www.poolspamarketing.com/trade/news/outdoor-structure-maker-studio-shed-expanding-to-canada/
---