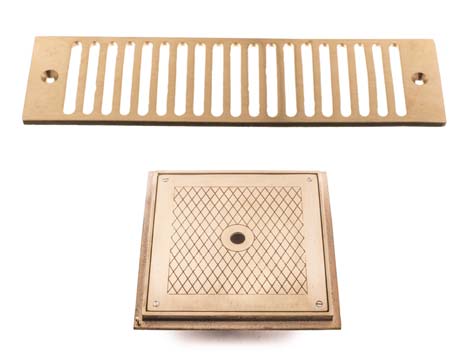 Standard Bronze offers an expanded selection of the finest bronze, chrome-plated bronze, and stainless-steel products for the commercial pool industry.
"All Standard Bronze products are manufactured in North America, so tariffs or other import issues don't threaten the supply line," says Glen Dempsey, owner of Standard Bronze. "This peace of mind is important when planning large projects, plus all of our products are superior in durability and quality to imports."
Standard Bronze's e-commerce site www.standardbronze.com allows customers to browse the company's product lineup and order online with ease and efficiency. The website boasts one of the industry's broadest selections of bronze pool fittings and accessories, including:
Deck anchors and accessories;
Diatomaceous earth (DE) filter elements and covers;
Drain frames and grates;
Extension collar and cover plates;
Gutter and deck drain fittings;
Ladder treads and accessories;
Maintenance and cleaning (including vacuum heads);
Mechanical equipment (including fittings, drains, and valves);
Return inlet/vacuum fittings;
Rope anchors and accessories; and
Safety equipment.
For more information call (888) 822-5956, e-mail info@standardbronze.com, or visit www.standardbronze.com.
All information listed in this section was submitted by Standard Bronze.
Kenilworth Media Inc. cannot assume responsibility for errors of relevance,
fact or omission. The publisher does not endorse any products featured in this article.