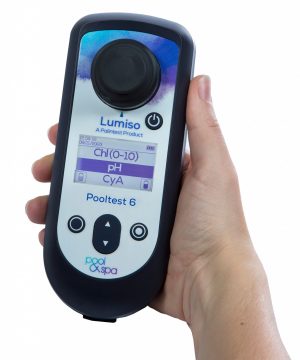 Service engineers and pool managers can now use the Lumiso Pooltest for simple, digital pool water testing for complete water balance calculation without subjectivity.
The brand new 'Lumiso Pooltest 3' and '6' uses expert colourimetric analysis to deliver quick and clear test results, enabling pool operators to optimize treatment and ensure water safety.
The handheld instrument is lightweight and has been designed for complete portability to enable testing to be performed anywhere. The 'Lumiso Pooltest 3' tests for free and total chlorine, pH, and cyanuric acid, while the 'Lumiso Pooltest 6' includes testing for alkalinity, bromine, calcium hardness, free and total chlorine, cyanuric acid and pH. Learn more
Lumiso features:
New lightweight kit with waterproof reagent box and cutouts for all accessories
Data storage for 50 results with date, time, and sample labels
USB and QR code connectivity to enable data management
New optical design for quick and accurate digital results
Easy-to-use language-free interface with long-battery life from 'AA' batteries
Larger display screen increases the display information and makes navigating easy
Portable, robust, and IP67 waterproof
Check standards can be stored in instrument carry case.
For more information, visit www.palintest.com or email info@palintestusa.com.
"Sponsored" material is supplied by the sponsor. The publisher cannot assume responsibility for any errors of relevance, fact or omission. Hosting sponsored material does constitute endorsement of the sponsor.