Niagara hot tubs
December 1, 2010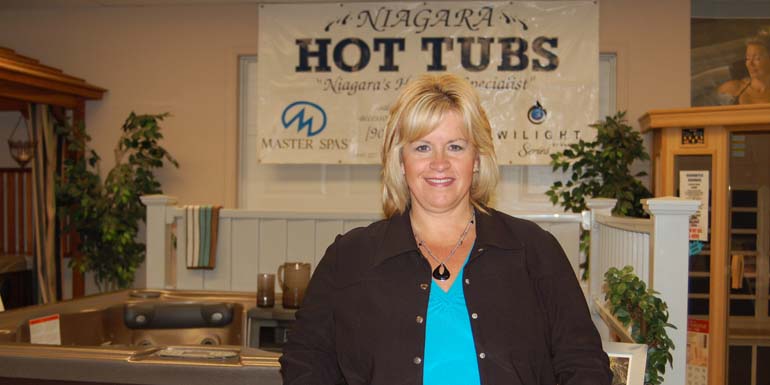 By Kristine Archer
When it comes to making her customers happy, Debbie Goch, co-owner of Niagara Hot Tubs, knows you have to go the extra mile.
"I remember a new customer who was having their hot tub delivered on Christmas Eve, and assured us everything was ready to go," Goch recalls. "However, when we arrived, the customer's electrician had bought the wrong wire and ground fault circuit interrupter (GFCI) box. We waited on site and helped the electrician get everything ready, to ensure the customer would be able to enjoy their hot tub on Christmas Day. We were at their home for eight hours, but the customer was extremely thankful."
In the beginning
It is this kind of attention to customer service that has helped define the business Debbie and her husband Mike co-founded 10 years ago in St. Catharines, Ont. The couple came to the hot tub industry through an acquaintance and noticed the aging baby boomer population was becoming more interested in hot tubs for their relaxation and therapeutic benefits. This prompted the entrepreneurial husband-and-wife team to take advantage of the trend.
"Mike had a friend who operated a hot tub store in Hamilton and they thought they would partner up and open another store in St. Catharines," Goch says. "Mike thought hot tubs were becoming far more popular and we definitely thought there was room for another hot tub dealer in our area at that time."
Within a year, the couple bought out their partner and took over the business themselves. Goch, who at first held a part-time job, took over the day-to-day operations of the store, while Mike helped out while still holding down his full-time job. She admits that 10 years ago, as a hot tub novice, there was a lot she had to learn about the business.
"It's like anything," she says. "Yes, there was a lot about water chemistry that I was not familiar with, but I'm also a firm believer in research. I did a lot of research myself and read all the articles I could."
The evolution of the store
While Niagara Hot Tubs has grown in leaps and bounds, they have stuck to a tried-and-true formula over the course of their decade in business—quality products and customer service.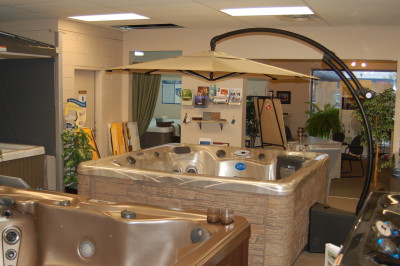 The company deals exclusively in Master Spas hot tubs, with models from all five of the manufacturer's product lines in stock. Offerings range from basic models, for the budget-conscious consumer, to elaborate swim spas. Goch says their goal is to offer hot tubs for every conceivable budget and price point.
"We've always been very comfortable with what Master Spas has got to offer," she says.
An electrician is still required to complete hot tub installations, but the team at Niagara Hot Tubs still makes a point to go back to the customer's home after installation to walk through the chemical requirements and maintenance needed to keep their products operating properly.
While the store's hot tub offerings have not changed too much over the years, the Gochs have branched out into other areas of the leisure market, offering infrared and wet saunas—portable, plug-in models—which now comprise a small part of their business. The saunas add a new revenue stream, which is particularly appreciated in the slower winter months, when pouring a concrete slab and installing a hot tub isn't as easy to accomplish.
On the grow
In addition to themselves, the Gochs have two employees on staff, one full-time and one part-time. The couple's two sons also pitch in to help their parents, primarily with deliveries and set-up. Debbie is still in charge of day-to-say store operations, while Mike handles deliveries.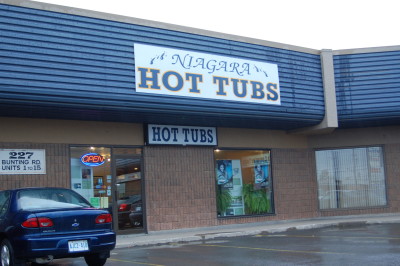 As far as competition goes, the Gochs have seen a few stores come and go over the past decade, usually only having to contend with three or four smaller competitors, as well as a few 'big box' stores. The store's customer base expands beyond St. Catharines into the entire Niagara region, and as far away as Hamilton; however, they are careful not to encroach on other Master Spas dealers' territories. The company is also coming off of a couple of its best sales years ever, despite the recent economic downturn.
"We've always been pretty steady," Goch says. "The first couple of years in business, it was a slow-but-steady growth, but from then on, it's always been within a 15- to 20-unit sales increase every year." That growth can be attributed to many different factors, according to Goch.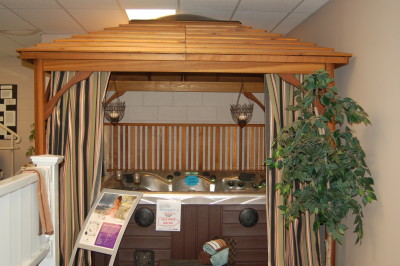 "Families, in some cases, are just not wanting to travel, because there are so many more complications involved with people taking vacations," she explains, citing recent passport requirements placed on Canadian travellers. "We're all working; everybody seems to have a double-income family, kids are running in all different directions. At the end of the day, you just want that family time, away from the TVs, computers and phones. Or it's a way for Mom and Dad to relax the stresses away at the end of the day because we're all working so many hours.
"I also think our (sales) increase also has a lot to do with our customer service. We offer really good customer service, so the referrals we get are pretty intensive. We have been told over and over that we go above and beyond. I've always been that type of person. If someone has a problem, I'm going to look at it from the customer's point of view and try to give them the best service we can. People really appreciate that."
The power of customer service
The evidence lies in the several awards Niagara Hot Tubs has received over the years. The store has consisted been voted by readers of Niagara This Week as the region's favourite hot tub store and has been recognized under Master Spas' Apex program, which highlights the company's best dealers. Goch also believes in the power of small acts and their impact on customer loyalty.
"I remember a customer who came in looking for a $5 part for his old hot tub. He had been to all the other stores in our area and no other company went the extra mile to find the part, since there was really no profit in it—but we found it for him, because we are interested in the long-term relationship with the customer." That relatively small effort eventually paid big dividends.
"Sure enough, two years later when it was time to upgrade to a new spa, that customer came directly to us and did not even look anywhere else. He was so impressed with our customer service."
Promoting the business
Though the company has invested in print and radio campaigns, as well as home show booths and mall exhibits, the Gochs have typically relied on positive word-of-mouth to promote the business. This process is formalized through the store's customer referral program, which the company has promoted heavily in recent years.
"We send out a thank-you letter to all of our customers once they buy a hot tub and offer them a referral bonus if they refer a friend who buys a hot tub," she explains. "It also lets people know we're only a phone call away. We've also got our website, which we keep completely up to date with any promos we have."
The company has also gone out of its way to support local charities and community organizations. Every spring, the Gochs hold a charity barbecue, during which they offer discounts to customers and raise money for groups such as the Canadian Cancer Society. They also sponsor several local hockey and sports teams.
Niagara Hot Tubs has also worked very closely with the Children's Wish Foundation, helping grant the wish of a terminal teenage cancer patient whose dream was to have a hot tub of his own.
"We strived to offer the best features and affordability, to ensure this wish was approved," Debbie explains. "The entire family found great comfort and relaxation enjoying their time together in the hot tub, and a dying boy's wish was granted."
As they reach the end of their yearlong 10th anniversary celebration, Debbie and Mike are looking forward to an even better future and planning for future growth.
Endnotes:
[Image]: http://poolspamarketing.com/wp-content/uploads/2010/12/DSC_0219.jpg
[Image]: http://www.poolspas.ca/wp-content/uploads/2015/07/DSC_0244.jpg
[Image]: http://www.poolspas.ca/wp-content/uploads/2015/07/DSC_0260.jpg
[Image]: http://www.poolspas.ca/wp-content/uploads/2015/07/DSC_0240.jpg
Source URL: https://www.poolspamarketing.com/trade/niagara-hot-tubs/
---