Project Spotlight: Aloha Pools Ltd. (2013)
February 1, 2013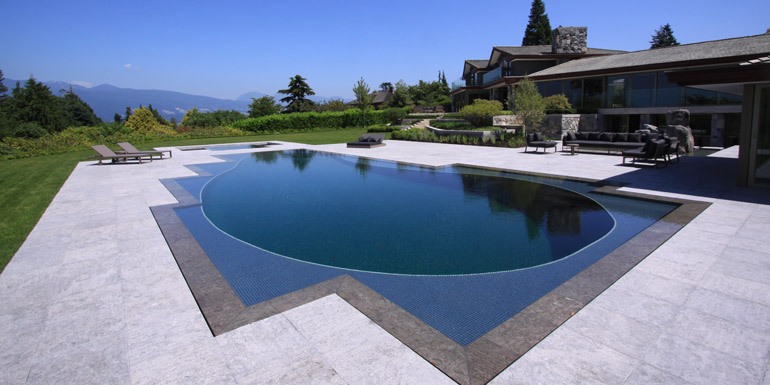 [1]
By Jason Cramp
This Vancouver homeowner called upon Aloha Pools Ltd., of Surrey, B.C., to help them fulfil their wish of converting their existing 7.6- x 13.7-m (25- x 45-ft) kidney-shaped swimming pool into a perimeter overflow design, while at the same time completely updating the current pool surround.
To do this, Aloha removed the upper 0.6 m (2 ft) of the pool and formed the top with a slotted gutter to create the perimeter overflow. Shallow lounge areas between the existing pool and the new geometric edge were also formed. The resulting perimeter sitting ledge allows bathers to relax near the water and/or socialize with those using the pool.
Of course, this was easier said than done as the pool's existing plumbing system had to be completely removed and replaced, while the pool floor was also raised by pouring new reinforced concrete.
Aloha also added a new aquatic amenity to the homeowner's backyard consisting of an eight-person, perimeter-overflow spa. Built at one end of the pool, the spa looks as though it had been there all along as it features a similar geometric design. Both the pool and spa were finished in 25- x 25-mm (1- x 1-in.) glass tile, which furthers the co-ordination of the backyard's aquatic features.
A spacious deck area made of basalt rock surrounds both the pool and spa, providing copious amounts of space for pool/spa-side lounging. Additional seating areas were also made available closer to the home, creating various social pockets in the backyard in which the pool becomes a sensual backdrop. Further, the dark finish of the pool's shallow lounge and surrounding ledge provides a distinctive contrast with the deck, allowing one to easily determine the water's edge.
In completing the project, Aloha also updated the filtration system as well as installed a new heat exchanger unit, which ties into the homeowner's high-efficiency heating system.
Endnotes:
[Image]: http://poolspamarketing.com/wp-content/uploads/2013/02/12-37-02_Aloha_Pools.jpg
Source URL: https://www.poolspamarketing.com/trade/project-spotlight-aloha-pools-ltd-2013/
---