Project Spotlight: Oasis Pools Ltd. (2014)
April 1, 2014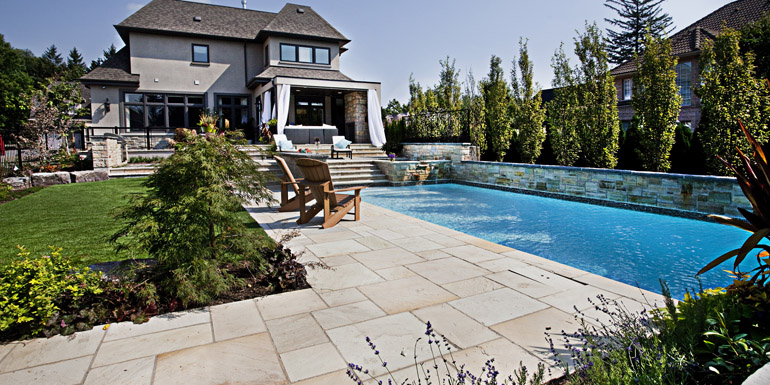 [1]
By Jason Cramp
Rather than commute to a cottage, this homeowner called on Oasis Pools Ltd., of Burlington, Ont., to create an exotic, spa-like atmosphere that would not only allow them to entertain a large number of people, but also spend quality family time together.
This project was unlike a typical pool installation as the design had to accommodate the rear lot, which sloped aggressively to the back of the property. Due to the property grade, Oasis Pools built one concrete structure comprising the pool, raised hot tub and elevated walls. This integrated structure also serves as a retaining wall in the rear of the sloping yard and not only provides the client with added privacy, but also supports a planting bed along the length of the pool.
Both the pool (4.8 x 12 m [16 x 40 ft]) and hot tub (1.8 x 3 m [6 x 10 ft]) are rectangular in shape and feature textured glass and marble tile with a white interior marbelite finish. The pool and wall copings are Banas stone, while the wall facings were finished with full, 127-mm (5-in.) South Bay Granite stone.
The pool's rear wall also incorporates a custom, 2.4-m (8-ft) sheer waterfall feature, which adds architectural drama to the backyard setting, while the close proximity of the closure to the raised hot tub further facilitates the spa-like setting and provides the homeowner easy access to the hot tub during the winter.
Strategically placed colour-changing, light-emitting diode (LED) lighting further sets the mood at night. Both the lighting system and water feature can be controlled via a backyard automation system and separate remote control.
The backyard also includes a large sitting area surrounding a stone-faced gas fireplace and another large patio, complete with a built-in gas barbecue situated nearby a lounge area next to the elevated hot tub. From here, integrated steps lead directly down into the pool, which has a gradual depth of 1 to 2.4 m (3 to 8 ft).
Oasis Pools worked closely with Dan O'Brien and Associates landscaping architects (design) and Focus on Landscapes (stone work, landscaping, and landscape lighting) in completing this project.
Endnotes:
[Image]: http://poolspamarketing.com/wp-content/uploads/2014/04/Oasis3.jpg
Source URL: https://www.poolspamarketing.com/trade/project-spotlight-oasis-pools-ltd-2014/
---