Project Spotlight: Valley Pool & Spa (2014)
August 1, 2014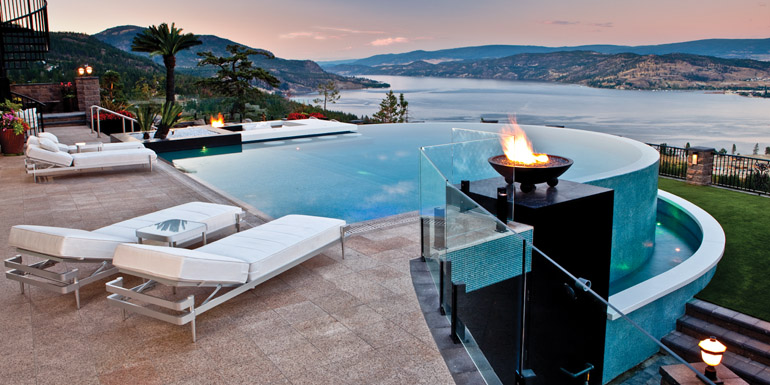 [1]
By Jason Cramp
Valley Pool & Spa created an impressive multi-level oasis for this homeowner in Kelowna, B.C., in working with the challenges of a backyard that was essentially a steep, sloped cliff. Due to the nature of this project, it took three years to complete as the unique limitations of the yard demanded several creative ideas.
For instance, all equipment and materials had to be craned up to the yard from the street below, while 10.6-m (35-ft) high terraced retaining walls had to be built into the side of the pre-existing cliff. This was integral to the entire backyard project as nothing could move forward until this structural wall was in place.
The heart of the project is a custom pool, designed in collaboration with renowned California designer Skip Phillips of Questar Pools. It features a dramatic 13.7-m (45-ft) vanishing edge, set against the backyard's mountainous, tree-lined surroundings. Water extends into the horizon, spilling over a 2.4-m (8-ft) high wall into a basin below, creating an additional water feature. The pool's entrance overflows into flamed-granite stone grates.
The pool's swim-up bar, tanning bay, multiple coloured light-emitting diode (LED) fixtures and a fire bowl gives the space contemporary flair. Hammered Mediterranean blue glass tile adorns the walls, which is complemented by a flamed-granite tiled deck.
To avoid disturbing the visual appeal of the space, the equipment room was tucked away beneath the pool, with discreet access points.
Endnotes:
[Image]: http://poolspamarketing.com/wp-content/uploads/2014/08/Valley_Pool__Spa.jpg
Source URL: https://www.poolspamarketing.com/trade/project-spotlight-valley-pool-spa-2014/
---