Promoting the benefits of dealing with a pool/spa specialty retailer
December 1, 2012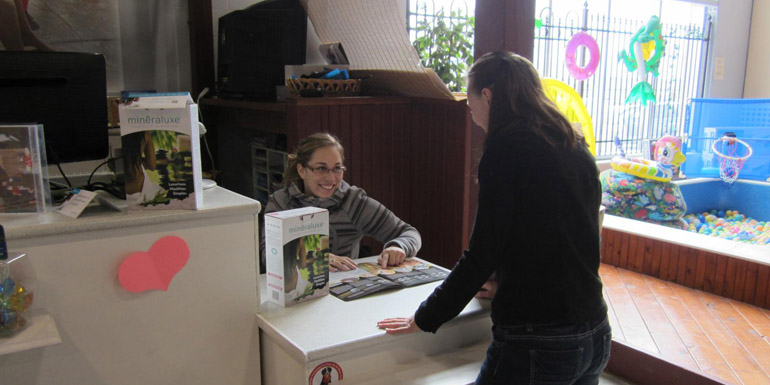 By Connie Sue Centrella
In 2011, eMarketer reported more than seven out of 10 Internet users are online buyers. It also estimates that 148 million consumers, 14 and older, made at least one online purchase in 2011. And, from 2010 to 2015, nearly 30 million consumers will join the ranks of online buyers, representing a 3.9 per cent compound annual growth rate (CAGR).
What does this mean for specialty pool/spa retailers? These online click-and-order resellers, in addition to big box stores, are geared to take sales and revenue away from traditional pool/spa retailers. Internet purchasing has its advantages for the consumer; it saves time, fuel, provides home delivery, and offers the convenience of shopping in the privacy of their home (or anywhere they are connected via Wi-Fi). It also gives people the opportunity to research and compare products by providing a wide assortment of options. And, for the thousands who shop at big box stores for housewares and appliances, pool/spa care products and patio furniture are a natural addition to the shopping cart.
What should savvy pool/spa retailers do?
To avoid losing this business, pool/spa retailers need to become customer-centric and operate from the customer's point of view. Some retailers think they already focus on their customers, yet a percentage of those customers do not return. Instead, they are making their purchases via click-and-order outlets and big box stores.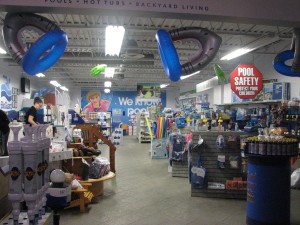 For consumers, the advantage of dealing with a specialized pool/spa retailer is they are able to touch and feel the products they are thinking of purchasing in a live retail environment. Most also have a range of experts on hand, including those who can troubleshoot via phone and online, whereas click-and-order outlets and big box stores cannot provide customers with the personal attention they require. Consumers want to be a part of something—they want to belong to a retailer as they desire and need the emotional bond.
Further, when it comes to advice and technical expertise, big box stores, similar to most online retailers, do not have industry-trained staff to assist customers with product knowledge, answer technical questions, or solve water quality issues. Pool/spa owners also cannot have their water tested/evaluated and get a prescription for care from an online retailer or big box store.
Tips to stay competitive
Pool/spa specialty retailers have the advantage of trust simply because customers can walk into a bricks-and-mortar store and establish a people-to-people relationship. These stores are considered 'destination retailers' as consumers only visit if they need or want a particular pool-related product or service. Therefore, it is important to take advantage of this position and make the store a destination experience for the consumer.
To do this, retailers should take a step back and look at their store from the customer's perspective. Walk in the front door and look around; are customers greeted with a smile and enthusiasm? Is the water testing station visible? Are questions being answered with confidence? Does the store display professionalism? Is it clean and organized? Are add-on products (e.g. plastic party ware, swim goggles, caps, etc.) also offered? Is the store customer-centric? Does it create an experience customers will enjoy and remember? Finally, will they want to return?
It is important to pay close attention to the needs of every customer who enters the store. Instead of pushing products, create a positive experience, which can help a business win a customer for life. In fact, marketing strategies should be developed around a business model that not only attract and retain customers, but also sway them away from competitors. Employees must be instilled with these ideas as they are the company's front line, representing its ideals. Today, it is leaders who run a customer-centric business.
Customer-centric water care
The majority of pool/spa owners visit specialty retailers in need of chemicals or to solve water-related problems. To assure return business, it is important to have an educated, knowledgeable staff, state-of-the art water testing products and a water testing station that will create a positive experience for the customer. Here are the key ingredients to make this happen:
Educated staff
It is imperative for pool/spa retailers to invest in educating their staff. Training employees to achieve profitable results starts with a strong understanding of water chemistry and treatment. If this requires sending employees to educational seminars, regional trade shows, and completing certification programs, be sure to make this a line item in the company's annual budget.
Further, the more educated employees are, the more confident they will be in answering the consumer's questions. Thanks to the plethora of websites and blogs offering advice on every conceivable water condition, pool/spa owners become easily confused as to what the correct solution is. This is why they go to the professional—a pool/spa specialty retailer. And, the better experience they have, the more the business will profit.
Keep it simple
Water chemistry products can also become overwhelming for consumers, especially if a retailer tries to offer every chemical on the market. These products should be kept simple for the consumer to avoid confusion; therefore, it is important for retailers to decide which are the best sanitizers, water balance products and ancillary treatments to offer, and then train their staff on the features and benefits of each.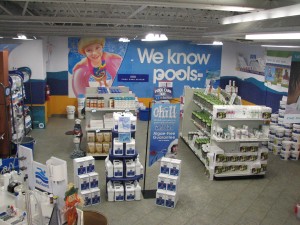 During the off-season, retailers should also take time to create a 'replacement chart' to help staff understand which products it carries and how they are similar to other brand names. Staff should also know the history of the various chemical brands available to enable them to engage in more educated discussions on the products they are selling as well as understand their compatibility. For instance, most sanitizers are oxidizers and considered hazardous chemicals. These products must be kept in a clean, safe and humid-proof environment, away from heat. Pool chemical containers should be dusted frequently, evidence of a clean and carefully maintained store, and material data safety sheets (MSDS) need to be maintained for all chemicals and kept in a readily available binder.
Water testing stations enhance customer experience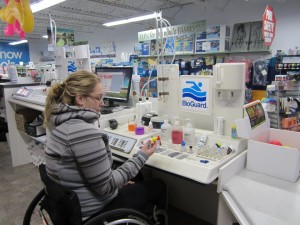 Retailers should also take the time to evaluate their water testing station. Does it look like a hodgepodge of testing reagents or is it neat and organized? Retailers should routinely inspect their water-testing reagents and tools and dispose of any expired products.
There is also an abundance of water-testing software and new equipment available to help retailers enhance their water-testing credibility with the consumer. In using this equipment, however, retailers must be sure it is calibrated regularly with professional manual water testing results. This will not only eliminate unwanted test results, but also prevent inaccurate information from being passed on to the consumer.
Finally, retailers should also keep a record of all the pool/spa water tests it performs. This documentation not only provides valuable historic information that can be shared with the consumer, but also provides retailers with a safeguard against any potential liability issues.
Ask the right questions
Retailers should train their staff to ask the right questions. For example:
How does your pool look?
Is it cloudy; can you see the drain?
What colour is your water; is it blue or green?
Is the pool surface smooth or slimy?
Do you have white scale at your tile line?
These are just a few questions that can be used to create a 'conversation' with the customer, which can lead to solving most pool/spa-related water problems and winning a customer for life.
Customers come first
Whether selling water care/testing products, providing in-store testing services, or selling a new above-ground pool or hot tub, taking care of the customer has to be the first priority. Retailers can thrive by simply communicating with their customers and providing each with a unique, individualized experience.
For instance, acknowledging a customer by name is a guarantee win-win. Retailers can further this unique customer experience by learning about their family, their job and any special interests they might have. The more a retailer knows about their customers, the better relationship experience they will have with the business, and the more likely they are to spend money with the retailer.
Setting up a play area for children can also help make a customer's shopping experience more comfortable. This provides parents the opportunity to shop or get water treatment advice without interruptions while their pool/spa water is being tested. Setting up a new product area with various energy-efficient products and water-testing devices is another way retailers can enhance the shopping experience, allowing them to learn about recent product innovations, which can save them time and money.
Today, the majority of consumers who visit a specialized pool/spa retailer are looking for quality products at a reasonable price. Certainly, they can buy online, but they will not find the personal attention that is often necessary. A pool/spa retail staff that provides customers with honest, educated and helpful answers will keep its customers coming back.
As with all past articles, the author invites comments from readers. Please send comments, suggestions and methods you have adopted to create a strong customer-centric store to ccentrella@keiseruniversity.edu.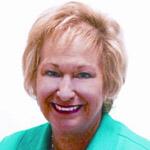 Connie Gibson Centrella, MBA, is professor and program director for the online Aquatic Engineering Degree Program at Keiser University eCampus, as well as director of education for Team Horner and a member of the National Swimming Pool Foundation (NSPF) Education Committee. She is also a sustainability officer, having been certified in the principles of green and sustainable business practices. Centrella, five-time recipient of the Evelyn C. Keiser Teaching Excellence Award, is celebrating more than 40 years in the pool and spa industry.
Endnotes:
[Image]: http://poolspamarketing.com/wp-content/uploads/2012/12/img_0049.jpg
[Image]: http://www.poolspas.ca/wp-content/uploads/2015/05/IMG_2104.jpg
[Image]: http://www.poolspas.ca/wp-content/uploads/2015/05/IMG_2100.jpg
[Image]: http://www.poolspas.ca/wp-content/uploads/2015/05/thyme2.jpg
Source URL: https://www.poolspamarketing.com/trade/promoting-the-benefits-of-dealing-with-a-poolspa-specialty-retailer/
---