Renovating pools using heat-welded PVC membranes
November 9, 2015
By Aimée Samuelson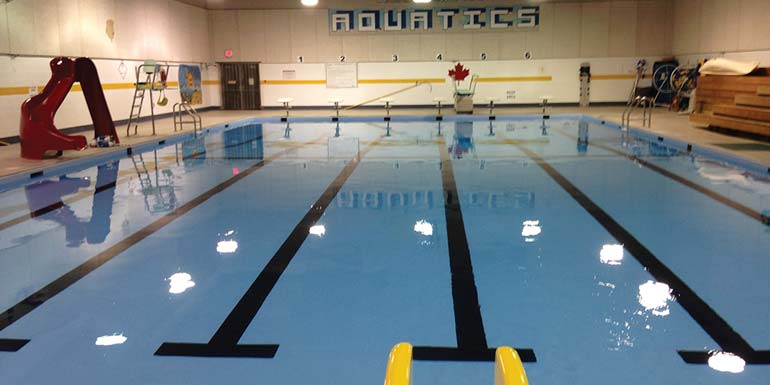 Outdoor commercial pools located in regions where severe freeze-thaw cycles occur are perpetually plagued by the effects of freezing winter temperatures and extreme heat in the summer. From peeling plaster and paint to cracks and leaks, most pools typically require a fair amount of refurbishing each spring to ready them for the summer. These facilities are typically hit the hardest as the funds to repair these pools is often difficult to obtain due to municipal or operator budgets. To avoid the vicious cycle of annual repairs and patches, one construction option that is prevalent of late is the use of 60-mil reinforced polyvinyl chloride (PVC) membranes.
The concept first started in Europe more than 30 years ago and came to the Americas shortly after. However, in the last five years, this construction/renovation method has gone from novel to mainstream.
"Commercial proposals for pool renovations now specify PVC membranes when repairing the pool structure," says Ron Melbourne of Membrane Concepts in New Bedford, Mass.
Pools that are continuously exposed to freeze-thaw conditions will almost always crack and eventually start to leak due to the resulting ground movement. Aquatic facility managers are then forced to repair the pool before it can be opened for the season. Coming up with funds every spring for this repair work can quickly add up in a few short years.
Today, an increasing number of outdoor and indoor aquatic facility operators are being introduced to the concept of installing PVC membranes to solve hidden issues and, more importantly, make the pool vessel watertight without having to pinpoint the exact area of the pool structure where the problem is occurring.
"Once you have eliminated the leaks in the lines and plumbing, many older pools continue to lose water due to hairline cracks that are virtually impossible to find," says Troy Fleetwood of Watson Pools in Edmonton, Alta. "A PVC liner membrane can immediately solve this problem."
The installation process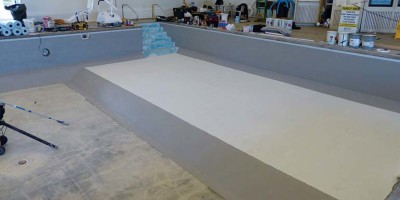 The installation method is relatively simple. Before the pool is lined with the PVC membrane, it is prepared by fastening a series of flexible, PVC strips along the perimeter, under or over the coping, depending on the deck configuration. Then a felt-lining is applied to the pool's floor and walls using an adhesive. This lining protects and smooths-out the surfaces before the PVC membrane is installed (it also makes the pool more comfortable for users by giving the floor and walls some cushion, which is pleasing to bathers' feet. After the felt lining is in place, the PVC membrane, which typically comes in 1.8-m (6-ft) wide rolls, is rolled out and positioned within the pool. The material is basically 'tailored' to the pool on-site.
Once the pieces have been measured, cut, and positioned, a 'tack weld' or 'pre-weld' is used to keep the material in place. Each seam is heat welded on-site using a heat gun, which uses hot air to essentially melt and seam the material together. The material needs to be overlapped by 51 to 76 mm (2 to 3 in.) and seamed using the heat gun. The membrane that comes up the pool walls is ultimately 'terminated' by being welded directly to the PVC band along the pool perimeter. To add another waterproofing measure, many installers also apply a sealer along the seam edges to ensure water does not seep into the scrim of the material over time. This sealer also rounds out the seams and adds an extra layer of waterproofing to the liner. Areas such as steps, beach entries, and safety ledges are also cut, fitted, and welded in place. PVC membranes are also available with a slip-resistant emboss, which is typically used on steps. Generally, standard pool fittings and returns are compatible with PVC membrane installations.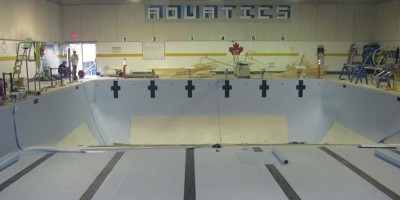 "The work does require training to ensure a precise fit, its true craftsmanship, like a tile-installer," says Fleetwood. "This is especially true when installing the membrane on steps, beach-entry pools, safety ledges, etc."
Membrane installation on an average commercial pool takes approximately four to five days. For some facilities, this short-term shutdown is well worth the cost to eliminate the need to re-plaster and paint the pool structure every year.
Most pools can be prepped in one day (or less) before starting the membrane heat-welding process, explains Melbourne.
"We do run across pools that are in really bad shape and have spent three to four days patching the pool, fixing returns, etc., before laying down the felt and welding the liner in place, but this is not the norm," he says.
There are also several different approaches to installation, says Tommy Nachmann, international sales manager at Haogenplast, a supplier of PVC membrane material located in Israel.
"I have seen many different installation techniques used based on the different craftsmanship styles of the installers" he says. "Therefore, techniques may vary from country to country and installer to installer. The end result is still a water-tight pool in which the 60-mil PVC has quickly repaired problems in existing pools."
Trending now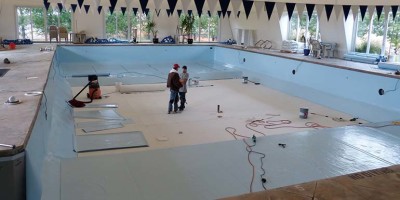 Some local health departments in Canada and the U.S. are now often requiring PVC membranes be installed in commercial pools (including hotel/motel, condominium/homeowner association, and municipal/YMCA-type pools), as it is available with a non-slip texture material which is often specified by local governing bodies to ensure pools are safe for the public. In terms of non-slip textures there are several options, including a 'pyramidal' emboss which is often used in shallow areas and steps to provide traction and prevent slipping.
Todd Shady from 21st Century Pools in New York, N.Y., started in the industry 25 years ago after learning the PVC membrane trade from a material supplier in Germany.
"I am putting together proposals for municipalities, architects, and engineers who now specify PVC membrane," he says. "Although the concept was introduced in Canada and the U.S. more than 20 years ago, awareness of the benefits is now starting to increase across the industry. Even five years ago we were only installing two to three PVC membranes in pools a month. Now we install between 10 and 15 per month."
It is important for facility managers, and even residential pool owners, to consider the costs of having to structurally repair their pools year after year versus the cost of installing a PVC membrane, adds Shady, who works with ProLine membrane based in Pennsylvania.
"Surface patches are not often long-term solutions," he says. "In most cases, there are underlying issues with the pool structure that can be eliminated by using a PVC membrane.
"In our market, the majority of business is still coming from the commercial side of the industry although we are starting to see more residential pool owners opting for PVC membranes."
He finds the 60-mil PVC reinforced interior pool finish to be ideal in areas with high water tables where traditional vinyl liners may float and fibreglass may peel. As most builders know, high water tables in certain areas allow water to get behind the walls of traditional 20-mil vinyl liners, which are held in place by the weight and pressure of the water in the pool, causing them to 'float' up as the water pushes against the vinyl liner. High water tables can also cause peeling of fiberglass where water seeps in.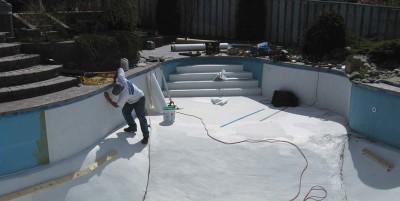 According to Melbourne, in the New England, New York, and New Jersey areas, this trend is mostly in the commercial sector although calls for residential pools have picked up.
George Stencel, from Carolina Pools in North Carolina, says he is doing 60-mil reinforced PVC liner projects more frequently on smaller, condo-type pools that are similar in size to residential pools. Most of the jobs are one-person installations where the condo manager no longer wants to replaster or repaint the pool every year.
"I am also fixing a lot of small fibreglass pools that have cracked," says Stencel. "Fibreglass pools, once cracked, don't have many options in terms of repair. Even if the crack is re-epoxied, the weight of the water will open it up again. A PVC weld-in-place liner not only fixes the pool, but also makes the pool water tight."
In Canada, Fleetwood along with Greg Solmundson, the owner of Ark Custom Pool & Spa International in Kelowna, B.C., who works with DWL Delifol, a supplier of PVC membrane located in Germany, also find an increasing number of their jobs to be in the residential market.
In fact, Fleetwood says almost 50 per cent of their PVC membrane projects now involve residential pools.
"We do a lot of business in the Northwest Territories—all by word of mouth," he says. "We have built quite a few new pools using PVC membrane as it works well in this area's climate."
When it comes to colour selection, the trend is towards solid shades; for example, grey, granite, and black have been popular over the last two years—especially for residential pools.
"In Europe, the majority of our material is sold to installers who are using it in residential pools," says Nachmann. "It seems this trend is finally making its way into North America and builders are not only educated about the product, but are also trained on how to install it."
Commercial pools consistently remain light blue as it keeps the water bright and makes it easy to see bathers. In some instances, a tile border or pattern along the top of the wall is being added on some commercial and residential pools, but installers agree this is still rare in the market.
Costs and benefits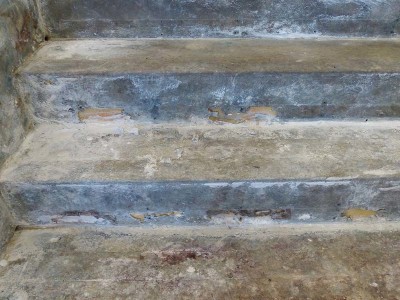 A PVC membrane is a relatively affordable option that can immediately improve the functionality and esthetics of a pool—whether commercial or residential. Therefore, when it comes to price, it is important the client evaluates the cost of the PVC membrane over its 15- to 25-year life.
"The price of the PVC membrane seems very affordable to most facilities when they compare it to the cost of re-surfacing, re-plastering, and repainting the same pool every year over the same period," says Melbourne.
In addition to its pool repair benefits, PVC membrane is pleasing to the touch. This is especially true for bathers in commercial pools doing water aerobics or simply wading in shallow areas. Unlike traditional plaster and granite, the texture of the finish is softer on bathers' feet. Further, the felt lining under the PVC membrane makes the floor more comfortable to stand on—this is especially beneficial to older swimmers using the pool for water conditioning, therapy, or exercise.
Pools with PVC membrane finishes also use fewer chemicals as it is easier to balance water chemistry. This is especially true of facilities which previously had plaster and gunite finishes that often suffered from calcium leaching out of the substrate, especially as the pool surface becomes rougher over the years. The more dirt that collects, the more chemicals the pool needs to keep the water clean. Decreasing chemical usage is a growing trend in residential pools and an added savings benefit for commercial facilities.
Most PVC membranes on the market are treated to resist algae growth. This includes preventing algae from seeping in from the backside of the membrane. They are also nearly tear-resistant and can withstand a lot of wear from heavy bather loads. Further, as the membrane remains flexible throughout its life, it is also capable of expanding and contracting as the substructure continues to shift during freeze-thaw cycles.
Esthetics matter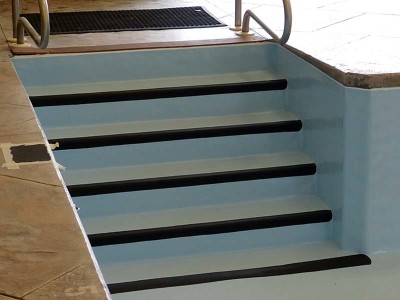 Commercial aquatic facility operators are always looking to retain and increase patronage at their pools to remain in business, but today's consumers have many options and always prefer to visit an aquatic facility that looks new and attractive. Older pools that have years of repainted surfaces and patches, look old, rough, and unsightly. The installation of a PVC membrane can clean up the look of a pool, while also making it safer with slip-resistant material on steps and shallow play areas. Contrasting colours on racing lanes and transitions from shallow to deep areas of the pool can also be added.
The same can be said for hotels as these pools must always be in tip-top shape to help attract guests. Melbourne, for instance, has worked with The Sheraton, Marriott, and Hyatt Regency hotels in his area, which all have PVC membranes. Many hotels look for custom treatments on the walls and floor to get a specific look that matches the hotel's décor.
"The Marriott Long Wharf in Boston, for example, decided to use a dark blue floor with a light blue wall and black perimeter top edge to create a dramatic look, which was especially visible at night with the pool lighting and the Boston Harbor in the background," says Melbourne.
A big business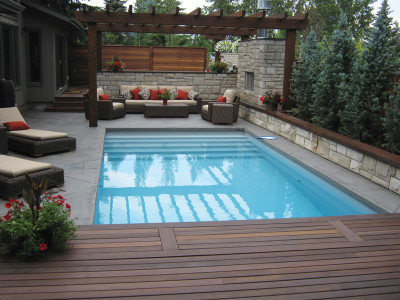 On the other hand, some companies sell PVC membranes, but subcontract the installation work to other businesses.
"We service a lot of commercial pools and regularly offer leak detection and renovation services," says Steve White of Underwater Pools in West Boylston, Mass., who works with Membrane Concepts. "It's easy to sell the PVC membrane, but I don't get enough requests throughout the year to justify training and hiring my own staff.
"Therefore, we get a referral fee from our supplier, but more importantly we solve a problem with a commercial customer who also hires us to do the rest of their renovation. The customer is happy and we continue to service their pool for many more years."
Dan Lenz with All Seasons Pools in Orland Park, Ill., has a similar arrangement.
"We have a huge service and renovation department and know that installing a PVC membrane is exactly what some of our customers need; therefore, we work with RenoSys in Indiana who performs the membrane installation while we do the rest of the renovation work," he says. "This keeps our client satisfied and allows us to maintain our service contract with them."
Solumdson took this business concept one step further. Not only is he qualified by DWL Delifol to install PVC membranes in Canada, but his company also provides year-round training to other pool professionals. Training is performed on-site and installers obtain certification based on their experience and skill."
Whether pool professionals are looking to be trained in PVC membrane installation or simply want to sell the product and let subcontractors handle the work, offering this product as another renovation and repair option for commercial aquatic facilities, and some residential customers too, can provide pool businesses an additional revenue stream.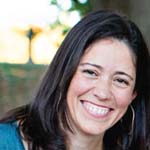 Aimée Samuelson, MBA is president of B2B Marketing Solutions LLC, a specialty marketing firm with more than 25 years' experience in the aquatics and construction industries. In addition to working in the pool and spa/hot tub sector, she has clients in the landscaping, stormwater, and industrial water treatment markets. Samuelson holds an MBA from the Foster School of Business at the University of Washington in Seattle, Wash., with additional business credentials from the Pontificia Universidad Católica de Chile in Santiago, Chile. She can be reached via e-mail at aimee@b2bmarket.us[8].
Endnotes:
[Image]: http://poolspamarketing.com/wp-content/uploads/2015/11/wwwArk-Custom-Pool-Spa__c.jpg
[Image]: http://www.poolspas.ca/wp-content/uploads/2015/11/Ron-Melbourne-Membrane-Conc.jpg
[Image]: http://www.poolspas.ca/wp-content/uploads/2015/11/wwwRon-Melbourne-Membrane-C.jpg
[Image]: http://www.poolspas.ca/wp-content/uploads/2015/11/wwwArk-Custom-Pool-Spa__b.jpg
[Image]: http://www.poolspas.ca/wp-content/uploads/2015/11/wwwRon-Melbourne.jpg
[Image]: http://www.poolspas.ca/wp-content/uploads/2015/11/wwwRon-Melbourne-Membrane-C1.jpg
[Image]: http://www.poolspas.ca/wp-content/uploads/2015/11/Ark-Custom-Pool-Spa__green-finished-1.jpg
aimee@b2bmarket.us: mailto:aimee@b2bmarket.us
Source URL: https://www.poolspamarketing.com/trade/renovating-pools-using-heat-welded-pvc-membranes/
---