Revitalizing interest in public pools with inflatable play structures
March 27, 2017
By Annika Paus
In some areas, commercial pools can become stale as patrons lose interest in the entertainment value the facility offers. As a result, these aquatic facilities struggle to remain attractive for all target groups. One safe and budget-friendly way attendance figures can be revitalized is with the installation of an inflatable obstacle course, which can be customized to fit any aquatic facility.
Inflatable play modules offer children and adults a healthy, fun way to exercise—whether during free-play, facility feature events, or birthday parties. The modularity of these structures makes installation, operation, and maintenance easy. However, to determine the right combination for an individual pool, the following parameters should be considered.
Dimensions
Commercial pools vary in length and width. Modular play products have a length of 3 to 9 m (9.8 to 29.5 ft) on average, so the number of products connected can be adapted to the size of the pool, forming a track that is long but narrow to maintain several lanes for swimmers.
Water depth
Water depth is essential with respect to safety. The higher a play module is, the deeper the water must be. The formula is: product height + average adult height / two = minimum water depth.
Generally, commercial pools have a shallow end and a deep end. For an obstacle track, it is advisable to start with flat products and increase height towards the end so the highest module is positioned at the maximum water depth.
Capacity
Depending on the number of visitors (and considering the percentage of those looking for exercise and/or recreation), an aquatic facility manager can start with a small investment in inflatable play modules and expand whenever their budget allows or when the number of visitors increase and more people want to be entertained.
Some manufacturers of floating playgrounds enable financial support of local sponsors by colouring the products individually or by attaching external logos.
Budget
Inflatable playgrounds are an easy investment and do not require constructional work within the building. They are especially designed to fit the existing venue and are flexible in terms of size, which makes expansion easy and the
budget distributable.
Set-up and anchoring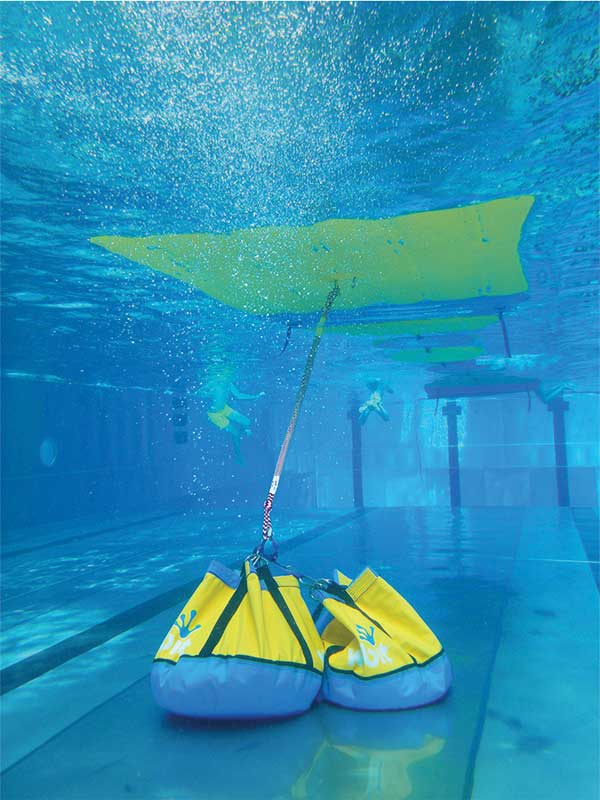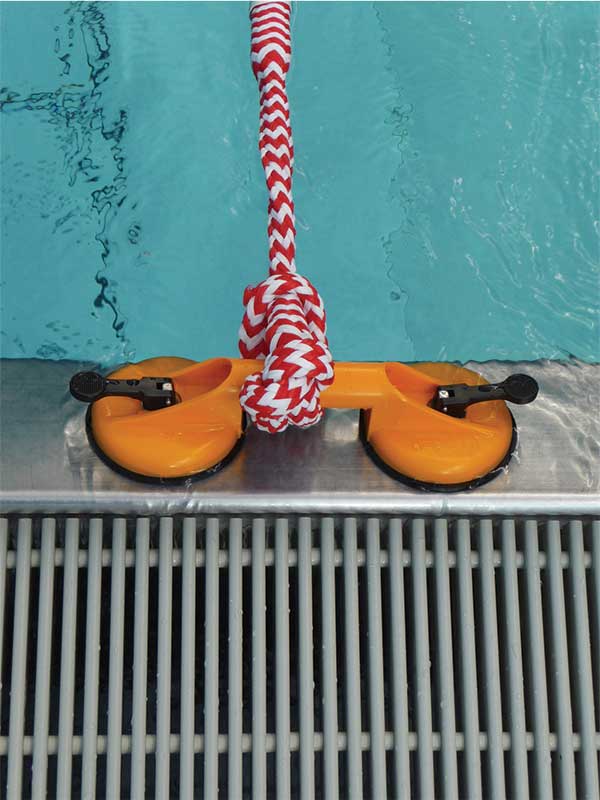 Once the combination of play modules has been selected and delivered to the facility, the next steps are set-up and anchoring. Each module is inflated using an electric blower or hand pump. The proper working pressure for each unit is listed on the warning label next to the valve. A manometer is used to check the right pressure.
The inflated products should be lifted into the water by two people. Dragging them over the ground or across the pool deck will damage the polyvinyl chloride (PVC) material and the anchor plates which are located on the bottom of each module. Once in the water, the individual modules are assembled using connector straps beneath the water surface. The gap between each module is covered by a safety flap.
There are various ways to anchor inflatable play structures in a pool. Bungees are essential for each method as they give the track or loop (i.e. inflatable play module assembly) stability and keep it in position while absorbing movement caused by guests running, climbing, jumping, and sliding on the modules.
The most common anchor method is connecting the products horizontally to the pool edges. Many pools have mobile or stationary floor loops for swim lane markers which can be used as anchor points. Other stationary objects such as starting blocks or ladders can also be used. In stainless steel pools, or those with large smooth tile surfaces, suction cups can be used as an anchoring method.
Vertical anchoring is also an option for keeping inflatable play structures in position. Some pools already have pre-installed anchoring points embedded in the pool floor. Alternatively, heavy weight floor anchors can be used similarly, but it is important they have an insulation layer at the bottom to make sure the floor of the pool is not damaged. A new way of vertical anchoring is an anchor sack made of PVC material and filled with chain. These anchor sacks can be refilled for each use of the obstacle track and stored in between.
Safety
Safety is the number-one priority when using inflatable play structures in an aquatic facility and a safety distance of 3 m (9.8 ft) or more from each pool edge is crucial to prevent any injuries.
Material, classification, test methods, consumer information, and other specific safety requirements should be considered when buying inflatable play structures.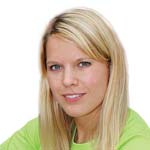 [4]Annika Paus is the marketing manager at Wibit Sports, a Bocholt, Germany-based manufacturer of inflatable play modules for use in commercial pool facilities. She has been with the company for three years and can be reached via e-mail at annika@wibitsports.com[5].
Endnotes:
[Image]: http://poolspamarketing.com/wp-content/uploads/2017/03/AquaTrack.jpg
[Image]: http://poolspamarketing.com/wp-content/uploads/2017/03/Vertical_anchoring_anchor_sack.jpg
[Image]: http://poolspamarketing.com/wp-content/uploads/2017/03/Horizontal_anchoring_suction_cups.jpg
[Image]: http://poolspamarketing.com/wp-content/uploads/2017/03/Paus_Headshot.jpg
annika@wibitsports.com: mailto:annika@wibitsports.com
Source URL: https://www.poolspamarketing.com/trade/revitalizing-interest-in-public-pools-with-inflatable-play-structures/
---