Sealing concrete pools
June 1, 2011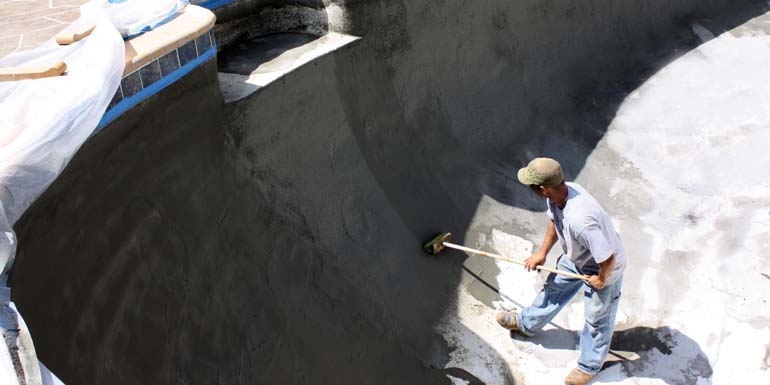 By Mike Mudrick
One of the most important steps in gunite or concrete swimming pool construction is selecting the right type of waterproofing. Concrete is a porous substrate prone to water penetration; therefore, it has to be sealed to keep water in the pool, in addition to keeping ground water out, which is often forgotten.
Every single swimming pool or water feature must be waterproofed in one way or another. Sometimes these structures present challenges and are often tricky to waterproof due to the various penetrations included in the design to accommodate elements such as lighting, piping and drainage.
There are several products on the market today for waterproofing swimming pools. Before any final decisions are made, the following information will help make material selection easier and success rates higher.
Forming a bond
Cementitious coating and waterproof barrier products tend to bond better to concrete substrates because they are similar in chemical composition and enhanced by polymer bonding agents. These products also allow various finishing options; plaster, overlays and adhesives attach better to cementitious substrates, as opposed to a pure polymer waterproof coating.
When dealing with new pool construction, cementitious coatings are not susceptible to failure from moisture vapour transmission (MVT), which is the rate at which water vapour passes through a material at a specified temperature and relative humidity. These coatings are breathable, so they can be applied just days after pouring the concrete or placing the gunite, which leads to faster turn around times. In comparison, pure polymer systems require the concrete to cure for a minimum of 28 days to prevent failure from MVT.
In swimming pool restoration cases, it is usually difficult to completely dry the substrate before waterproofing is applied. Pure polymer coating systems cannot be applied to substrates that are not completely dry, whereas cementitious products are moisture tolerant. In fact, many manufacturers even require pre-wetting the substrate prior to application.
Ease of application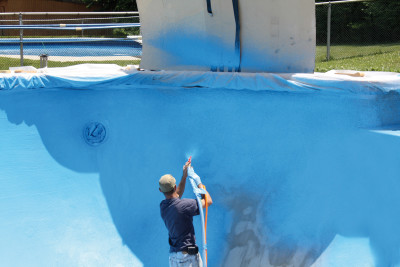 When selecting a waterproof coating, keep the project at hand in mind. Vinyl-lined pools, for example, can be more difficult to work with if they have a non-standard shape. Larger surface areas, however, can be covered more economically by using spray equipment, as opposed to applying via a trowel or brush.
If applying a waterproof coating to an irregular substrate, (e.g. artificial rockwork in a pond or waterfall feature), the ability to apply the coating via brush or roller will make it easier to ensure all nooks and crannies are covered. Additionally, coatings that can be applied by hand do not require costly sprayers or air compressors.
Appearance matters
Should the pool owner desire a specific esthetic appearance, it is important the waterproof coating or membrane allows for what the pool owner may desire. Keep in mind, not all coatings are compatible with all tile adhesives, plasters or other finishes.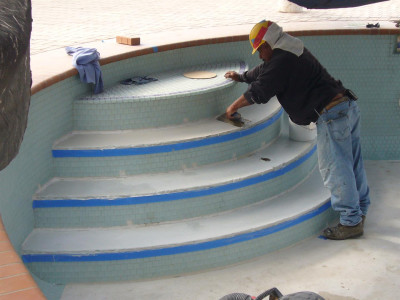 Since tiles and pool plaster are not waterproof, it is extremely important to use a waterproofing membrane beneath them to extend the service life of the pool.
The potential for leaks rises significantly when a waterproofing product is not used. Leaks can result in water loss, cause damage to the surrounding area (if the pool is suspended) and ruin the plaster/finish coat. Additionally, the rebar/reinforcing steel in a concrete or gunite pool could also be damaged.
Some cementitious waterproofing products can be used as a standalone coating and be made to look like other materials, e.g. inlaid designs or specialty tiles, by using faux-finishing techniques and metallic pigments.
Resisting pressure
One of the most important factors to consider when selecting a waterproofing product is its ability to resist negative-side hydrostatic pressure, which is water pressure that passes through the substrate and presses on the back side of the coating.
Remember, the coating is working to keep water in the structure (i.e. the swimming pool); however, its job is to also make sure that ground water does not interfere with or cause failures for the coatings applied to the pool's interior.
As ground or rainwater accumulates, it can travel through the concrete pool shell from the outside, creating a build up of negative-side hydrostatic pressure behind the coating. When water comes up against the coating, it literally tries to push the coating away from the surface. Flexible coatings can, and usually will, bubble up and fail under this type of pressure. To counter this, it is important to use a base or first coat capable of withstanding negative-side hydrostatic pressure when constructing an inground swimming pool.
Consider the water sanitation method
Proper water chemistry is essential to maintaining safe and consistent swimming pool operation. In fact, the sanitation method used in the swimming pool is also an important factor to keep in mind when selecting the pool's waterproofing material and finish coat. In instances where the waterproofing is also the finished wearing coat (i.e. directly in contact with the water and subjected to chemicals versus being under plaster where it is protected), it is even more important the coating withstands the environment.
Private pools typically have a chlorine content of approximately three to five parts per million (ppm), while in commercial or public pools the levels can be as high as 15 ppm to fight bacterial growth. In addition to chlorine, ozone and bromine are also used to combat bacteria and all three can potentially cause deterioration of pool coatings. Through chemical attack, an unengineered plaster finish can breakdown, discolour and pit.
The water's pH level is another important consideration when choosing waterproofing products. Traditional pool plasters can become discoloured or have excessive wear when pH levels fall outside the seven to 7.6 optimal range. Therefore, it is wise to select a more durable waterproofing system.
A good starting point
While these are not the only factors to consider when selecting a waterproofing system for a swimming pool, they provide a good starting point and should be taken into consideration on every project. Following these guidelines will also generally highlight any other potential issues that might pose problems, allowing them to be addressed before construction begins. When in doubt consult the product manufacturer, as they can provide assistance in selecting the proper solution.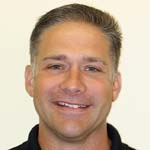 Mike Mudrick is the product manager for Aquafin Inc., an Elkton, MD-based manufacturer of products for waterproofing, vapour proofing and concrete repair. Mudrick has been in the construction and waterproofing industry for more than 20 years and his expertise comes from extensive field and formulating experience. He can be reached via e-mail at mmudrick@aquafin.net[4].
Endnotes:
[Image]: http://poolspamarketing.com/wp-content/uploads/2011/06/AQUAFIN-Pool-1K-brush.jpg
[Image]: http://www.poolspas.ca/wp-content/uploads/2015/06/AQUAFIN-Pool-2km-spraying.jpg
[Image]: http://www.poolspas.ca/wp-content/uploads/2015/06/AQUAFIN-04.jpg
mmudrick@aquafin.net: mailto:mmudrick@aquafin.net
Source URL: https://www.poolspamarketing.com/trade/sealing-concrete-pools/
---