Selling safety covers: Getting past the stigma of clients saying no
November 4, 2015
By Kevin Losee and Sean Miner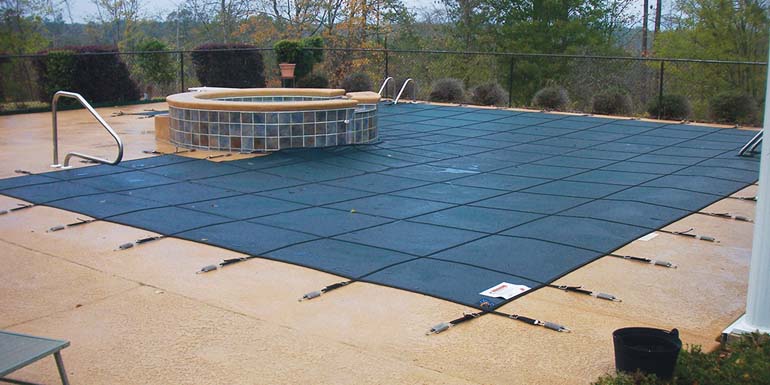 A recent manufacturer survey of pool owners discovered the main reason they did not purchase an automatic safety cover with their pool was simply because they did not know it was an option—not because of the cover's price, functionality, lack of options, or esthetics. In short, pool owners did not know about automatic covers because the pool builder did not mention them during the sales process. The reason they did not mention these products was fear of rejection. For builders who have not worked on or built a pool that includes an automatic cover, the idea of selling, installing, and servicing these systems can be intimidating. In fact, some may not even know all the answers about traditional solid and mesh safety covers, either. Therefore, it is important builders and retailers understand these products well so they can educate clients. By doing so, pool owners will be much more agreeable to having one installed. There are a number of questions that are important to answer when it comes to solid and mesh safety covers, as well as automatic safety covers. By knowing the answers to these questions, pool builders will be in a better position to sell these products.
How is a safety cover installed?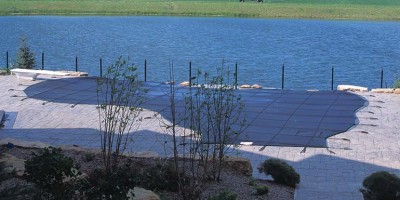 Solid and mesh safety covers are installed after the pool is complete; these covers attach to anchors around the pool perimeter. There are multiple anchor options that allow the cover to be installed on different types of decks, including concrete, interlocking concrete pavers (ICPs), and even lawns. Once in place, these covers are tightened using steel springs and straps. This creates a tight fit to the deck and prevents any accidental entry into the pool.
On a rectangular pool, an automatic safety cover is installed using an undertrack system while the pool is being built. With this type of system, the drive mechanism for the cover is mounted in a cover box below the elevation of the pool deck. The track for the cover system is mounted under the coping using an extruded component called encapsulation.
After the pool walls are in place, whether they are gunite, vinyl liner or fibreglass, encapsulation is then secured directly to the top of the pool wall. Different types of encapsulation are available for all pool types. With the encapsulation in place, the coping for the pool is then installed on top. The coping can be concrete, stone, brick, pavers, etc.
The side of the encapsulation that faces the water remains open—after the coping has been installed—to provide a channel for the cover track. The use of encapsulation allows the cover track to be integrated into the pool wall, providing a nice, clean look, while still allowing the track to be removed for service when necessary.
What about freeform pools?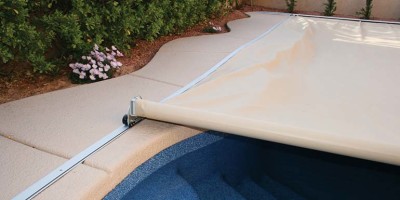 Solid and mesh safety covers can be custom made to fit any freeform pool. Using sophisticated software and construction techniques, a solid and mesh cover will form to the pool's shape and eliminate extra material on top of the deck. These covers are then installed using the same method for rectangular pools.
Automatic covers can be installed on freeform pools using a recessed top track system. These are similar to under track systems in that the drive mechanism is mounted in a cover box below grade. However, it is the placement of the cover track that sets the two systems apart. While the cover track for an under track system is mounted beneath the coping, a top track application is located outside the shape of the pool.
There are a couple of different track options that can be used for these applications. First, standard top track can be secured to the top of the finished pool deck. This is a low-profile track that is approximately 102 mm (0.5 in.) thick and features rounded edges to provide a smooth look and feel. The standard top track is fastened to the pool deck using screws and anchors.
The second option is to use a recessed track. These tracks are positioned along both sides of the pool before the deck is poured. Recessed track is staked in place so it will be flush with the top of the finished pool deck. It is also important that it is secure so it cannot move while the pool deck is being finished around the track.
Top track is a great option that can be used when installing automatic covers on freeform pools; however, during installation, it is important to note the cover system will operate under more stress when it is being pulled across the concrete deck. It takes little effort to move a cover across the water, as in the case of an under track cover system, but when the cover is being pulled across the pool deck, it will have much more resistance. To minimize this, it is recommended the amount of pool deck the cover will be pulled over be less than 10 per cent of the size of the cover. To accomplish this, the cover tracks should be located within 76 to 102 mm (3 to 4 in.) from the water's edge when possible.
What options are available for existing pools?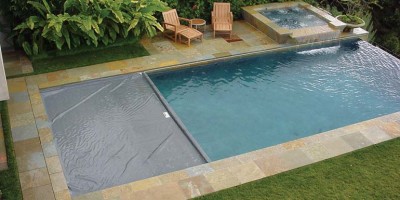 Automatic safety covers, as well as solid and mesh covers can be installed on existing pools.
A deck mount system provides a great way to add an automatic cover to an existing pool. For this application, the drive mechanism and the standard top track are mounted on the pool deck. This is the same standard track that can be used with top track systems.
With the drive mechanism mounted on the pool deck, a bench can be built to cover the system, as well as provide protection. The bench can also provide a seating area for those enjoying the pool.
When installing an automatic cover system on an existing pool very little renovation work is necessary. To install a deck-mount system, electrical wiring will need to be installed and connected to the drive mechanism to provide power to the control switch, which will be mounted on the side of the bench.
There is really no difference when installing a solid and mesh safety cover on an existing or new pool. Since these covers are custom made and anchor into the surrounding deck, any existing pool can be retrofitted with a solid and mesh cover just as easily as a new pool.
What about diving boards, waterfalls, ladders, and other features?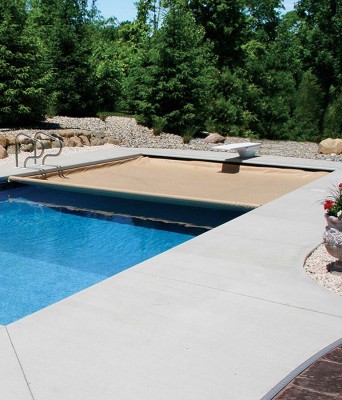 Solid and mesh covers can be made to work with any feature. By using various design and anchoring techniques, solid and mesh safety covers can be fabricated to attach to or go around any feature.
Pool owners should never think their pool cannot be covered. Most customers would be surprised at the number of unique pools that incorporate a safety cover.
Automatic covers that are installed using an under track system are unaffected by features on the deck. Top track and deck mount systems may not work with some features, but there are many options to help with these types of installations. And of course, anything that would prevent the automatic cover from closing would need to be addressed before installation.
Are automatic covers considered safety covers?
When talking about safety covers, most people think of traditional solid or mesh style covers that are installed using anchors around the pool. However, automatic pool covers are also classified as safety covers. Although they provide many unique benefits, one of their primary functions is safety; therefore, it is important builders and homeowners know that automatic covers are approved under American Society for Testing and Materials (ASTM) safety standards[5], which is the same requirement used by solid and mesh covers.
Are safety covers worth the cost?
When purchased alone, an automatic, solid or mesh safety cover can seem expensive to the average pool owner. Even a $1300 solid or mesh cover, which is less expensive than an automatic cover, can seem steep when purchased as a standalone product. One way to solve this is to bundle a safety cover into a package with every new pool sale. By absorbing the cost of the cover into the total price, the homeowner will be less likely to suffer from sticker shock.
It is also important to help the pool owner understand the annual cost, rather than focusing on the upfront cost. Solid and mesh covers, for example, will last 10 years (or more) when properly installed and maintained. This makes the annual cost reasonable.
For automatic safety covers, pool owners will see savings over time and the cover will actually pay for itself based on several factors, including:
Heating
Water evaporation and heat loss can be reduced by up to 70 per cent when the pool is covered when it is not being used.
Chemicals
Automatic covers help to keep the pool's water chemistry in balance. Pools also lose chemicals through water evaporation. An automatic cover seals the water in, reducing chemical loss by up to 70 per cent.
Solid and mesh covers will also lessen the amount of chemicals needed in the spring by reducing the amount of algae growth and debris that collects in the pool.
Electricity
Automatic covers reduce the amount of energy needed for water filtration, as dirt and debris is kept out of the pool. This can save approximately 50 per cent on a homeowner's electricity bill because the filtration equipment will not need to operate as frequently.
Water
As mentioned earlier, an automatic cover reduces water evaporation; therefore, keeping the pool covered when it is not in use eliminates the need to constantly add water to the pool.
Will a safety cover hinder the backyard esthetics?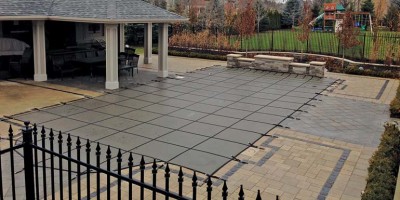 Safety covers are available in multiple colour options, allowing them to complement and blend in with the surrounding landscape. A cover will also keep leaves, dirt and debris out of the pool which keeps the pool looking neat and clean.
Are safety covers difficult to use?
Automatic safety covers are easy to use. With the simple flick of a switch, the pool can be opened or closed in seconds.
Even solid and mesh covers are not difficult to use. After the initial installation, most can be installed or removed in roughly 15 minutes. By using the included installation/removal tool, D-I-Y homeowners can easily install and remove their own covers.
What about standing water?
Mesh safety covers are self-draining, yet still keep out sunlight and debris. Solid variations can be drained by using a pump or built with a drain panel in the centre to remove standing water.
Automatic safety covers require the use of a pump to remove standing water while it is closed. Some models, however, feature an automatic pump that extends out when the cover is closed.
How long will the cover last?
If the homeowner keeps the water level in their pool within manufacturer guidelines and performs basic cleaning procedures, including the tracks and mechanisms on automatic covers, it should last 10 years or more. Solid materials exposed to ultraviolet (UV) rays may breakdown sooner, but in general, a properly maintained safety cover will last much longer than cheap, non-safety covers. The material on automatic covers can easily be replaced, while the material can be repaired on solid and mesh type covers if something unfortunate should occur such as a tree branch falling and tearing the cover.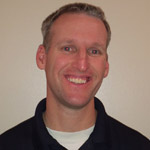 [7]Kevin Losee is the product manager for automatic and solid and mesh safety covers for Coverstar, a division of Latham Pool Products. During his 12 years at Coverstar, he has worked as an automatic safety cover installer, operations manager, technical support and order-entry manager, and product manager. He can be reached via e-mail at klosee@coverstar.com[8].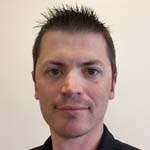 [9]Sean Miner, MBA, is the product manager of mesh and solid safety covers for Latham Pool Products. He is responsible for ensuring Latham produces the strongest and most innovative safety covers possible. Miner has experience in developing and marketing industry leading products in multiple industries. He can be reached via e-mail at seanminer@lathampool.com[10].
Endnotes:
[Image]: http://www.poolspas.ca/wp-content/uploads/2015/11/Sutter-11-.jpg
[Image]: http://www.poolspas.ca/wp-content/uploads/2015/11/Reccessed-topguide-System.jpg
[Image]: http://www.poolspas.ca/wp-content/uploads/2015/11/Vanishing-Edge.jpg
[Image]: http://www.poolspas.ca/wp-content/uploads/2015/11/Undertrack-Auto-Cover-System-on-Vinyl-Liner-Pool.jpg
American Society for Testing and Materials (ASTM) safety standards: http://www.astm.org/Standards/F1346.htm
[Image]: http://www.poolspas.ca/wp-content/uploads/2015/11/Brett-Preston-SC-pic168FAF.jpg
[Image]: http://poolspamarketing.com/wp-content/uploads/2015/11/Losee_Headshot1.jpg
klosee@coverstar.com: mailto:klosee@coverstar.com
[Image]: http://poolspamarketing.com/wp-content/uploads/2015/11/Miner_Headshot.jpg
seanminer@lathampool.com: mailto:seanminer@lathampool.com
Source URL: https://www.poolspamarketing.com/trade/selling-safety-covers-getting-past-the-stigma-of-clients-saying-no/
---