Spider Tie Canada holds successful demo day
May 14, 2012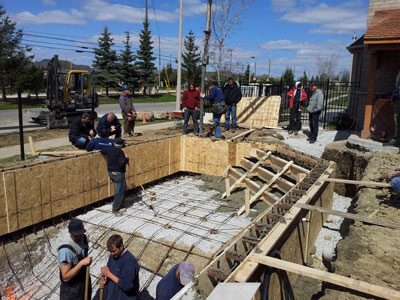 In an effort to market its new concrete wall forming system to pool builders, landscapers and contractors, Spider Tie Canada Inc., recently held its second training event where builders from across Canada took part in constructing an entire swimming pool.
Over the course of three days, builders participated in the construction of a 4.3- x 8-m (14- x 26-ft) concrete pool from start to finish. The demonstration was carried out on an actual project being built by a local pool builder in Vaughan, Ont.
During the step-by-step training session, a crew of four workers was shown how to use the forming system to completely form and pour the swimming pool in two days. Waterproofing of the walls was also completed once the forms were removed.
The concrete wall forming system was developed as a way to simplify reinforced concrete pool wall construction. By using internal form supports (IFS), the forming system allows traditional steel or polymer pool builders to construct concrete pools easily, without any major equipment investments.
For more information on future Canadian demonstration events and training sessions, visit www.spidertie.com[2].
Endnotes:
[Image]: http://poolspamarketing.com/wp-content/uploads/2012/05/Spider_Tie_Demo_Day.jpg
www.spidertie.com: http://www.spidertie.com
Source URL: https://www.poolspamarketing.com/trade/spider-tie-canada-holds-successful-demo-day/
---