State of the Industry 2015
April 1, 2015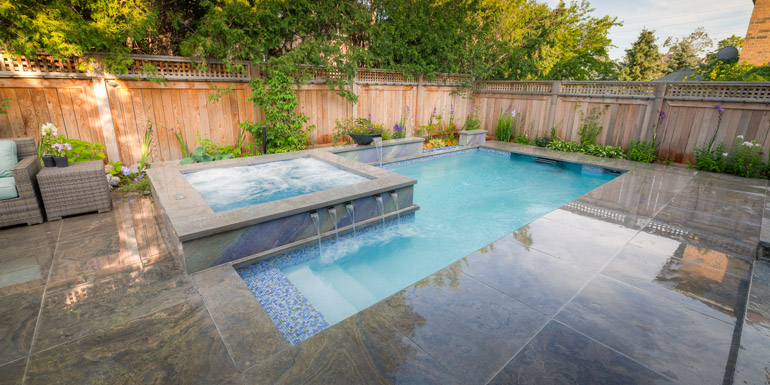 By Jason Cramp
After the total number of pool building permit registrations fell in 2013—despite three consecutive years of growth—the Canadian pool industry remained optimistic about the 2014 season. However, there is only a short window of opportunity to improve on years past, so an early start is key. However, Mother Nature needs to co-operate if this is to happen, and she did not.
After several mild winters, 2014 marked the coldest winter in 18 years and the third coldest in the last 35 years. Pools are built and enjoyed in the summer, so how does this affect the industry? According to Environment Canada, not only was the intensity of the cold incredible, but the duration of the season seemed as though it was never going to let up. In fact, Jack Frost took an early grasp on most of the country and did not let go—lasting from late October to late April. This threw a wrench in the plans for those builders looking to finish up some late 2013 projects and get an early start on 2014 jobs.
There is always a market for new pool construction, renovation, and service, but if the weather is not co-operating, those who make a living in this trade are forced to sit idle and watch as the season shrinks with less opportunity to perform the necessary work.
"Two cool, damp, and delayed summers in a row defies historical trends in eastern Canada, but this is exactly what transpired," said the Pool & Hot Tub Council of Canada's (PHTCC's) executive director, Robert Wood. "The poor weather took its toll on the number of new pool installations. Quebec was hit particularly hard. In contrast to the rest of the country, the market in British Columbia held up rather well."
What did this mean for pool permits?
In 2014, it did not matter how many homeowners were interested in having a pool installed as freezing cold temperatures, record snowfalls, ice storms, and long-lasting snow cover restricted the number of pools being put into (and above) the ground. That said, the 2014 calendar year mimicked the weak start to the 2013 season, with pool building permit registrations decreasing in the first quarter by almost 30 per cent, from 945 permits in 2013 to 668 in 2014. Whereas the season rebounded somewhat in the second quarter of 2013, pool permits continued to fall during the remainder of 2014—19.2 per cent in the second quarter (6867 permits to 5548), seven per cent in the third quarter (3470 permits to 3222), and seven per cent in the fourth quarter (770 permits to 716).
Overall, 10,154 pool permits were issued last year, which was down from 12,052 permits in 2013, representing a 15.7 per cent decrease for the year. Permit registrations in census metropolitan areas (CMAs) also decreased by 17.7 per cent, representing 1544 less permits than in 2013.
The economy, demographics, and climate
According to economists, Canadians are still feeling the effects the 2008-09 recession, which has been compounded by weak full-time employment opportunities. Additionally, the economy showed no drastic signs of improvement or decline, thus the industry's targeted demographic—gen-Xers (aged 35 to 49)—are holding onto their money. It should also be noted this generation is smaller (in terms of total population) than the baby boom generation, which would have been active during the '80s when pool building permit registrations were at their highest. According to Statistics Canada, as of September last year, the baby boomer comprises approximately 26 per cent of Canada's total population, while gen-Xers represent 20 per cent. The bright side is, generation Y (aged 15 to 34), also known as the millennials, is next in line for the industry's products, and they currently account for 27 per cent of the nation's population[2]. This represents more than 2.3 million people over the previous generation and is even larger than the boomers. The same can be said for the U.S. population.
Generation Y is considered to be the most diverse and tech-savvy in Canada's history. As such, pool and spa/hot tub companies will need to focus more on digital marketing strategies as this generation, since childhood, is quite familiar with the Internet, mobile technology, and the use of social media. Further, this generation will make up roughly three-quarters of the work force by 2028 and the oldest millennials, still quite young at just 47, will be entering leadership positions in corporate Canada in large numbers[3].
Despite this, the climate will always have a huge role in the success or disappointment of any one pool season. In looking at the 2014 season for example, Environment Canada recorded the five months between November and March, from Windsor, Ont., to Quebec City, to be the coldest since it started keeping records in 1948. When spring/summer finally arrived, most of Canada recorded warmer than average temperatures, making it the sixth warmest on record. In fact, each of Atlantic Canada, Northern Prairies, B.C. southern interior, western Northwest Territories, and the Pacific Coast had the top-10 warmest summers. On the other hand, the most populated regions of the country, Ontario and Quebec, where most pool building permits are typically recorded, experienced summer weather below seasonal averages[4].
"We suffered through the 2014 season along with many others," said Mermaid Pools and Hot Tubs managing partner, Dave McNaughton. "It was a slow start after a very long winter, with ground conditions that delayed our traditional start dates. The ground was too wet to bring in heavy equipment. Fall came early and was too wet as well. This burned valuable and irreplaceable time at the end of the year.
"Based on advanced sales for 2015 and sales from January and February, there is reason for optimism this year. If Mother Nature co-operates that is."
Top five major urban centres with increased building permit registration in 2014

Region
2013
2014
(+) Change
Saguenay
45
84
39
Vancouver
129
161
32
Windsor
96
105
9
Halifax
32
38
6
Edmonton
25
31
6
Top five major urban centres with decreased building permit registration in 2014

Region
2013
2014
(-) Change
Montreal
4546
3763
783
Toronto
458
228
230
Hamilton
436
283
153
Quebec
542
447
95
London
205
153
52
Regional activity
As the industry was down by 16 per cent in 2014, the only activity was either huge decreases or slight increases in various regions across Canada. Population alone makes Ontario and Quebec Canada's largest regions for swimming pool installations; however, it also makes each province susceptible to large declines in pool building permit registrations as was witnessed in 2014. Together, they represent 64 per cent of the 2014 Canadian market; however, their combined market share dropped approximately three per cent in comparison to 2013 due to the fact some of each province's largest urban centres experienced large permit decreases year-over-year.
In Atlantic Canada, pool permits were down 0.9 per cent over 2013, while western Canada saw permits increase by 0.8 per cent in 2014, which is two per cent lower than this region's four-year high of seven per cent. (See the chart below.)
Thanks to Atlantic Canada's fourth warmest summer on record, this region managed to keep pace with the number of pool permit registrations recorded in 2013. Although this region was one of four across Canada to register fewer permits in 2014, it was only one shy of the 2013 total. Year-over-year, this region had a 0.9 per cent decrease.
Building Permits Issued For Swimming Pools in Census Metropolitan Areas (2010-2014)

Region
2010
2011
2012
2013
2014
Canada
9457
10803
12517
12052
10154
Abbotsford
21
18
13
14
10
Barrie
213
197
280
211
170
Brantford
77
59
70
77
31
Calgary
51
47
48
37
36
Chicoutimi-Jonquiere
—
—
—
—
—
Edmonton
77
21
64
25
31
Guelph
52
61
64
82
59
Halifax
34
85
35
32
38
Hamilton
352
407
481
436
283
Kelowna
135
139
118
150
140
Kingston
66
44
51
62
42
Kitchener/
Cambridge/
Waterloo
158
155
250
171
146
London
245
229
223
205
153
Moncton
26
46
29
25
20
Montreal
3274
3656
4783
4546
3763
Oshawa
—
—
—
—
—
Ottawa/Hull/
Gatineau
152
171
165
186
15
Peterborough
49
57
81
66
46
Quebec
286
867
396
542
447
Regina
7
8
6
9
12
Saguenay
73
63
48
45
84
St. Catharines/
Niagara
177
213
209
201
192
Saint John
7
11
10
22
17
Saint John's
6
14
12
21
22
Saskatoon
13
5
15
10
10
Sherbrooke
336
378
435
406
397
Sudbury
112
142
192
150
107
Thunder Bay
2
2
—
—
—
Toronto
521
503
693
458
228
Trois-Rivières
98
81
128
147
117
Vancouver
230
156
155
129
161
Victoria
7
23
13
10
6
Windsor
97
108
100
96
105
Winnipeg
110
153
178
125
106
Total Major Urban Area Permits
7064
8119
9345
8696
6994
The installation of residential swimming pools does not require a building permit in every municipality. Some areas issue permits for inground pools only. These figures are therefore conservative. Statistics Canada combined the Ottawa/Hull/Gatineau statistic. Source: Statistics Canada
Atlantic
After pool permits fell 8.5 per cent in Nova Scotia in 2013, this province saw permits increase by 18.7 per cent in 2014, while permits in Prince Edward Island increased by 20 per cent. After a strong increase in 2013, pool permits were up again in Newfoundland by 4.7 per cent, although some would have expected this to be higher after the city of St. John's experienced the hottest July on record. That said, permit registrations increased by 100 per cent in August compared to the same period in 2013.
Finally, Moncton, N.B., continued its downward trend seen in 2013 as permit registrations fell by 20 per cent. Permit registrations in Saint John, N.B., factored in this decrease as it was down 23 per cent in 2014 after strong gains the previous year.
This region represents 1.1 per cent of the total number of swimming pool building permits issued in Canada, which is an increase of 0.2 per cent in comparison to 2013.
Quebec
Moving into Quebec, most of the province experienced spring temperatures much colder than normal. In fact, according to an Environment Canada report, snow cover at the end of March was two to three times thicker than normal over southern parts of the province. Come summer, very few days were registered with temperatures above 30 C (86 F), which would have likely had a significant impact on the number of homeowners considering a pool. As a result, the province saw a 15.3 per cent decrease in swimming pool permit registrations between 2014 and 2013.
Thanks to slow start to the season, the province's pool permits were down by 21 per cent (almost 950 permits) during the first six months of the year; however, come July, a rally of sorts began and 48 more permits were issued in 2014 in the period between July and December, representing a 2.7 per cent increase over 2013.
Overall, the province saw 900 fewer pool permits registered in 2014, with Montreal—Quebec's largest city—accounting for 87 per cent of the year-over-year decrease. In fact, after being the region's top pool permit producer in 2012, the past two years have been rather lackluster as the urban centre remains in the top spot for decreased permits in 2014, representing an additional 17.2 per cent decrease. Quebec City, which moved into the top position in 2013, also lost the title spot with a total of 447 registered permits last year, representing a decrease of 17.5 per cent.
While three of the province's CMAs registered increased pool permits in 2013, only one did so in 2014. Permits increased in Saguenay by 86.6 per cent, or 84 permits.
Quebec represents 48.8 per cent of the total number of swimming pool building permits issued in the country, which is an increase of 0.2 per cent in comparison to 2013.
Ontario
Much like Quebec, Ontario did not have much of a summer either. Numerous regions across the province experienced a number of temperature variances. To put things into perspective, Toronto and Ottawa had fewer days above 25 C (77 F) than areas in Atlantic Canada.
Builders in this region who thought last season started slowly were in for a rude awakening. After permit registrations between January and April fell 23 per cent in 2013, they decreased during this period again last year by 30.5 per cent (122 fewer permits). Similar to 2013, the next four months (May to August) were not much different. Although an additional 997 permits were registered during this period, it represented a 29.5 per cent decrease year-over-year. In comparison to 2013, things started to even out over the final four months (July to December) of 2014 with a total of 303 registered permits. This was six fewer during the same period in 2013, representing a decrease of two per cent.
Two large CMAs played a significant role in the reduced number of pool permit registrations in 2014, which saw the province fall by almost 30 per cent. Toronto, the capital of Ontario and Canada's largest city, had 230 less pool permit registrations in 2014, representing a 50.2 per cent decrease year-over-year. As a result, the city remains number two on the top five urban centres with decreased permit registrations. In 2012, Toronto was second on the top five urban centres with increased building permits. The other CMA was Hamilton, which, according to Environment Canada, had only one day above 30 C (86 F). In 2014, the city registered only 283 pool permits, which is 153 fewer than in 2013, representing a decrease of 35 per cent.
In taking a closer look at the province's CMAs, only two of 13 reported increases in pool permit registrations. Despite a cold July, the city of Windsor moved into the third spot on the top five urban centres with increased pool permit registrations, with a 9.3 per cent increase, while six additional permits were registered in Ottawa in 2014, representing a 66.6 per cent increase year-over-year.
Ontario represents 15.5 per cent of the total number of building permits issued in Canada, a decrease of 2.9 per cent.
Prairies
The weather in the Prairies (Manitoba, Saskatchewan, and Alberta) varied greatly from province to province. Despite temperatures in Winnipeg reaching 30 C (86 F) in June, Environment Canada reported the city had experienced its coldest winter in more than 100 years, with the frost line reaching record depths of up to 3 m (9.8 ft). In May, Saskatchewan faced heavy rain, hail and 90 km/h (56 mph) wind and, in July, a series of thunderstorms and tornadoes. On the other hand, in Alberta, temperatures during the summer months were almost two degrees warmer than normal.
Although swimming pool building permit registrations increased in Regina (33 per cent) and Edmonton (24 per cent), overall the Prairie region still decreased by 5.3 per cent in 2014. However, this does not disregard Alberta's eight per cent increase and Saskatchewan's 15.8 per cent increase in permit registrations. Manitoba's 15.2 per cent decrease, representing 19 fewer registered building permits in 2014, negated some of this region's gains.
The Prairie region represents two per cent of the total number of building permits issued in Canada, an increase of 0.3 per cent over 2013.
British Columbia
Rather than the cool wet weather this region is typically accustomed to in spring, the Pacific coast experienced its third warmest summer in almost 70 years. According to Environment Canada, the summer was one of the warmest and driest in the past 10 years.
Interestingly, even with the favourable weather, after ending a two-year streak of decreased pool permit registrations between January and June in 2013, the region experienced a 12 per cent decrease during this period in 2014, representing 20 fewer permits. However, as the year continued, permit registrations increased by 31.3 per cent during the latter part of 2014, with a 54 per cent increase in July and a 110 per cent spike in December. While the province's CMAs such as Abbotsford-Mission, Kelowna, and Victoria had a combined 10.3 per cent decrease in pool permit registrations, Vancouver had an increase of 25 per cent in 2014. Year-over-year, this region had an increase of 4.6 per cent.
British Columbia represents 3.1 per cent of the total number of building permits issued in Canada, an increase of 0.6 per cent over 2013.
What's in store for 2015?
In addition to the current economic conditions and the characteristics of different demographics, when looking at the decrease in registered pool building permits in 2014 one cannot forget to factor in the extreme winter conditions and the duration of the cold temperatures experienced across the country in 2014. Keep in mind, between 2008 and 2010, pool permit registrations failed to break more than 10,000.
A warm spring will also help increase pool sales and the forecast for April and May remains positive. In Toronto, after the city was placed under an extreme cold weather alert 37 times in 2014-15, the cold snap has finally broken and temperatures have fluctuated between 4 C and 9 C (39.2 F and 48.2 F) during the second week of March, which is several degrees above the seasonal norm. Now all the industry needs is for this weather to continue.
"Typically, it is not a good year following a summer like we just had," said Marvin Betz of Betz Pools Ltd., in Stouffville, Ont. "The only thing to fix this is a hot dry summer. I always say, give me a recession and a hot dry summer over a great economy and a wet cold summer.
"A lot of people will wait and see before spending money on a pool; however, staying positive is important in selling, like telling new leads they are putting in a pool for many years of enjoyment, not just one summer, convincing them the investment is a good one for the future."
References
With files from Statistics Canada (Investment and Capital Stock Division), and Environment Canada weather and Meteorology. For more information, visit www.statcan.gc.ca[5], www.ec.gc.ca/meteo-weather[6], and www.conferenceboard.ca[7].
This report and all of the figures contained herein are copyright to Kenilworth Media Inc. No use may be made of this or any part of the data or reproduction of charts or graphs without the express written permission of Kenilworth Media Inc. © 2015
Endnotes:
[Image]: http://poolspamarketing.com/wp-content/uploads/2015/04/Market_Report_1.jpg
27 per cent of the nation's population: http://www5.statcan.gc.ca/cansim/a26?lang=eng&retrLang=eng&id=0510001&paSer=&pattern=&stByVal=2&p1=-1&p2=37&tabMode=dataTable&csid=
entering leadership positions in corporate Canada in large numbers: http://www.theglobeandmail.com/report-on-business/careers/the-future-of-work/the-six-ways-generation-y-will-transform-the-workplace/article9615027/
below seasonal averages: http://www.ec.gc.ca/meteo-weather/default.asp?lang=En&n=C8D88613
www.statcan.gc.ca: http://www.statcan.gc.ca
www.ec.gc.ca/meteo-weather: http://www.ec.gc.ca/meteo-weather
www.conferenceboard.ca: http://www.conferenceboard.ca
Source URL: https://www.poolspamarketing.com/trade/state-of-the-industry-2015/
---